Robot built by MIST students brings glory for Bangladesh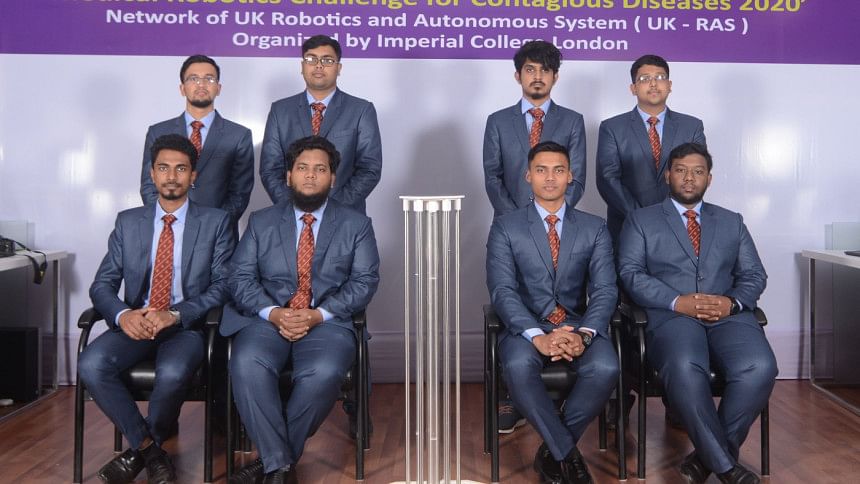 Team UVC-PURGE, consisting of members from Military Institute of Science and Technology (MIST), recently developed a semi-autonomous virus disinfection robot in an effort to fight against the Covid-19 pandemic.
This young team of engineers at MIST took part in the Medical Robotics Challenge for Contagious Disease 2020 organised by UK Robotics & Automation Society (UK-RAS) Network, where three champion teams -- John Hopkins University (USA) in Innovation, Leeds University (UK) in Design and MIST (Bangladesh) in Application category—were awarded.
As a sign of recognition, team UVC-PURGE also received £5,000 for their research in a virtual award ceremony held in London on February 4 this year.
Maj Gen Md Wahid-Uz-Zaman, commandant of MIST, patronised team UVC-PURGE in implementing the project.
The team members are CSE students Capt Akib Zaman, Shoeb Ahmed Tanjim, Shafayetul Islam, Nafiz Imtiaz Khan, Md Shadman Adeeb, Riasat Haque, Md Rashid Ul Islam and M Rayhan Ferdous Faisal and Shah Md Ahasan Siddique, a student of Faculty of Mechanical Engineering.
They thanked their mentors Brig Gen Mohammad Sajjad Hossain, former head of CSE department, Brig Gen ABM Humayun Kabir, head of the department, Col Sidharth Malik, senior instructor, and Col Shahjahan Majib, senior instructor of the department.
Team leader Akib Zaman said the robot named "UVC-PURGE" is robust, compact and user friendly in nature. It is able to destroy the virus effectively in a standard 12' x 16' room with a disinfection time of two to three minutes. The robot provides a real-time camera feedback for better navigation. While disinfecting, this semi-autonomous robot is capable enough to avoid any obstacles in that room. Being fully wireless controlled by mobile app or computer, UVC- PURGE is very user-friendly with 1,600 square feet coverage area and provides a battery backup of two hours.
It is applicable for any indoor environment such as empty Covid patient wards, ICUs, operation theatres, office rooms, classrooms, corridors and personal apartments, he added.
Akib further said that at a market price of less than $ 800, UVC-PURGE is more cost effective than similar types of disinfection robots worldwide. This robot will not only effectively fight against the current pandemic but also will be an effective disinfection tool for medical installments in a post-Covid world.
"Bangladesh is in a developing stage of growth in robotics. The outstanding success of this MIST-built semi-autonomous robot will accelerate our dream of Digital Bangladesh, and will encourage young people to learn about robotics and autonomous systems. The members of this team dreams of leading the research and development of robotics in Bangladesh," Akib concludes.