Reimagining interior designing in Bangladesh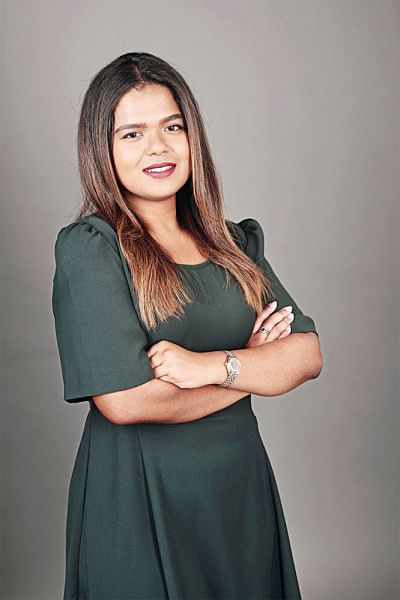 Sarjeena Maodud is the CEO and Co-founder of Sheraspace, a tech-based home improvement company. After completing her Master's in London, she moved back to Dhaka in 2017. She founded Sheraspace along with her colleague Nizam Farid Ahmed, in 2019. Sarjeena is one of the entrepreneurs in the Dhaka Hub Global Shapers 2021 Cohort. The Global Shapers are a community of young leaders and change makers aged between 20 and 30, curated by the World Economic Forum. The Dhaka Hub was founded in 2014. In a candid chat, Sarjeena shares her aspirations, and more.
Sheraspace merges creativity with functionality and technology. How did you come up with the concept?
My personal experience of finding an interior design company for my new home in Dhaka led me to discover a gap in this market. So, I carried out extensive research on it and tried to find the pain points of consumers. Eventually, my colleague Nizam and I came up with the concept for Sheraspace.
What were the challenges along the way?
In the early days, it was simply difficult to get recognised in the male-dominated field of interior design. A year after we started out, the world plunged into a pandemic. Instead of focusing on growing the company, we had to come up with strategies to adapt to the changes. We developed and introduced a new service for the first time in Bangladesh, online interior design consultation. It has been a great learning experience so far.
How is Sheraspace different from other interior design companies?
When it comes to interior design, there's a pre-existing consensus that it is only for the affluent and requires too much time and money. This is exactly what we challenge at Sheraspace. We democratised interior design to make it more inclusive. Our online service is affordable, short-term, and hassle-free. Anyone can avail it, regardless of where they are located.
What are your future plans for Sheraspace?
Instead of being rigid with our strategies, we are determined to be responsive to changes in the external environment. Going forward, we want to integrate technology such as virtual and augmented reality, to deliver our services more efficiently.
The author is a student of BRAC University, and a freelance journalist. Email: [email protected].