Nazmul Ahasan and Ariana Pemberton receive Subir and Malini Chowdhury Fellowships for 2021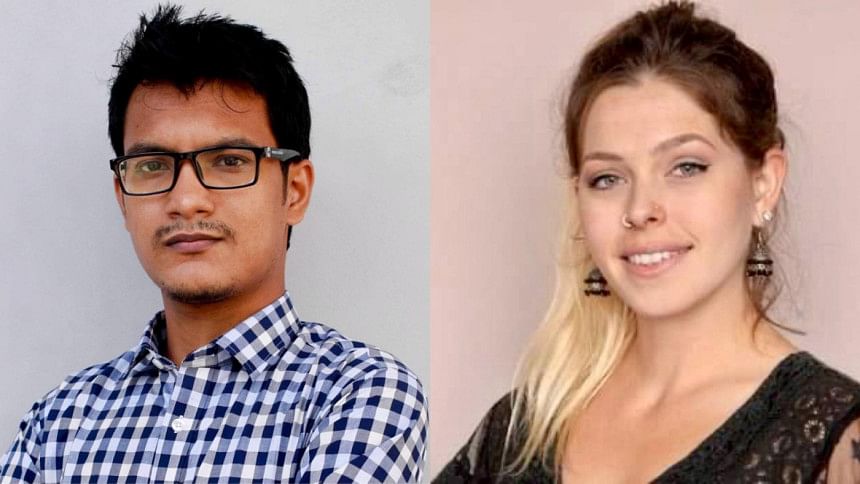 Nazmul Ahasan, a freelance journalist based in Dhaka and Ariana Pemberton, a PhD student in the Department of History of Art, UC Berkeley, received the Subir and Malini Chowdhury Fellowships, respectively, for this year. The fellowships are awarded each year by the Subir & Malini Chowdhury Center for Bangladesh Studies, which is dedicated to supporting Bangladesh-related research and promoting the art and culture of Bangladesh.
Nazmul Ahasan was awarded the Subir Chowdhury Fellowship on the Quality of Life in Bangladesh for pursuing an MA degree in investigate journalism, long-form writing and interactive news presentations at the UC Berkeley School of Journalism. Born and brought up in Khagrachari, Nazmul's journalism career started with the Daily Manab Zamin, and later he joined The Daily Star in 2017.
The fellowships have been established with a generous endowment made by a Bangladeshi-American couple, Subir Chowdhury and Malini Chowdhury, to the University of California, Berkeley. Any current or newly admitted students at UC Berkeley whose academic work or research interests are significantly related to Bangladesh are eligible to apply for them.
"It feels great to be recognised for my work and potential. It has instilled confidence in me," shares Nazmul. "The award will serve as an encouragement as I intend to continue working on issues of Bangladesh."
"Nazmul Ahasan has dedicated his career to amplifying the voices of marginalized populations in his writings and to holding those in power accountable for their actions. He was highly recommended by the UC Berkeley Graduate School of Journalism and they are thrilled to have him as an incoming student," expresses Sanchita Banerjee Saxena, Director, Subir and Malini Chowdhury Center for Bangladesh Studies, UC Berkeley.
Ariana Pemberton from the San Francisco Bay Area in Northern California, is currently a third-year PhD student in the History of Art Department, UC Berkeley. The recipient of the Malini Chowdhury Fellowship on Bangladesh Studies, her work focuses on the architecture and material culture of the Habshi Dynasty in Bengal (including both West Bengal and Bangladesh), and brings into light the agency and sense of identity articulated by the first-ever African rulers of South Asia.
"Throughout my time at Berkeley, both as a graduate and an undergraduate, I have had the pleasure of becoming part of the wonderful community and robust network of scholars at the Institute and came to know of the Malini Chowdhury Fellowship on Bangladesh Studies through it," shares Ariana. "I am excited to have received the fellowship because it will allow me to pursue research on a project that I am passionate about in Bangladesh, a country that I have not yet had the opportunity to visit."
"Ariana's research will make a number of critical contributions to both Art History and the study of the regions more broadly," adds Sanchita Banerjee Saxena. "I look forward to working with both of our Chowdhury Center fellows in the fall to further the study of Bangladesh and Bangladesh Studies on campus and beyond."
 "It is important that young scholars and journalists in Bangladesh seek out and apply for any and all opportunities that are of interest to them and for which they are eligible, even if the opportunity-- whether it be a fellowship, a grant proposal, a job application, or an intriguing project or story to pursue-- seems difficult or too competitive to obtain," comments Ariana.
"I would ask my fellow journalists to embrace the world and look beyond their bubble," adds Nazmul.