National Leadership Conference 2019 held at Krishibid Institute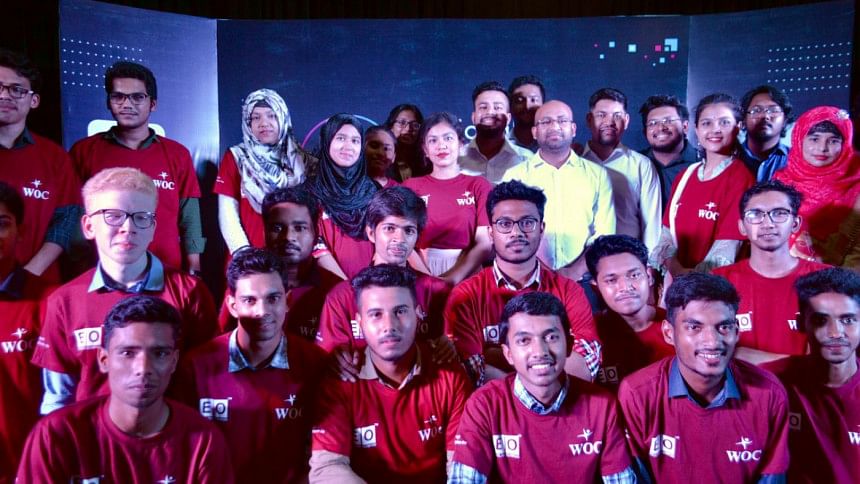 English Olympiad and Team Worldwide Organization for Charity (WOC) recently conducted their National Leadership Conference at Krishibid Institute. With around 200 young participants and over 15 motivational speakers, the conference was an inspiring one.  The event began with a brief discussion about the organisers and the future projects English Olympiad's team plans to undertake.  Regional and national coordinators shared their plans at the programme.  Iqbal Bahar, Director and CEO at Optimax Communication talked about youth entrepreneurship. Abid Niaz, TahiaTalbia Mim, Naveed Newaz and Matin Ahmed were the panel members for an interactive session on paperwork for international activities. During this discussion, they shared tips for writing good applications.  The young leaders of English Olympiad taught the audience about IPA, Pronunciation, 4C and IOT.
Mohammad Aman Ullah, founder of WOC and chief organiser of English Olympiad talked about overcoming challenges with innovative ways in his class on Crisis Management, Chaos Solving, and Patience and Empathy Test. Jamal Uddin Jamy, Director of Career and Professional Development Services at Southeast University, talked about developing people and communication skills.  SM Arifuzzaman, Head of School of Business at Canadian University of Bangladesh, spoke about the importance of emotional intelligence.
Sabiha Matin, Senior Lecturer, Daffodil International University, talked about branding and ways to represent Bangladesh globally. Mohibul Hoque Bhuiyan, CEO, Urbackoffices.com, talked about taking up freelancing. Dr Atiur Rahman, the tenth governor of Bangladesh Bank and Tina F Jabeen, Investment Advisor, Startup Bangladesh, ICT Ministry, graced the occasion as guests of honour.  They appreciated the future leaders present at the conference. Sohara Mehroze Shachi, Global Shaper at World Economic Forum and founder of South Asia Hub at Climate Tracker, Md Pearu, Principal Officer at AIBL and Dr Mossarraf Hossain, FCA, Member Life, IDRA, attended the conference were the special guests.