JuteX's jute fibre bicycle: For a better environment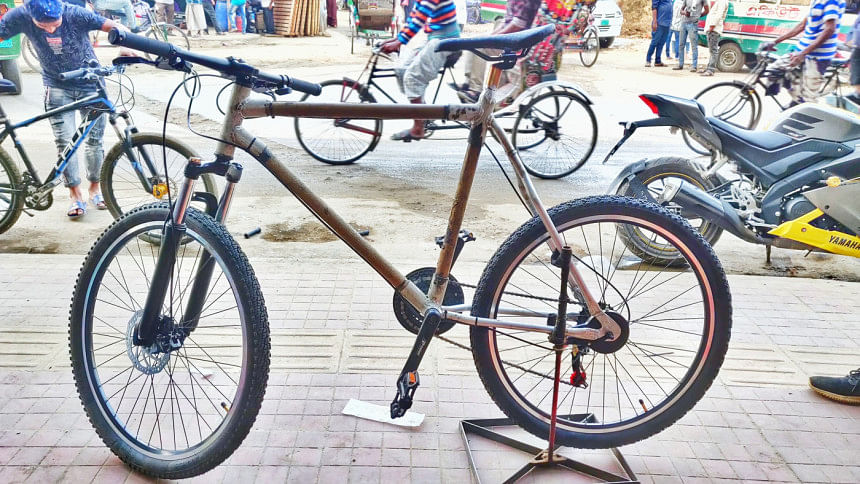 JuteX is a durable, natural fibre, and an affordable bicycle brand, started by like-minded social entrepreneurs.The startup is the idea of Team Matrix, consisting of Syed Wasim Ul Huda, Tahsin Toqi, and Sadia Turna, recent graduates from the Department of Mechanical and Production Engineering, Ahsanullah University of Science and Technology (AUST). They won the Hult Prize at AUST (on campus round) and the Hult Prize regional, Vietnam 2020.
Team Matrix began their journey in February 2019. Primarily, the team consisted of three members, but one member left JuteX a few months ago. Two new members joined seven months ago.
Co-founders Syed Wasim Ul Huda and Tahsin Toqi were thesis partners during their fourth year of university. They decided to create a bicycle with natural fibre. Right after the duo started working on their thesis, they found out that the Hult Prize was going to take place at AUST. To participate in the contest, they needed at least three members in a team. Mahedi Hasan joined them soon. Team Matrix was the only group from Bangladesh in the 2020 Hult Prize to win the regional round, which was the most difficult step. They competed against more than 80 international on campus winners around the world, and are now among the top 30 teams in the Hult Prize Global 2020. The team has also participated in MIND SPARK-AUST 2020, where they ranked in the top 5.
Right after Wasim lost his bicycle, he saw a news report stating that jute mills of Bangladesh were facing continuous losses. The lost heritage of jute due to the lack of proper use, and the unreachable affordability of durable bicycles for students were the two problems the team thought through. "I thought of combining these two things to build jute fibre bicycles," says Wasim.
After a year of starting out, Sadia Turna joined the team. Formerly recruited as an intern, she is now the Marketing Executive of JuteX. Atif Shahriar joined them as the Mechanical Designer.
The quality of the bicycle stands out through the durability, affordability and eco-friendly production system. Wasim elaborates on their goals. "As one of the most convenient means of transportation, a city bicycle weighs around 16 to 23 kgs," he says. "We are working on making a modern bicycle frame using jute fibre and epoxy matrix, which will bring down the weight to 11 to 15 kgs. A sample has already been made to prove its sustainability but to produce it in industrial scale, more research and necessary machines are required. Our goal is to replace aluminum steel and carbon fibre bicycles with Jute fibre."
"We want to build a successful startup. We plan to make this bicycle in Bangladesh at a huge scale, and sell it nationally and internationally," he added.  "The current mechanical test results gave satisfactory outputs. But more research and financial support, along with a well-equipped lab is needed," he adds.  Moving forward, the team expects to manufacture tricycles, shopping trolleys and Christiania bikes.
JuteX also expects to have 1 million consumers and reopen at least three mills in Bangladesh within a short time to create job opportunities.
The current lineup of JuteX consists of Syed Wasim Ul Huda, Tahsin Toqi, Sadia Akter, and Atif Shahriar Dipto, along with Dr Mubarak Ahmed Khan, Dr Fazle Rabbi, Selima Allen Hossain, and Minhaz Anwar as Advisors.