Cricket on wheels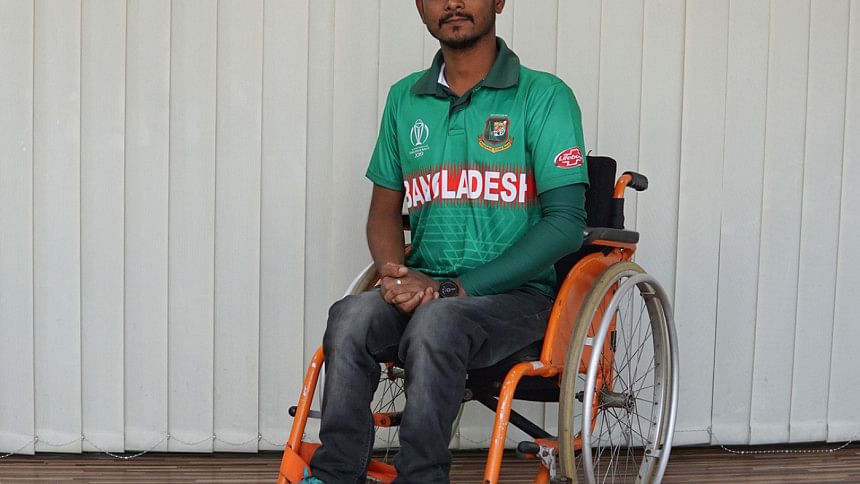 Mohammad Mohasin is the Founder of Bangladesh Cricket Association for the Physically Challenged, Captain of Bangladesh's Wheelchair Cricket Team, and General Secretary of International Council of Wheelchair Cricket. He is also an ambassador of sports for accessibility in Dhaka. With 'Odommo', an accessibility project under the Dhaka Hub of Global Shapers Community, Mohasin has managed to facilitate better mobility fot the differently-abled. For his initiatives, Mohasin was honoured with the Joy Bangla Youth Award in 2017. 
Mohasin was just six months old when he lost his mobility due to polio. His journey began in 2010 when he posted a picture of himself, playing cricket while sitting in a wheelchair. 
After many challenges and rejections, Mohasin received help from the Centre of Rehabilitation of the Paralysed (CRP). In March 2013, a team from India visited Bangladesh for a series. 32 differently abled people from all over the country participated in the programme and 16 were shortlisted. 
Even after plenty of practice and emotional support, the team needed more funding to participate in tournaments. This led to the formation of a new team with 60 to 70 players and initiated the formation of Bangladesh Cricket Association for Physically Challenged. 
They played for the Tajmahal Trophy, a T-20 tournament consisting of 5 matches, with Janata Bank's support in June 2014. Despite losing the first match, they won the series. This victory led them to their glory, where Prime Minister Sheikh Hasina presented each player and the foundation with honorariums. 
"I sold off my Flexiload shop, my only source of income, and invested the money to train our team,' shared Mohasin. "Overcoming the financial barriers was the biggest success. We are respected as players and that is what inspires us." 
The first-ever National Wheelchair Cricket Tournament, organised by Bangladesh's Wheelchair Cricket Association, was held in 2016. Under his captaincy, the team won the Champion Trophy of 'Walton Bangladesh-India Wheelchair Cricket Series 2017' in Dhaka, and 'International Bilateral Wheelchair T-20 Cricket Series 2018' in Mumbai (India). They also bagged the Runner Up Trophy at the 1st International Wheelchair Cricket T20 Tri-Series 2017 in Nepal and 2nd International Wheelchair Cricket T20 Tri-Series 2017 in India. 
The Wheelchair Cricket Association currently has over 200 wheelchair users, including both men and women who are interested in playing cricket.