Biotechnology: for the future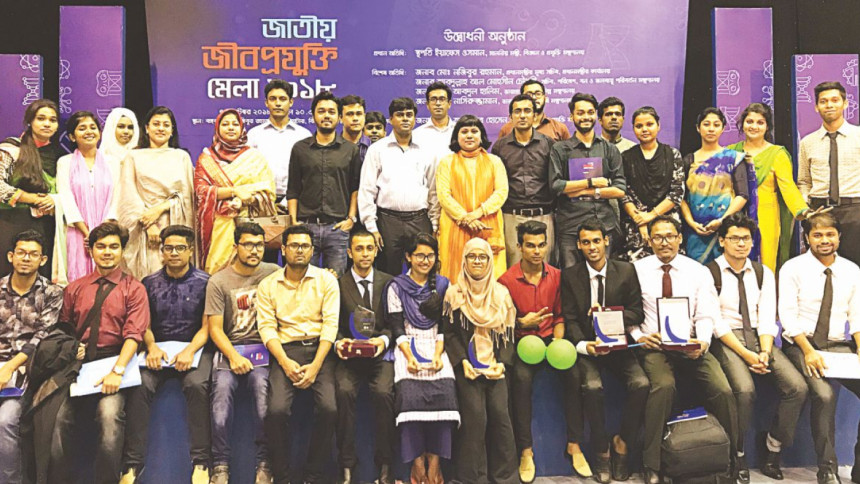 The National Institute of Biotechnology and the Ministry of Science and Technology jointly organised the first National Biotechnology Fair in Bangladesh, from September 7 to 8, 2018, at Bangabandhu Sheikh Mujibur Rahman Novo Theatre, Dhaka.
Various government research organisations, life-science departments of both public and private universities, biotech based companies and concerns, and research laboratories participated and set up stalls displaying a promising future for Bangladesh in the fields of genetic engineering, biochemistry and molecular biology, microbiology and of course, biotechnology.
Nahida Sultana, Scientific Officer at the Bangladesh Atomic Energy Commission, describes how plant mutation can help from losing billions of takas by stimulating early paddy cultivation so that when natural disasters strike, such as flooding or unpredictable weather, the crops are not damaged. "As we are an agriculture based country, the use of biotechnology to modify the biological structure of our agricultural plants can bring about a fantastic revolution," she adds.
Dr Nazneen Naher Islam, Associate Professor of the Department of Genetic Engineering and Biotechnology, Chittagong University, mentions that as many as 23 research papers from her department have been published in world renowned research journals. "We've started using biotechnology as tools for creating life saving solutions to illnesses like chikungunya and thalassemia."
According to ESCO Corporation, a leading designer and manufacturer of highly engineered biotech equipment also participated at the fair. "Our company didn't want to let go of this exclusive chance," shares Shehrin Monjur, a Senior Executive at ESCO. "Better connections between industry and biotech based institutes will help merge better research labs in the country."
The Novo Theatre premises drew the attention of nearly 500 scientists, 800 officials and 400 entrepreneurs related to the field of biotechnology over the course of two days. Also, the event intended to play a major role by drawing the youth of our country towards this booming and promising field of biotechnology, which indeed worked, as thousands of school and college students were seen taking a stroll through the fair, stopping and examining the projects on display with curious eyes.
Dr Adnan Mannan, Assistant Professor, Department of Genetic Engineering and Biotechnology, University of Chittagong, explains how a Forbes magazine research finding stated that the biotechnology sector is amongst the top ten business sectors in the near future. "If that's the case, then advancement of Bangladesh's biotech sector would bring about a revolutionary change within the country, similar to what the ICT division has done."
The National Biotechnology Fair served the purpose of creating awareness about this new sector to the general mass, connecting and helping to collaborate between industries and universities besides highlighting and impacting the government policy to patronise Bangladesh's biotech sector. However, most importantly, it was the students who were benefited the most— out of thousands, a lot many left the fair with a better vision on Biotechnology and maybe even a new dream of becoming a biotech expert.