ISCEA Night and Certificate Ceremony 2017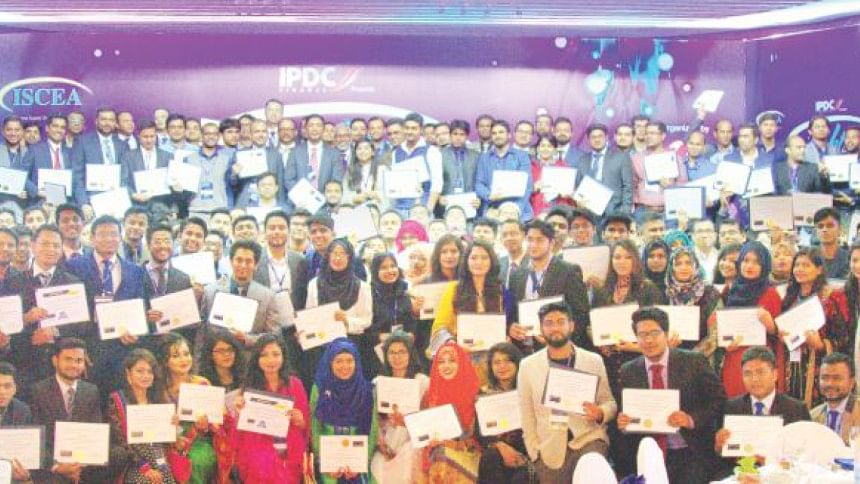 Mind Mapper Bangladesh
ISCEA (International Supply Chain Education Alliance) Bangladesh proudly organised its 7th "ISCEA Night and Certificate Ceremony" at Radisson Blu Water Garden hotel in Dhaka on December 9, 2017. IPDC Finance joined this gala event as the title sponsor. This unique ceremony marks the achievement of the ISCEA students and celebrates their success in their professional lives.
The ceremony commenced with a video message from IISB (ISCEA International Standards Board) President Mike Sheahan. Mike congratulated all the certificate recipients of the programme and praised the performance of the Bangladeshi nationals participating in different programmes of ISCEA throughout the year.
Ejazur Rahman, CEO, ISCEA (Asia); and Mominul Isalm, Managing Director, IPDC Finance, also recognised the achievements of all the internationally certified graduates in their speeches.  The participants in the auditorium were moved by their words of wisdom.
A panel discussion arranged on "Career opportunities and necessary skill requirements of supply chain management in Bangladesh and global market" was participated by Md Nabeeul Islam Khan,  Supply Chain Director, Coats Bangladesh Ltd.; Mahmud Hasan Khan, Cluster Supply Chain Director (Bangladesh and Sri Lanka), Reckitt Benckiser; Naquib Khan, Corporate Affairs Director, Nestle Bangladesh; Shahriar Malik, Head of Supply Chain, Avery Dennison Bangladesh; Ejazur Rahman, CEO, ISCEA (Asia); and Mominul Isalm, Managing Director, IPDC Finance.
The supply chain industry experts were present in the ceremony to encourage the future supply chain leaders.
There were 325 recipients' awardees who completed different programmes of ISCEA. Among the certificate recipients were students and professionals who competed their CSCA (Certified Supply Chain Analyst), CSCM (Certified Supply Chain Manager) or PGDSCM (Post Graduate Diploma in Supply Chain) from ISCEA. Every year, such certificate recipients create extreme level of encouragement for other aspirants in the country who wish to take up leadership roles in the supply chain arena by enhancing their knowledge through these global programmes.
Emphasising on education on supply chain management, Ejazur Rahman says, "At a time when supply chain talent crisis is at its peak globally, students and young professionals must grab every possible opportunity to develop their knowledge on modern supply chain concepts and processes."
The world leader in supply chain certification and recognition programmes, ISCEA, (headquartered in Ohio, USA) was founded in 2003 by a group of business professionals and academia, with the belief that a more comprehensive education and certification programme composed of multiple topics would better serve the global supply chain market. With a healthy dose of entrepreneurial spirit and academic focus, the ISCEA has spread across the globe with offices in North America, Latin America, Asia, North Africa, Middle East and Europe.