CMED Health: Access to a healthier you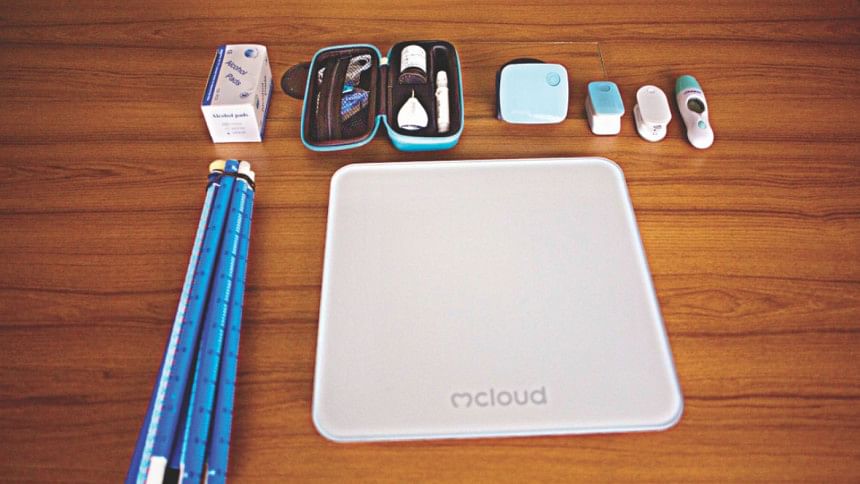 We live at a time when the youths are busy building their lives and creating success stories. However, while doing so, a lack of proper discipline may result in damaging the most precious gift of nature - our health. When the young generation is trying to increase their productivity, fast food has become an instant solution to managing hunger. Deprived of enough open spaces and losing valuable time to ceaseless traffic, daily exercise is not an option to most of us. As a result, health issues like obesity, cardiovascular diseases and diabetes are becoming more and more common nowadays.
However, with CMED Health, monitoring health vitals has become easier than ever. It is an IoT-enabled AI-driven cloud-based preventive healthcare service provider that gives instant result without the need of visiting the doctor frequently.
The CMED Health Kit comes with a digital weight scale, a height scale, a blood pressure monitor, a blood glucose monitor, a thermometer and a blood oxygen monitor. These devices are Bluetooth compatible and can be connected with the CMED app in any smartphone or tablet. The devices measure important health vitals like blood pressure, pulse rate, oxygen saturation in blood, blood sugar, weight, height, body mass index and body temperature. The app then provides instant feedback, showing health data analytics and health risk predictions.
Every time a registered user uses the CMED devices, their health records will be stored in his or her account automatically. These digital reports can be accessed anytime and the user can also share their reports through emails and SMS. There is also the option to print these data. To register into the CMED database, the user needs to provide only their name, phone number, gender, date of birth, and a password.
The health records can prove to be very helpful for the doctors to diagnose a patient during times of emergency. This feature also enables the doctors to not have to struggle while prescribing optimal dose of medication to their patients. The CMED Health has been designed as such that it can also be used to monitor health issues of family members from a different city or country.
A team of dedicated multidisciplinary experts have designed this preventive health care system. Dr Khondaker Abdullah Al Mamun, who received his PhD in Machine Learning in Biomedical Engineering from University of Southampton, UK; and Dr Farhana Sarker, who received her PhD degree in Data Science from the University of Southampton, UK, are the co-founders of CMED Health.
CMED Health is an award winning health-tech startup company in Bangladesh. Bagging numerous accolades and awards including the GP Accelerator, Best Startup 2017 from SeedStars World, BASIS National ICT Award 2017 in the category of Health & Wellbeing, ICT division of Government of Bangladesh, it is the only company in Bangladesh of its type.
"The goal of CMED Health is to reduce health risk, healthcare cost and time through preventive care," says Dr Mamun. With this fast, effective, portable and time-saving system, perhaps we can finally forget the long queues in the hospital and the thousands spent behind medical tests. While nurturing dreams and achieving goals, it is important to take care of our health as well the health of our loved ones.
To know more about CMED Health, visit: cmed.com.bd/