REMEMBERING SATHKHIRA, MY ENDLESS SUMMER TORTURE
Of walking through dry riverbeds, eating beef, and of lazy village afternoons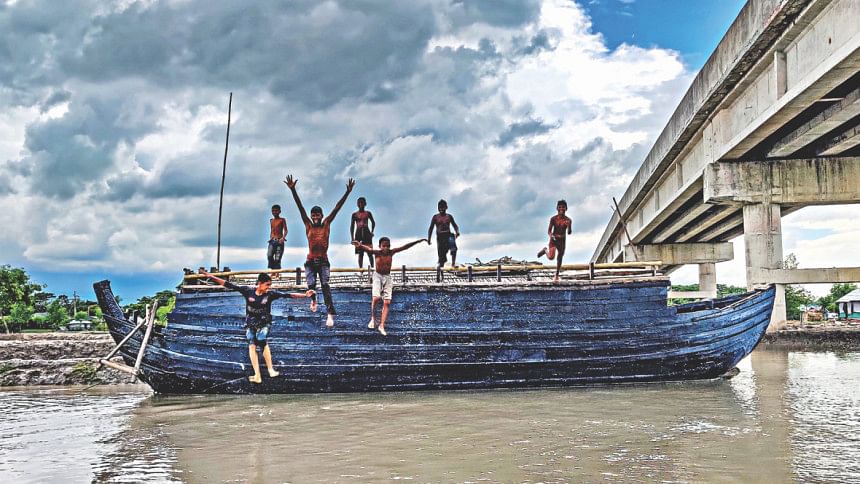 I had never gotten around to writing about Sathkhira, at least not as a travel destination. Maybe because travelling to this land of saline water was always subsidised with some other intention. Sometimes, it was in search of stories, sometimes as part of a school trip, sometimes as a layover on the way to my love—the Sundarbans; sometimes for work or sometimes to get away from the godforsaken realities of Dhaka. But Sathkhira, the land of quaint villages, of meandering rivers and scorching afternoons, has never failed to make me fall madly, raucously in love with it. There is something so jarringly beautiful about the place that I have struggled for years to try and pen a piece on this south-western little strip of land.
I have possibly visited Sathkhira at least a dozen times by now. But as I write this piece, I remember all my great escapades packaged into one great week of travels. Each time the small bazaar of "atharo mile" (18 mile) comes to view, I know we are near Ground zero. Just another few minutes and we would be in Tala upazila of Sathkhira. This is where we would stay each time we visited. A friend from the area always arranges our stay at a rest house, removed just enough from the bustle of the village bazaar to make it feel like a reclusive hideaway.
Sathkhira has always been very moody and it quickly changes with the weather. Yet I have found myself there just around summer most times. On our very first visit, in between work, we took a small boat from a broken bridge near Koyra bazaar. An hour's rowing plunged us into the tide country, inside a labyrinth of an extensive root network. Each year, this forest has moved a little farther away from the Koyra bazaar and some locals on our return told us how, just a few decades back, Bengal Tigers strayed into the locality with unnerving frequency.
I remember that visit to the bewitched forest with great clarity. While the Sundarbans still remained far, far away, from Koyra, in Sathkhira the forest and the locality seemed more porous. From here, the local fishermen can simply take their boat and go fishing. Sometimes the forest, too, pours into the locality in the form of a brown winged kingfisher, golden oriole, and mudskippers in the soft bank of the river.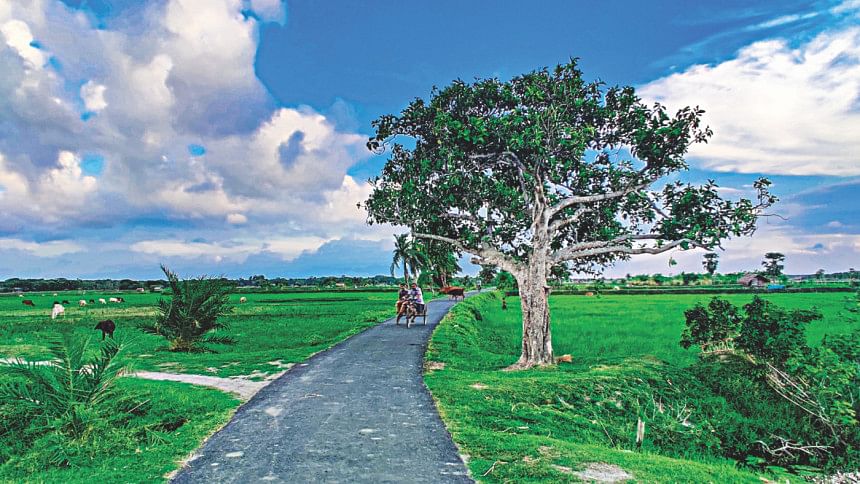 It was from Koyra that I would see the Sundarbans for the first time and yet it ended in a mere five hours. At times, it was as though we were living through our own version of Frances Hodgson Burnett's The Secret Garden, where bratty children from Dhaka, like Burnett's Mary Lennox, are suddenly shushed by a great, wild forest, only to be regurgitated to the gloomy realities of a city life within the span of a few short hours. The forest was like that: even if for a brief few hours, the Sundarbans seems purely out of a fantasy.
Once back in Koyra, we ate hot 'pakoras' and drank some tea before taking off for yet another destination. 
Sathkhira sometimes acted like a layover with a certain magic to its wait, where you do not belong, a place that is merely a skip in your step to some mad adventure. It also soon became a layover that I started to grow accustomed to. It was here, one evening just at the beginning of autumn, where I sat with my friends at the banks of Kapotakkho river.
It was a dystopian sight unfolding in front of my eyes. The tidal river, once brimming over with water, was dry. Where once sailboats coursed through the blue waters, now huge yellow CAT machines were excavating the river bed to make room for the water to course in. A government project in the '80s caused heavy siltation of the river bed, resulting in the river practically running dry during winters and overflowing during monsoons.
What I was watching, as the sky painted herself angry, was an effort to revive the mighty Kapotakkho. A few years later when I went again, it was the beginning of monsoon. Sathkhira, tempestuous Sathkhira, had managed to change her colours yet again. This time, the sunset was more muted. Just after a mild rain, the sky still had patches of flowy white clouds. But they were far and few in between. The water had returned to the Kapotakkho, the sailboat still remained missing, and in its place was a dinghy nouka; yet I felt a sense of relief watching the water return to the river.
Here, I got to spend lazy afternoons in a hundred-year-old village home with a friend's family. We got to eat scrawny chicken with thick potatoes in a very spicy broth; beetroot fry, garbanzo beans and tomato curry; some 'Abbas er chui jhaal beef' made with the bark of a tree lending it a minty and sharp taste; more spinach—both reds and greens—and runny dal.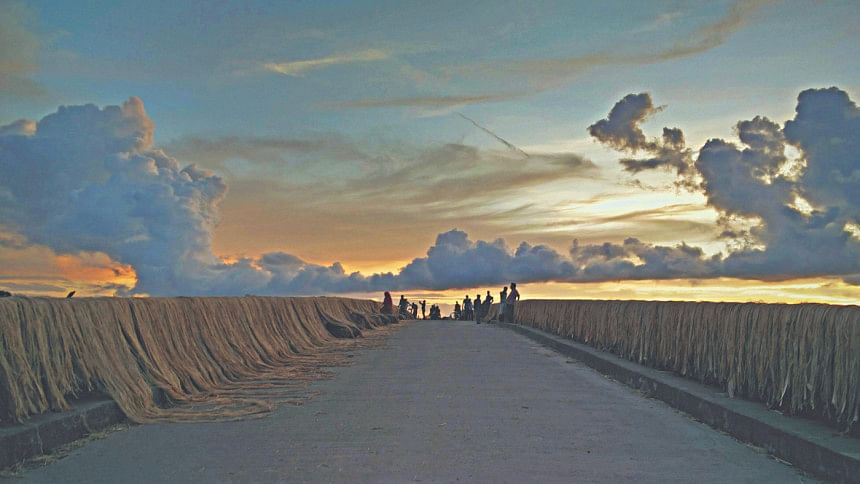 We would then let loose, go up through a narrow staircase and be hurled into another realm where time stood still in the afternoon. The hot summer blazed on and on and we lay there on top of a hundred-year-old rooftop with low railings.
Below us, the mango garden stood still except for the sudden rustle of a falling leaf or the lazy call of a belching cow.
These are moments I cherish the most from my travels to Shathkhira. They move me and remind me of Pico Iyer saying so appropriately, "Anybody who travels knows that you're not really doing so in order to move around—you're traveling in order to be moved."
There were many more such moments in this land of old temples, poets, and tidal rivers. Here, smack in the middle of Tala Bazaar, is a looming mosque, pinkish in tone, every time I cross it in the soft glow of the evening sun. It somehow still stands in perfect sync with the modernish rural bazaar of Tala in the backdrop. On my way to the rest-house, one day I took a moment to just stand there and observe how this relic of the old comes to life after the call for evening prayers. It is a sight to behold; there is both a calmness and a frenzy to the process. The bazaar slows down, the men pull their shutters, many others emerge from the background and all walk-in unison towards the mosque. Some stop to perform ablutions in the small pond right at the footsteps of the mosque. Locals tell me this is Tetulia Shahi Mosque, also known as the Khan Bahadur Salamatullah Mosque. It was founded by Khan Bahadur Maulvi Qazi Salamatullah Khan, the then Zamindar (feudal-lord) from the Qazi family of Tetulia, which lends it the name.  Built in Mughal style in between 1858 to 1859, the mosque feels like a portal through time.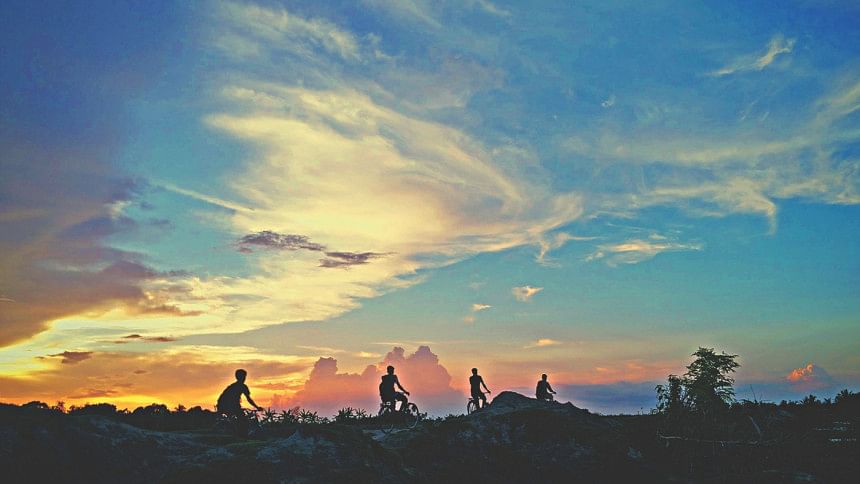 A visit to this place, even if for a day, feels like a time vortex. Time slows down here. One fine summer evening, I found myself sitting at an empty Hindu burial ground, while the sun shone with an odd determination, creating mirages in the fields in front of me. Children played in this heat, some even tried to lift off their kites. Yeah, time indeed slows down here. And it is a wonderful feeling, even for a grand few minutes, to feel each moment so intensely, like how Iyer said, "Travel, for me, is a little bit like being in love, because suddenly all your senses are at the setting marked "on"."