striking a chord
The Concept of Desserts in Bangladesh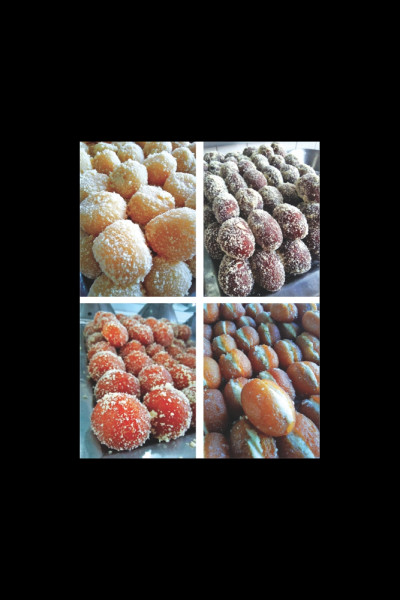 Photos: Kazi Tahsin Agaz Apurbo
I am far for being a careless foodie. I eat when I am hungry and rarely do I count calories, measure the value between a cheese-burger and chicken salad and never do I let go of ilish maacher dim (hilsa eggs), especially if they come fried. My dream breakfast consists of parata fried in ghee, eggs (sunny side up) and halwa of any kind. Yes, I have been crying about my weight for the longest time. But a quick dinner after a late night recording consisting of a Sausly's club sandwich or the American Burger, along with the spicy sauce, is what keeps me alive and kicking. The best part, however, of my (un)healthy food realities is the part where I devour sweets. I have a sweet tooth and most of my meals end up with a mishti (or two), before I wind up in bed with a book or yet another Youtube session.
In fact, every time I visit a particular area or district in Bangladesh for work, I ask around for the mishti (sweet) that the area is famous for.
A few years ago, I was in Jessore, visiting an NGO, when I came across a very small shop selling Jamtolar Rosogolla. This rosogolla is unlike the one that we usually buy for the shops in Dhaka or elsewhere. Located in Jamtola Bazaar, the owner smilingly informed me that the particular shop had been around for more than a century! The soft, melting taste once inside your mouth will urge you to devour at least 2 or 3 more of these rosogollas! I did look for the Jamtolar Rosogolla and found a shop in Kawran Bazaar selling it. However, the taste and the smell were not the same as they were in Jamtola.
In 2012, I was one of the judges for a country wide singing competition and fortunately had the opportunity to tour around the country with a group artists and big names of the Bangladeshi music industry for a month. Luckily, many in the group shared a love for sweets, especially Bangladeshi misthi with me! While in Comilla, we were given a taste of the famous Comillar Rosmalai -- an item that is actually found in many parts of Dhaka as well. However, the small white sweet balls bathing in a hot milky mixture, bought from one of the oldest shops in Comilla, was amazing. A serving for one consists of 5-6 of these rosmalais, which is generally a good portion. Guess how many servings I had for myself!
Despite being a lover of all mishtis, it did take me some time to get used to the taste of the Chomchom, a famous mishti from Tangail. This sweet is simply too sweet for my taste! However, Tangailer Chomchom is one of the most famous mishtis in Bangladesh and wedding parties, especially in villages, are incomplete without a box or two of Tangalier Chomchoms. This juicy chomchom is also endearingly referred to as the King of all sweets by Bangladeshis.
The Satkhira Shondesh holds a special place in my heart. In 2009, I had the opportunity to work with a few teenaged girls in Satkhira, who were rescued back from India, after being trafficked into the neighbouring country to work as sex workers. Days of tedious work, consisting of daily interviews and research would tire me out. Each day, however, would end with the famous Satkhira Shondesh – a dry sweet. "We serve these sweets to special guests," one of the NGO employees I was working with had mentioned, while offering me a whole box of the mishti. Truly enough, after visiting the village a few times, where the girls lived, the residents there would often invite me over for a cup of tea and a taste of their famous Satkhira Shondesh – which was also a luxury for them at times. Every time a family would offer me a Satkhira Shondesh or two, decorated on a tea cup, I would be deeply touched and humbled by their gestures.
Nadiya Hussain, the winner of last year's Great British Bake Off, the biggest and most popular baking competition in Britain, made the headlines once again when she was asked to bake the Queen for her 90th birthday. It was a proud moment for all Bangladeshis, as Nadiya herself is a British-Bangladeshi. However, her recent interview with the Gaurdian, where she particularly says that "The concept of dessert doesn't exist in Bangladeshi cuisine.." came as a shock to many in Bangladesh. (The fact that she also mentioned cheese not being a part of the Bangladeshi cuisine, ignorant of the famous Dhakaiya Ponir, was also quite a shock!)
Is Nadiya not exposed to the massive assortment of mishtis that are native to Bangladesh? As a food person, especially being someone from this part of the world, it's high time that she starts exploring the 'mishti-segment'. She simply has no idea what she, and her fans who have read that interview, are missing!