Taking on the Digital World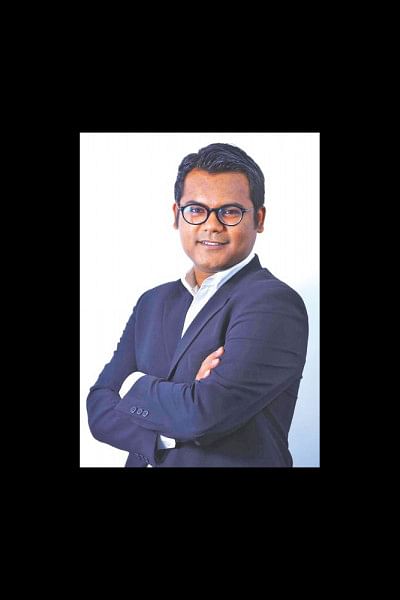 Having your own digital media agency no easy feat, especially the kind of agency that aims to help other organisations use unconventional, creative and data-driven marketing strategies to take their businesses up a notch. 
At 26, Ovick Alam is a young entrepreneur who uses his creativity to do just that. Back in February 2014, Alam co-funded WebAble, a digital creative agency along with Shadab Mahbub, Anis Chowdhury and Amit Richard to simplify digital interactions for its clients. Within a short span of time, WebAble has provided professional solutions to a wide range of clientele including Kaspersky, Aarong, Dell, Bay Developments, Rahimafrooz, Bangladesh Brand Forum, British American Tobacco, Bitdefender, Akhoni.com and other reputed organisations. 
In WebAble, under Alam's leadership a group of dedicated and skilled professionals are responsible for providing a 360° solution to any problem regarding digital marketing. These include designing strategy & analytics, creating an inbound marketing set-up, design and development, social media marketing, digital advertising, making interactive campaigns and much more.
"Here we mainly do two things- create assets like websites, games, apps, social media contents, video, and info graphics for different brands on the internet, and then distribute these assets through advertising," comments Alam.
Alam started his own institution when he was a first year student in Dhaka University, BridgeWee, an admission coaching center for English medium students to help them with the public university admission test. He had been selected as a finalist in numerous business plan competitions and attended entrepreneurship and leadership workshops across the world while a student at the business school at Dhaka University. He also served as an active volunteer and leader in the BYLC, country's first leadership institution, during the very same period. With all these important skills and experiences in his pocket, becoming an entrepreneur, was a rite of passage for this young business buff.
"Other than my father and sister, no one was convinced with my decision, as they believed I would opt for a more secure and high paying job rather than starting something on my own.
He admits it was a tough decision but that he has no regrets. "Initially I faced the basic business problem like financial constraint, but I never deemed money as the major problem", he remembers. "What I still struggle with is the lack of talented people curious about digital marketing and willing to bring about a positive change in the digital world."
WebAble does not support focusing only on a well-paid job with a regular salary, other utilities and a pension while career hunting. Alam believes the typical mind-set of students, searching for a secure and highly paid job needs to be changed.
"Our education system has corrupted the mind-set of young people," he believes. "I don't disregard the need for a handsome salary, but that's not why you go to your work every day. In WebAble we have a strong culture among ourselves that aims to build a lasting company for generations to come. We encourage challenges and mistakes while we have zero tolerance for mediocrity. All our colleagues value the culture of owning a problem and then solving it. That has basically led to the success that we made in such a short period."
Since WebAble's inception, Alam believes that his entrepreneurship would help make a positive and sustainable impact on society. "We, as a team have been working arduously and sincerely to simplify technology for humanity. That is the vision we are working towards," Alam optimistically concludes.