Star people
STORIES FROM '71
REMINISCES MIZANUR RAHMAN KHAN BIR PROTIK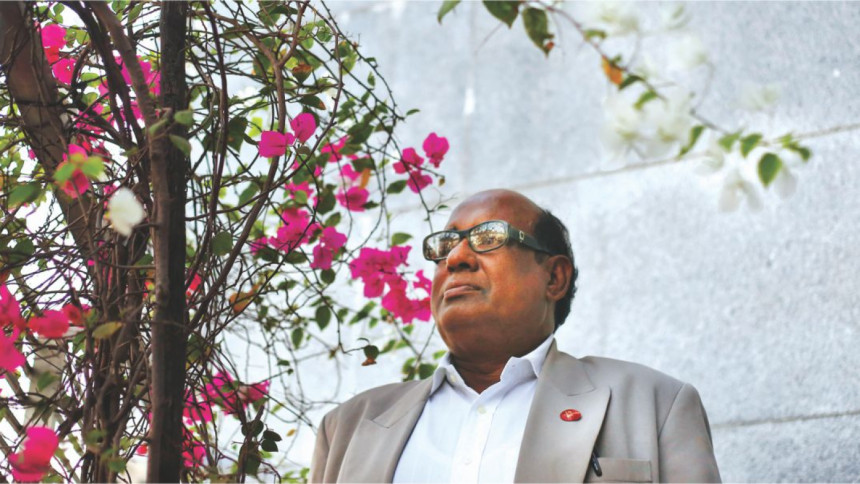 July 10, 1971.
The Pakistani army killed 10 innocent people at Kulkandi village of Islampur upazila, Jamalpur.
Dr Reazul Islam Khan from the same village, a father of two freedom fighters, was worried for his family's safety. He immediately called his brother-in-law Abdul Gafur Khan and his son Harunur Rashid Hiru to discuss how they could save themselves from the Pak army. But unfortunately the day after the meeting, the Pakistani army took Harunur Rashid Hiru with them, and he never returned.
This scared Reazul Islam Khan all the more. He told his third son, 18-year-old Mizanur Rahman Khan (Mithu) to protect himself. "I cannot ensure your safety anymore," he said.
Mizan, who had just completed his matriculation examination from Guthail High School & College, could not think of a single way to save himself. Finding no other alternative, he and his cousin decided to cross the border on July 19, 1971. Who then knew the Mizan would become a valiant hero of '71 and be awarded with the title 'Bir Protik' in 1973, for his courage, and outstanding performance during the liberation war.
While spending the night with a huge number of refugees at a nearby mosque in Mahendraganj, Meghalaya, Mizan thought -- what is the use of such a life where he cannot even move independently. "Just like my two elder brothers, why could not I join the war?" he thought to himself.
So, the following morning, he wrote two separate letters to his brothers—Nazrul Islam Khan and his cousin Manzurul Ahsan Khan, stating his wish to become a freedom fighter for his country.
Meanwhile, he heard an announcement saying that those who want to take part in the liberation war are asked to be present in front of the Mahendraganj Thana the following day. On 21 July, Mizan stood in line with numerous people and finally, his good height rewarded him to be selected for the mission.
During the freedom fighters' training sessions at Tura, Meghalaya, Mizan along with his fellows learnt the detailed techniques of operating weapons. One day, they heard that a team of freedom fighters got attacked by the Pak army near Kamalpur Camp (Kamalpur was the camp of the Pakistani army, situated at Bakshiganj Upazila, Jamalpur district). Though they were not fully trained, they collected whatever weapons they found in the 'Qot' (the place where the weapons are kept). They took position and fought against the heavy mortar shell.
After the training, Mizan joined Helal Fighter Company, and fought several operations under the leadership of Syed Sadaruzzaman Helal Bir Protik. In one of the operations, one of his fellows Amanullah Kabir (later, he was rewarded as Bir Bikrom) died in heavy mortar shelling by the Pakistani Army. After two and a half months, when Mizan was performing his patrol duties, he came across the remains of Amanullah Kabir and rescued them.
"Can you imagine how stressful it was for me? Deceiving the Pakistany Army, putting the remains of my fellow mate in a gamchha, carrying it on my shoulder, and burying them in his own village-- it is impossible to express those feelings in words," says Mizanur Rahman Khan Bir Protik.
Mizanur took a separate special training at sector 11's Mahendraganj Subsector. After that training, the sector 11 commander Major Abu Taher Bir Uttam (Later, he was ranked as colonel) formed a group of front fighters, where he selected Mizanur Rahman Khan.
In mid November, 1971, under the leadership of his Commander, Mizanur Rahman Khan and other fighters took position against Kamalpur camp. But somehow they failed to win the operation and Commander Abu Taher was seriously wounded.
But what Mizan always takes pride in, is the fact that he and his three fellows were able to rescue their beloved commander.
"During the war, there were 18 major attacks held at Kamalpur camp and I took part as a front fighter in each of these operations", says Mizan. Everyone used to admire him in the battle field for his indomitable spirit.
Its stories like these that inspire us even today, to stand up to oppressors and take our country forward. Not only does Mizanur Rahman Bir Protik instil within the young -- a feeling of pride, but also encourages them to learn more, do more research and make a mark on the world map, representing Bangladesh.