Looking for Content
Where have all the stories gone?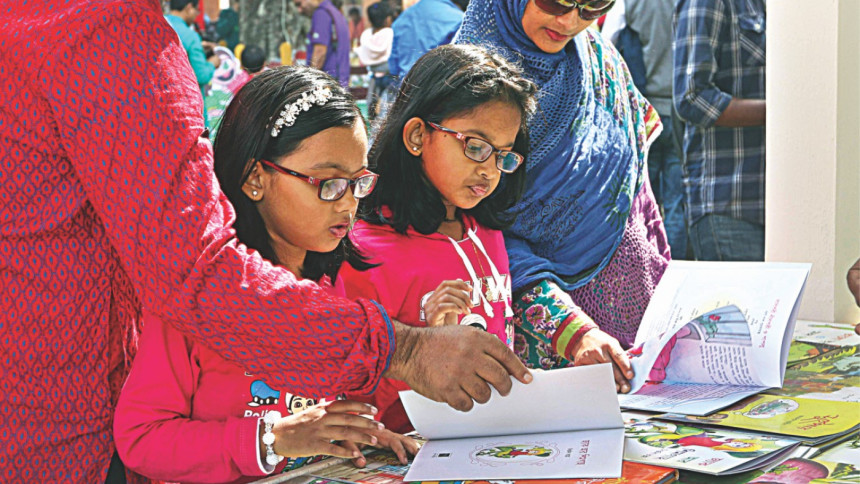 Photo: Prabir Das
The children's corner at the Boi mela, filled with books, is always a friendly, fun and happening area. In fact, this is the nook where you get to see the most honest set of readers - if they like the content of the book and find the cover attractive enough, they will openly show their eagerness and grab hold of it before anyone else does. If not, they will put the book down without as much as a second thought.
 On the 10th day of Amar Ekushey Granthamela, which also happened to be a Friday, the Suhrawardy Udyan was brimming with parents, desperate to enlighten, interest and excite children in ideas, imaginary worlds and stories. The Sisimpur Publication stall was particularly crowded with children grabbing books like Halumer Gram e Jaoa, Mojay Moajy Likhi O Pori, Mitu Ekdin Sisimpure – books that appeal to our little readers, rendering them close to their hearts.
Over the years, the children's book corner has seen quite a positive change in terms of the number of dedicated stalls, having a special hour for children and the growing number of children books published every year. But at the same time, the overall quality of the content and publication raise questions amongst renowned authors, educationists, and parents of the young the readers. Wrong spellings, repetitive and boring content, copy-pasted illustration of books from the internet, politically incorrect phrasing - the list of complaints is exhaustive.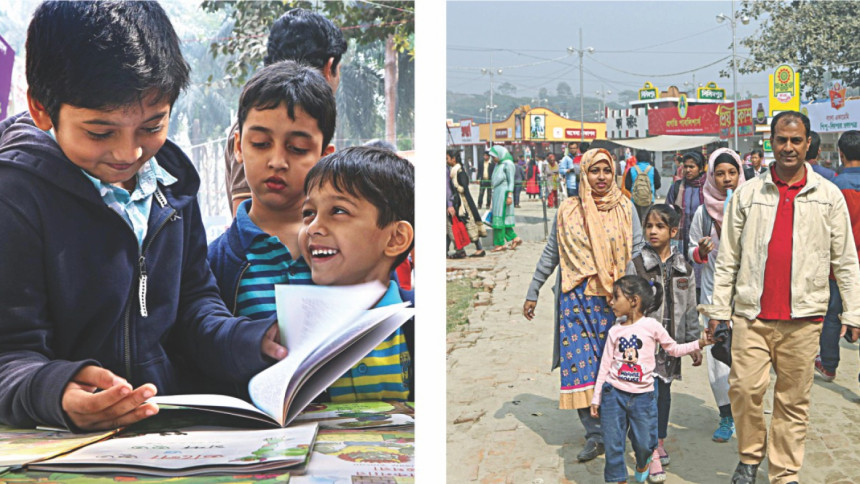 "The books that I used to read in my childhood had the property to transport a child into another world - be it real or imaginary," says Shahana Akhtar, mother of a six-year-old toddler. "Books written by Ekhlasuddin, Jasimuddin and Shaukat Osman used to keep us occupied for hours. Even publication wise, they were neat and shiny. They were well-written and used to exhibit the beauty of language. They helped me imagine, develop a sense of wonder and unlock the magic of reading. Now when I am here to buy my son some quality literature books, I actually have to spend some time to find any."
According to eminent children's writer Ali Imam, there are no concrete editing panels created by the Jatiya Grantha Kendra and Bangla Academy to spend time on designing and scrutinising the content of children's books — a major reason behind the low quality books at the fair. "I found books filled with wrong spellings and faulty sentence construction," he says. "They will not be helpful for the mental development of children, as these books clearly lack quality and substance. Many publishers end up releasing only ghost and alien stories and cartoon characters mainly because they believe these books make the most business."
A handful of texts, a simplistic storyline, and pictures downloaded from the net - this easy recipe of bringing out children's books are being followed by many. "During the late 60s, when Muntasir Mamoon, Shahriar Kabir and I started a revolution of modernising and making children's literature more culture specific, eminent writer Selina Hossain would regard it as a turning point for Bangladeshi children literature," adds Imam. "For the last fifty years, I have been writing a variety of literature for children - starting from science fiction, adventure to fiction. While writing each of my pieces, I have always tried to incorporate different values into the books in an easy-to-understand manner. Not only is reading books important in developing cognitive skills to be able to succeed in different social settings, but it is valuable for other reasons as well. It is important that we have quality children's literature it lets students appreciate their cultural heritage as well as those of others and helps them develop emotionally."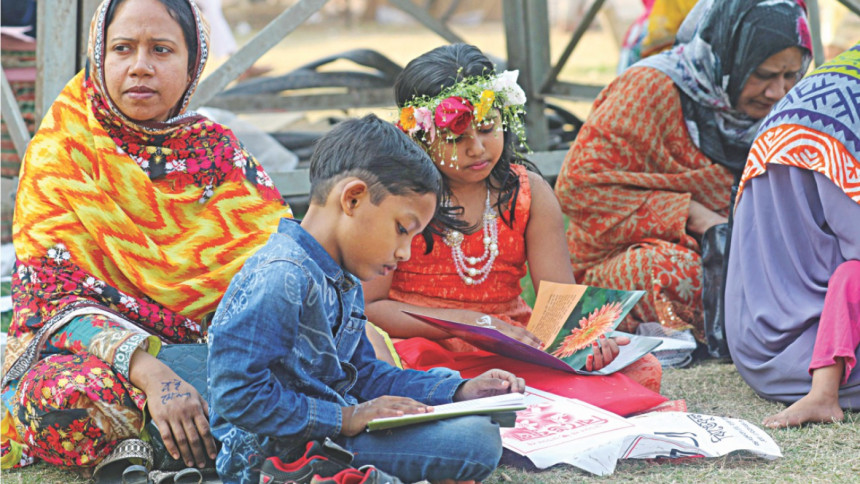 Another issue that Imam believes should be dealt with is the fact that the targeted age group is usually not mentioned on the book covers. Many children end up buying and reading books that are actually meant for adults. "Except for books published by Panjaree, no other publication house mentions the age group books are meant for."
For children's literature, illustrations are very important, as the illustrators too create a story while interacting with verbal texts. Children's book illustrations have gone through several changes in the last quarter of a century with the introduction of new media. Also, Imam believes that these days, the visual content of computer programmes have altered young people's expectations for book illustrations.
Today, children are exposed to a constant stream of visual images from their earliest consciousness. In the case of illustrations in children's literature, illustrators face several challenges. "Firstly- we don't create our own storyline, rather we tune in with the writer's content. In most cases, the writers fail to offer interesting and thought provoking concepts and storylines," says cartoonist Sadatuddin Ahmed, who has been quite active in the book illustration scene in Bangladesh. "Therefore, we cannot do much to make the content look more interesting. Secondly, many of the publishers do not prefer spending much time or money on quality illustrations. As a result, the illustrations in the books are not up to the mark. To add to it all, no matter how much time the writer takes on writing a story, the illustrator, in many cases, are given not more than a month to work on the illustrations of many books — all at the same time! Obviously, the quality of the work would be compromised."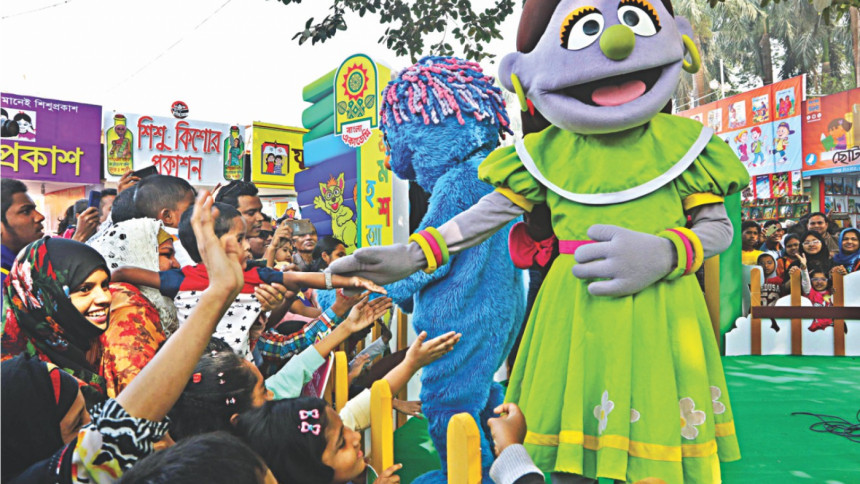 Too many publishing houses and lack of professionalism is another reason for the existence of low quality books, believes writer Anisul Hoque. "Around 800 publishing houses bring out books while many writers go for self-publication," he says. "While we have a boom in publishing houses and 'emerging' writers every year, at the same time we have less focus on proof reading and proper editing panels. Not to mention, we have already been facing doubts about this phenomenon of spelling variations in Bengali writing for a long time among Bengali writers and speakers. The problem is further intensified with the expansion of the use of Bengali in the electronic media — web pages, emails computer applications and so on. Given the circumstances, we need to focus more on spellings, correction and proof reading. When it comes to books for children we need to be more careful."
The industry would also need to welcome and include new forms of media — like graphic novels and 3D books to enrich the area of children's literature, adds Hoque.
Like previous years, Panjeree Publications House, a leading publishing agency, is launching around 70 children's books this year. "We have dedicated committees to monitor the content and proof reading of the books and prefer working throughout the year on each of these books. As a result of this combined effort, we don't receive complaints of wrong spellings or other forms of flaws in our content," says Shajib from Panjeree Publications.
In an era where children are exposed to different technologies and foreign books which look more lucrative to many, how do you get them to read Bengali literature? Ali Imam says, "Read aloud different Bangla classics to kids and talk to them about the stories you loved at their age. Describe the joy you felt when you first read your favourite book, and how a world of imagination opened up for you. Explain why a particular passage or character still resonates even after all these years. Make sure you expose them to a variety of literature, instead of sticking to just one genre. Read them stories and make them read these aloud to their siblings and friends. There is, after all, nothing like seeing a young reader getting lost in the amazing world of reading."