TORTURED, KILLED AND ABANDONED
Thousands of Bangladeshis have been killed and detained in foreign countries as victims of human trafficking. What have we done to compensate and rehabilitate these oppressed people?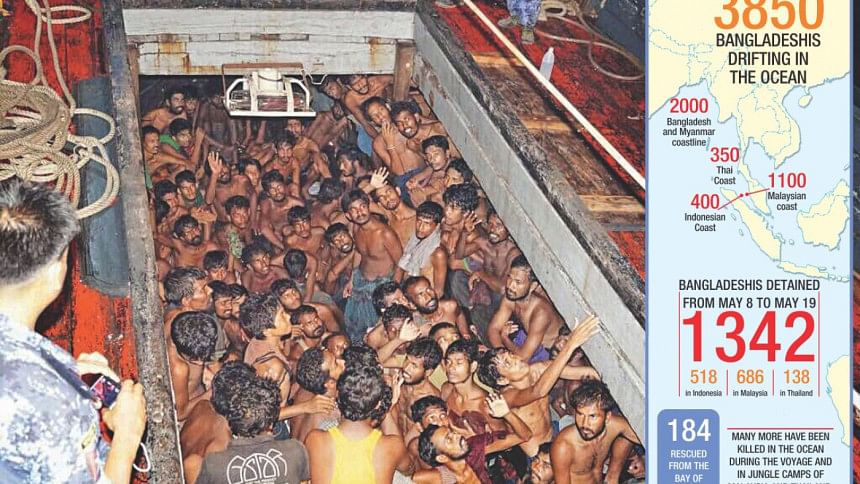 On May 1, 2015, a shallow mass grave was discovered by some villagers collecting mushrooms deep inside a jungle of Thailand's Songkhla province. While the villagers were discovering this horrific site, suddenly, they heard a faint voice asking for help. Following the voice, they found two men almost dead from starvation and disease ridden, lying in a pit.
The older man was so weak that he could not speak or stand up. The younger man was identified as a Bangladeshi named Anzuar (28). This discovery revealed the unprecedented brutality of human trafficking in Bangladesh and Myanmar, an issue which is much talked about but always ignored by these states.     
Informed by the villagers, Thai police exhumed 32 bodies from the mass grave and identified it as a camp of the human traffickers where they gathered their victims temporarily, tortured them and forced them to call their relatives to pay ransom. If they failed, the victims were killed and dumped into the mass graves. Many such mass graves are there in the jungles of Thailand and Malaysia where thousands of our countrymen have faced the most tragic consequence of modern day slavery. In Malaysia alone, 139 mass graves of the human trafficking victims and 28 such camps have been identified as of May 25, 2015.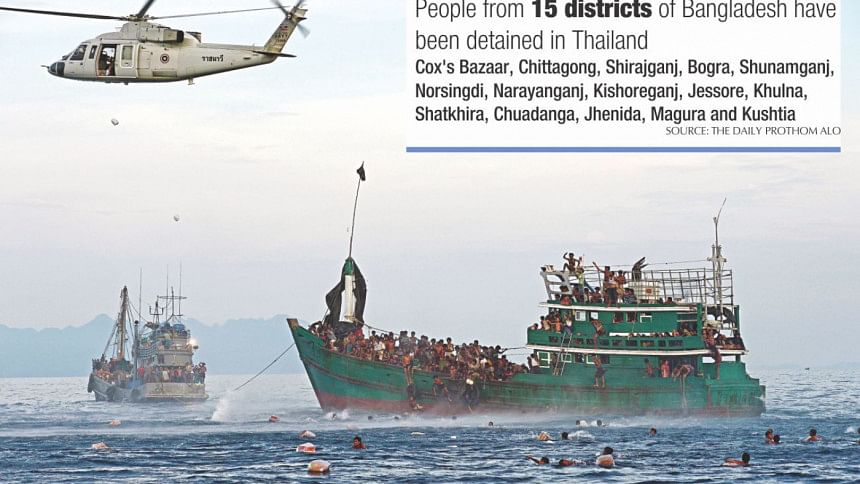 Why have these people left their countries in such a desperate condition? 
We received a very peculiar answer from the Prime Minister Sheikh Hasina in her first comment (on May 25 2015) on the human trafficking issue, since the discovery of the first mass grave of Bangladeshis in Thailand on May 1st. She says that these migrants, many thousands of whom are still drifting at sea without any food and medicine, are 'mentally sick' and 'tainting the country's image'. "Along with brokers, punishment will have to be given to those who are moving out of the country illegally, as there are sufficient employment opportunities in Bangladesh," she says.
However, contrary to what Prime Minister said, most of the human trafficking survivors from Bangladesh said that they have left their country due to extreme poverty and unemployment.  Abu Raihan from Bangladesh's Shirajganj district, a human trafficking victim now detained in Thailand says, "I passed my HSC 5 years ago but could not find a job. My family's income, from a few kathas of cultivable land was meagre. So, I sold out the land and gave money to the agent who ensured me a better job in Malaysia. I was told that I would travel to Malaysia on a big, luxurious ship. They also showed me some photos of the ship. However, when I reached Teknaf I saw a wooden fishing boat and I was forced to board the boat." 
The torturous sea voyages of these unfortunate people were just like a death march. Many of them were thrown into the sea or tortured to death on board. A former agent of human traffickers, who is now working as a source of Thai Police told the Daily Prothom Alo, "Four or five armed guards had to manage several hundred people crammed into a wooden trawler. So, to instil fear among these people, some of them were instantly shot and killed. If any passenger made any trouble, he or she was also killed. If any passenger fell ill during the voyage, he or she used to be thrown into the sea." Raihan says that he had seen at least 10 of his fellow passengers thrown into the sea during the voyage.
Like Raihan, people from different parts of Bangladesh have been trafficked to the South-East Asian countries. According to a report by UNHCR, 1342 trafficked Bangladeshis have been detained in Malaysia, Indonesia and Thailand. Now, more than 4000 people are still floating (as of May 21, 2015) at sea, because they have been rejected by those countries. A report by The Daily Prothom Alo claims that people from around 15 districts of Bangladesh have been found in a Thai detention camp. Rohingya Muslims from Myanmar are also major victims of human trafficking. However, there is a big difference between the Rohingyas and the Bangladeshis. Due to continuous communal violence, Rohingya Muslims were almost annihilated by the Buddhists and government forces, and expelled from their country. 
However, the reason behind the exodus of thousands of Bangladeshis is purely economic. Zaid Bakht a research director of Bangladesh Institute of Development Studies told the Daily Star, "Every year 2 million youths join the labour force in the country. Some 60 percent of them are absorbed into domestic and foreign labour markets. The rest remain either unemployed or underemployed and many of them often become desperate to find job abroad, even illegally."   
In fact, before 2008 between 50,000 to 100,000 Bangladeshi migrated to Saudi Arabia for jobs every year. Over the past few years the number has reduced to 5000 to 6000. Again in case of UAE, the number was about 1.5 hundred thousand which is now 10,000 to 12,000.  (The Daily Stat, May 9, 2015). Again, exporting Bangladeshi manpower to Malaysia has also been disrupted severely. After 3 years of suspension from 2009; Malaysia finally opened its labour market to Bangladesh in 2012 through a small number of government to government recruitment which is quite negligible in comparison to booming unemployment. 
However, far from addressing these issues, the Bangladeshi government has been denying the fact that its people are leaving country due to economic depression. In the face of international pressure, some countries like Indonesia, Malaysia and Philippines have agreed to give temporary shelter to migrants drifting and starving in the middle of the ocean. However, we have seen no visible steps from our government yet to bring those victims back to their homeland. 
Why are these people being neglected in this way? Why are we treating them like unwanted creatures?  Is this because they are poor and destitute? If so, nothing can be more disgraceful for our nation.