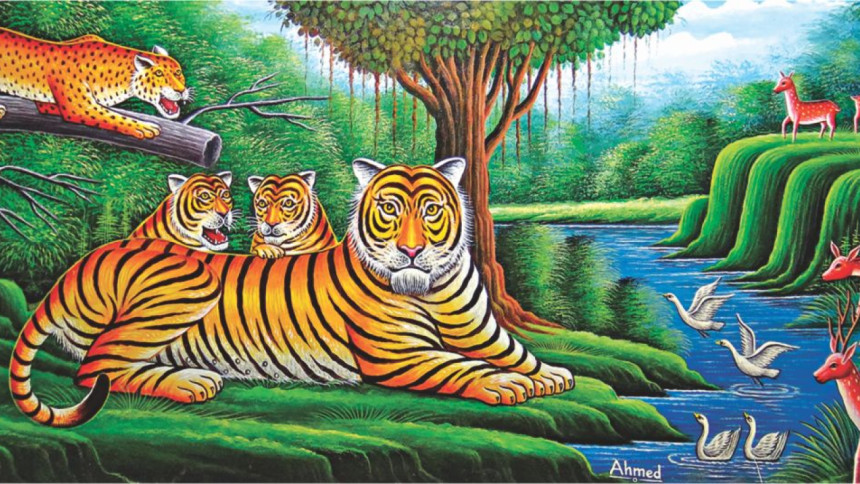 Photos: Khalid Hussain Ayon
Bangladeshi rickshaws are a kaleidoscope of colours, interesting quotations and intricately painted stories.
On the streets of Dhaka, amidst the traffic and incessant honking, an ornately painted rickshaw with its jingly décor is surely a visual treat for our urban eyes. The rickshaw pullers who spend long stretches of time on their rickshaws make sure to decorate their rickshaws with all the pomp they can muster. 
From intricate designs to rural scenery and casual humour- they have it all. So much so that it has almost evolved into an art form. Something that once was considered a vulgar and raw form of art made by mostly self-taught artists is considered as a form of visual culture in the new millennium, which is sadly fading away as digital media is now gradually replacing the former hand painted tradition.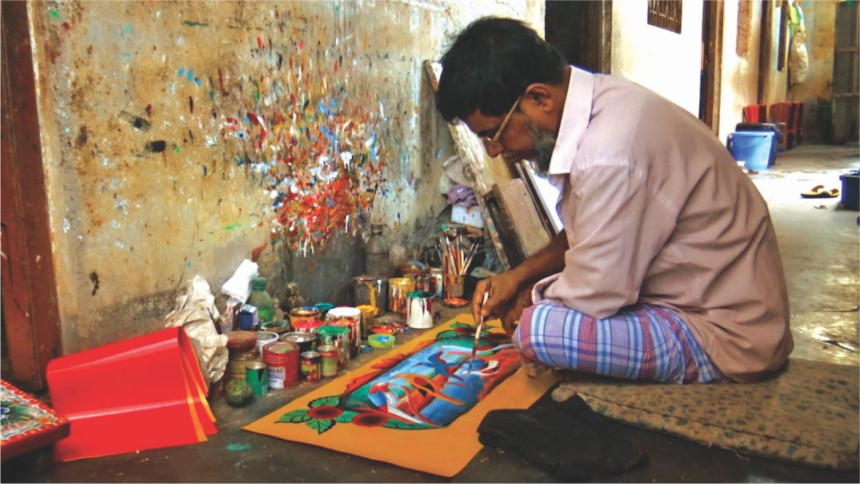 "Just like how trucks and covered vans in other countries are hand painted in the brightest of colours, in Bangladesh rickshaw art shares the same status. It is a form of pop art that depicts our urban culture and folklore," says Nazlee Laila Mansur, a freelance artist who has worked closely with rickshaw artists. This luminous, over dramatic style of rickshaw painting is Bangladesh's trademark, believes Nazlee. "Depending on their work, it takes artists a few hours to two to three days to hand-paint different parts of an entire rickshaw. Their skill is evident. Their brush strokes are bold but smooth while they make sure that their hands are steady. At a careful pace and yet with considerable speed, they produce these artworks."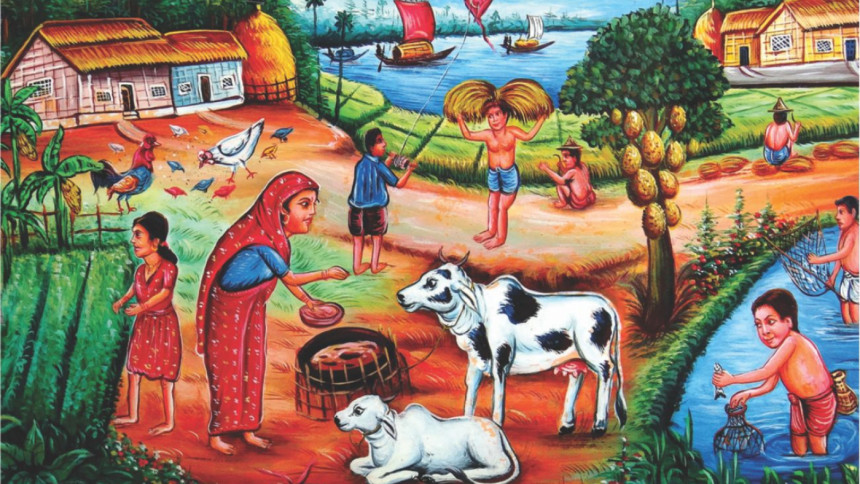 The subject matter of rickshaw art is as diverse as our cultural milieu itself. No matter what the art is about, floral motifs, especially of the lotus, are a must. Over the years, this mobile art museum has showcased pictures of animals, agricultural scenes, rural life, film stars, as well as lyrics and common phrases, all painted with deft hands in a burst of colours: reds and oranges, blues and greens, whites and yellows. 
"Red has been very dominant in our art," says Ahmed, a veteran rickshaw painter whose workshop is in the Hussaini Dalan area of Old Dhaka. "We use enamel paint mostly- for its longevity, affordability and vibrancy."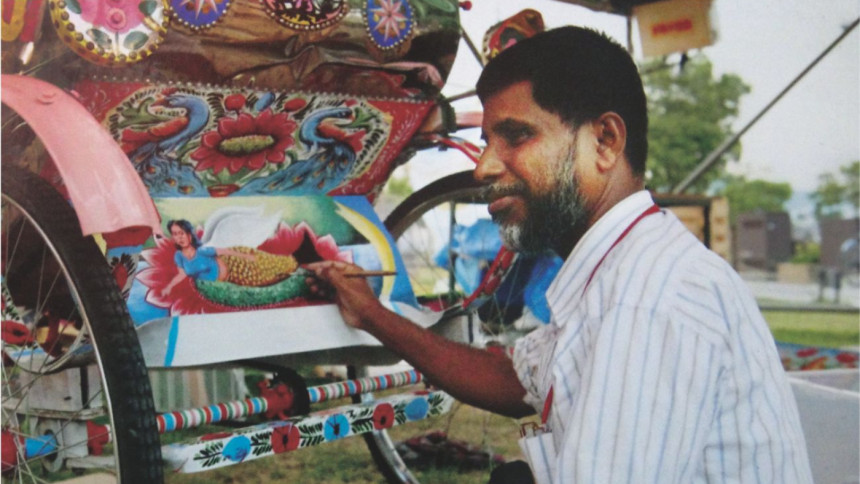 "If you follow rickshaw art, you will get to see how they have changed over time with our political and cultural history," says Ahmed. Right after the Liberation War, the design painted on the rickshaws did not merely present an aesthetic purpose, but also an attempt to depict the darkest hours as well as the most valiant moments of our history. Sometimes, these art works are an accurate depiction of real events, sometimes they are just an exaggerated vision of the imagination.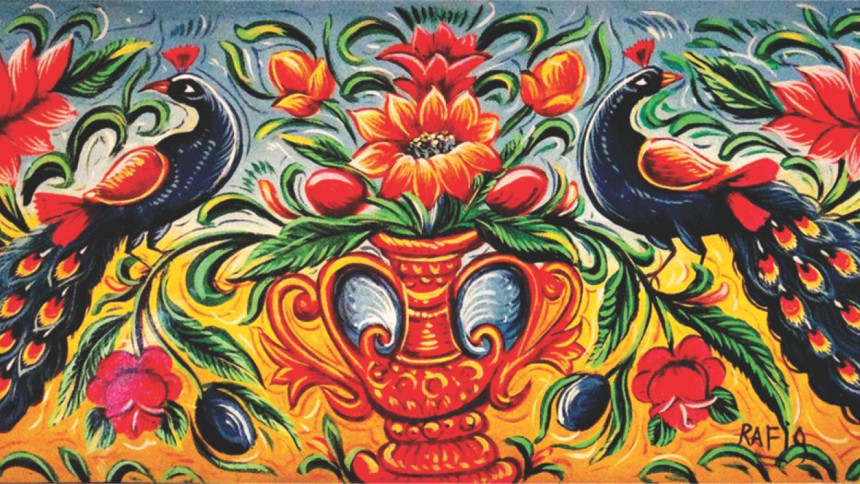 Speaking of imagination, rickshaw art displays the most distinctive fantasy when it comes to animal-centric pictorial semiotics, which had become very popular right after the ban on political depictions in rickshaw art. They have brought tigers, monkeys, rats, elephants and anthropomorphic animals out of the jungle, as they take on the roles of humans - singing, dancing, playing cards, getting an education and what not. Each of these plates that bring together humans and beasts in the same setting, belonging to the same social order, is nothing less than an emblematic fable. Just looking at them is not enough, you need to read through each of the strokes.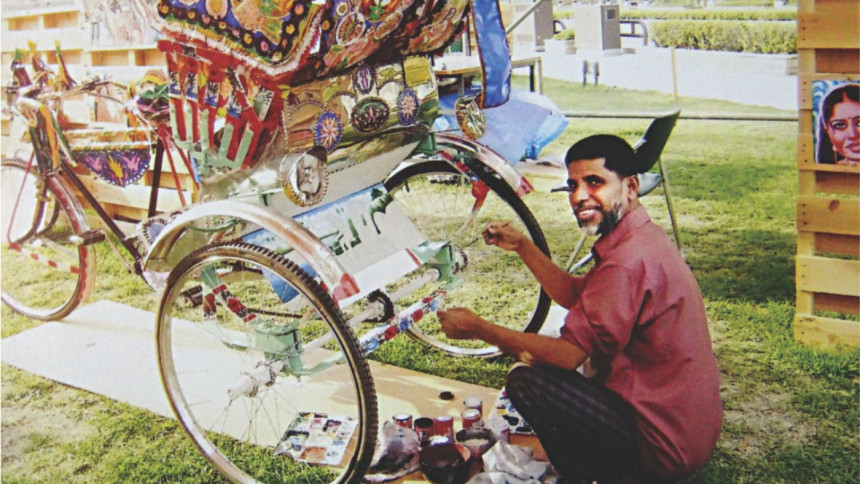 "During the 80's, you could say which movie is up for release by just looking at the back of a rickshaw," says Rafique, another rickshaw painter. Loud, over the top images of the actors of candyfloss love dramas or an ungodly action scene between the hero and the villain, along with their 3D styled typography, would give us a peek of the movie lined with a tinge of humour.
Many talented, mostly self-taught rickshaw artists of our country, who are basically the first generation artists, popularly known as ustads, are credited for initiating this art form. Some of them are Alauddin, Abul, R K Das and Hakim. The second generation artists who experienced the golden age for rickshaw painting in Bangladesh had learnt this skill from their ustads. Very few of them have survived the onslaught of time. The third generation artists are having the hardest time, as they have to also compete with computerised paintings that many prefer to put up these days.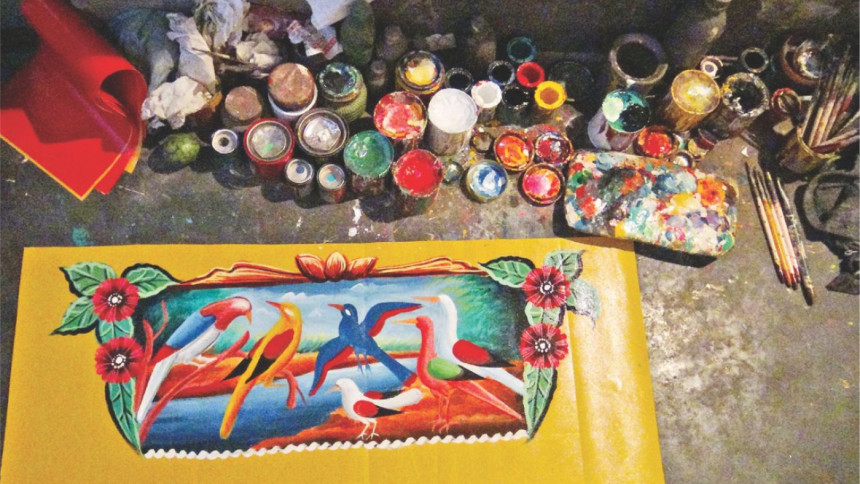 "We always faced challenges despite our skills. Fundamentalists have often criticised this art form as un-Islamic," comments Ahmed. "Also, recently the number of rickshaws has decreased. There has been an influx of colour coded community rickshaws in some areas where the rickshaw painting is missing."
"Rickshaw painting is now undergoing a transformation," says Rafique. "A lot of things that were once hand painted are now being replaced by offset digital prints. To decorate the rickshaw plate, the rickshaw pullers needed to pay me Tk. 200 while today for only Tk. 40-50 taka, they can buy digital prints."
"Some of these rickshaw artists, who have been carrying forward this profession for generations, now don't want their upcoming generations to do it because they are aware of the struggle involved."
"I am a self-taught artist," says Ahmed. "I started rickshaw painting back in 1969 and painted numerous rickshaw plates until 1985. Then I stopped working on rickshaws and started taking commission from foreign art enthusiasts. They pay me better for my work and I get to exhibit my work worldwide. The problem with artists like us is that people here in Bangladesh don't value our skills."
The sole purpose of the wide range of intriguing subjects was basically to grab attention and they did much more than just that - this art form has become a symbol of our urban life. Many artists like Ahmed and Rafique have transcended borders and taken their priceless creations to the rest of the world. 
That said, it's still a skill both rickshaw artists and drivers take immense pride in. Rickshaw pullers believe that a better looking rickshaw attracts more business. For some, it's like a moving billboard that travels from one side of the road to the other. 
A mono-coloured yellow rickshaw fails to bring forth the touch of grandeur to the hustle and bustle of city life—something that is effortlessly achieved by our extravagantly decked, vibrantly colourful rickshaws.