A Fatal Diagnosis: Cancer treatment in Bangladesh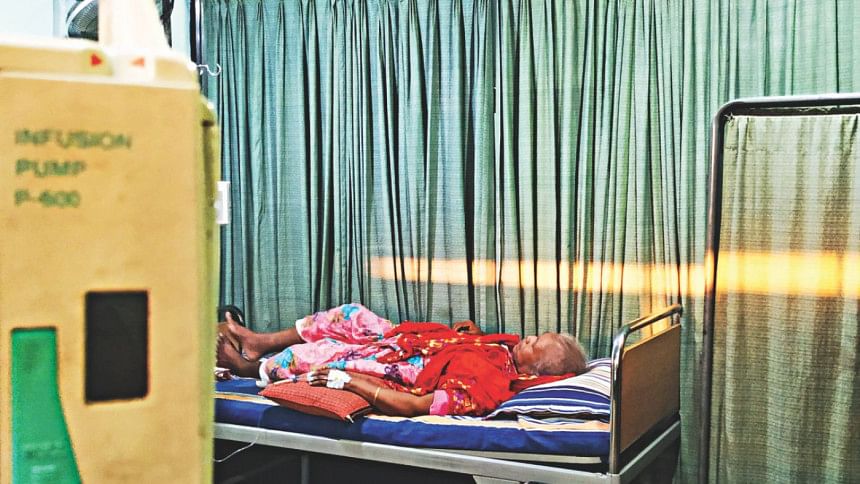 It was around 12:30 pm when we reached the office of the director of National Institute of Cancer Research and Hospital (NICRH). After a half hour wait, the director called us in. As we entered his chamber, he asked, "Why have you come here?" As we were about to explain our intention, his secretary came in and interrupted us. "Sir, the attendant of the patient who was referred by the minister wants to see you," he whispered in the director's ear. "What is the condition of the patient?" asked the director. "Very bad sir. She has collapsed. The doctors stopped all medication fearing that she would not be able to endure and might expire soon," replied the secretary, in a softer tone. "Okay give me the patient's papers and ask the attendant to come."
A young man entered the room and remained standing in front of the director's chair. His pale, exhausted face and dark circles under his eyes clearly revealed his disastrous condition. He was going to explain something but with a hand gesture, the director stopped him. He skimmed through the papers within a few minutes and asked the young man, "What is your relationship with the patient?" "My mother", he replied. "How old is she?" asked the director. "Around 54-55 years old". "You can take her home now. There is no use of staying here anymore. What is the use of spending money for a lost cause?" said the director matter-of-factly.
"Even a month ago, my mother could walk all around the hospital. For the last couple of weeks, she cannot even sit on the bed. Could you give us a prescription for the rest of her treatment?" the young man pleaded. "There is no use of prescription. See the local doctor if any complication arises." "Sir, we have come from a remote town…." as the attendant was going to explain something, the director stopped him and said, "I told you to see the local doctor. You may leave now." The director looked at us and started to describe the government's development plan to expand cancer treatment all over the country.
A doctor of NICRH who requested anonymity revealed why terminally ill patients like that woman are advised to leave the hospital. At NICRH, which is the country's largest cancer hospital and only tertiary level cancer institute, there is no functioning palliative care. "If you ask our administration whether there is a palliative care or not, they will answer positively. But the fact is, the unit is not operational. It exists only in papers," says the doctor. In fact, we asked several officials to take us to the palliative care unit but all of them refused. During our visit to the hospital, we could not find any palliative care unit.
According to the 2018 report by International Agency for Research on Cancer, every year an estimated 1.5 lakh people contract cancer in Bangladesh. However, there is only one functioning palliative care under government management at Bangabandhu Sheikh Mujib Medical University (BSMMU). There are only four specialised cancer hospitals in the country. Outside Dhaka, there is only one functional radiotherapy facility at Chittagong Medical College Hospital in operation for around three months now.  
Such a shortage of treatment facilities and overwhelming treatment costs have severely reduced Bangladesh's capacity to treat its growing cancer patients. According to Professor Zafor Md Masud, head of the department of oncology, Bangladesh Medical College Hospital, "Cancer treatment still has a long way to go here. At present, many cardiovascular patients can avail quality treatment in the country but cancer patients still have to go abroad for better treatment." Why did Bangladesh fail to develop an effective cancer care even after 36 years of |NICRH's establishment? Experts pointed out specific issues due to which Bangladesh is lagging far behind.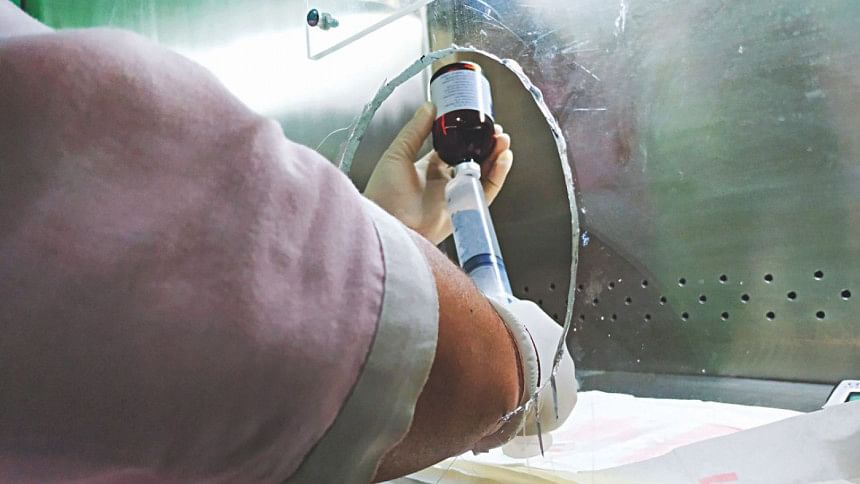 Absence of population-based data
We don't have any population-based data on prevalence of cancer. How many patients contract cancer each year? How many patients die of cancer every year? What are the most frequent cancers among Bangladeshis? How many people cannot access treatment?
NICRH, Bangladesh's apex cancer institute, or any of the country's medical institutes have no answers to these questions. Due to absence of data, International Agency for Research on Cancer published its report on Bangladesh's cancer scenario based on cancer registry data available in the neighbouring countries. Habibullah Talukder Raskin, an associate professor of NICRH says, "Population-based cancer registry is essential to ensure effective treatment. If we don't know the most common cancer among Bangladeshis, if we don't know the number of new cases, if we don't know the age-standardised incident rate, how will we prepare for treatment? How can we take preventive measures for the people when preventive care is the most effective way to fight cancer?"
He argued that population-based cancer registry could make cancer treatment more accessible and affordable. "For instance, if we knew the number and status of cancer patients registered in a particular hospital, we could provide support to ensure maximum treatment in that hospital which could reduce the number of patients in Dhaka or shorten the patient's stay in Dhaka." He also stated that if specific data regarding the type of cancer prevalent among different age-groups can be obtained, targeted awareness campaigns can be launched which can significantly reduce the number of new cancer patients.
Gaps in oncology education
Bangladesh's approach to oncology education also lags behind other countries. NICRH, BSMMU and several medical colleges in Bangladesh have been providing post-graduate courses in oncology. However, cancer epidemiology and prevention strategies which is the study of frequency, determinants and distribution of cancer and its prevention are excluded from the curriculum. Only Gynae-oncology department of BSMMU sends their students to NICRH for a 15-days 'attachment' programme on cancer epidemiology. "This is probably the only country where cancer epidemiology is not included in a post-graduate programme." He believes cancer epidemiology and prevention strategies must be included in the curriculum. And a separate post-graduate course on the same should be started in medical colleges.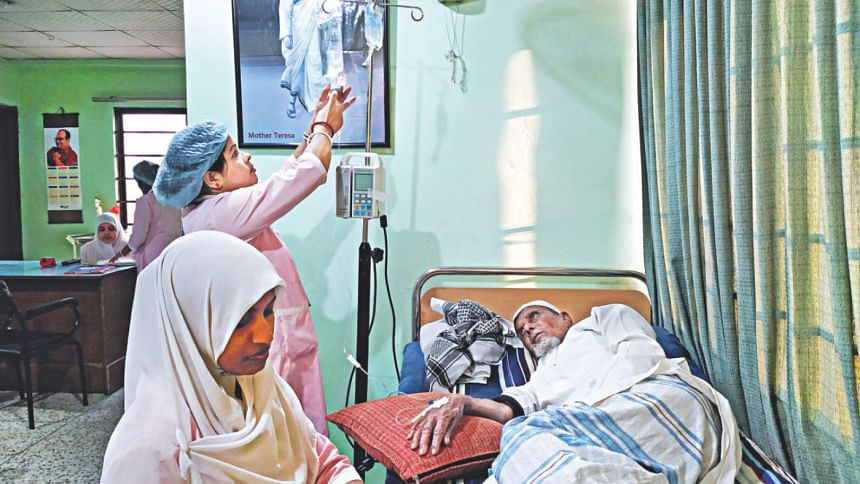 Professor Zafor Md Masud opines that counselling should also be a significant part of the oncology curriculum. "In Singapore, we had to study counselling methods intensively during our first classes. Because breaking the news of a cancer diagnosis is a very difficult task. Many patients and their attendants treat this as a death sentence. In Bangladesh, many patients stop taking treatment because our doctors do not explain the treatment plan, the side effects and the possibility of a complete cure to their patients."
Rather than being treated with empathy, patients at NICRH and Dhaka Medical College Hospital have complained of harsh treatment at the hands of their doctor. Take for instance what we witnessed during our interview with the director of NICRH. Most of the patients we spoke to also alleged that they received little to no information on the side effects of chemotherapy and radiation therapy.
Najmul Islam, has been attending to his father Khairul Islam, a patient of oro-pharynxial cancer at NICRH.  "When we noticed that my father has been suffering from persistent diarrhoea, fever and hair-loss after two doses of chemotherapy, we decided to discontinue treatment. Later, on advice from one of my neighbours, we consulted an oncologist privately and learned that these were not unusual. But, here at NICRH, nobody told us anything."
Due to lack of a comprehensive oncology education programme, there is a severe shortage of efficient manpower in specialised cancer treatment. Academic courses on gynae-oncology started just three years ago at BSMMU. The number of trained gynae-oncologists in Bangladesh is no more than 10 whereas it has been estimated that around 6,582 women die of cervical cancer here each year.
There are departments on paediatric haematology and oncology in eight medical colleges of Bangladesh but most of these are run by paediatricians, many of whom do not have academic degrees in oncology.
"Cancer care is still an emerging discipline in Bangladesh. At present, the number of paediatric oncologists is only 18-20. Due to this shortage, in many cases we have to run the programmes with only paediatricians. If we can bring in experts from top institutions around the world to train our doctors through exchange programmes, I believe we shall be able to overcome this obstacle," says Dr Zohora Jameela Khan, associate professor, department of paediatric haematology and oncology.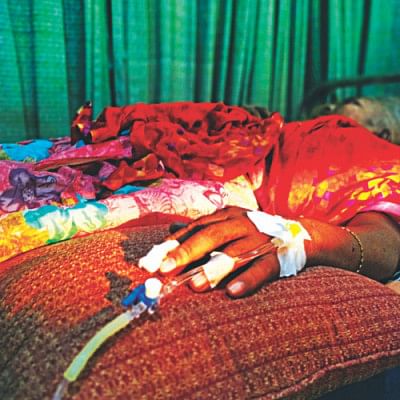 No coordinated and comprehensive treatment approach
Lack of efficient and experienced doctors make patients extremely vulnerable to both wrong diagnosis and treatment. Khaleda Yasmin, a housewife from Netrakona, was diagnosed with breast cancer in 2018. After her diagnosis, her doctor immediately went for mastectomy (complete removal of the infected breast). Later, she was given six doses of chemotherapy which deteriorated her physical condition. However, just three months later, she was again diagnosed with lung cancer which according to the biopsy report had spread from her breast cancer even before the mastectomy. But both doctors, the surgeon and the oncologist, failed to identify the lung metastasis. Khaleda is now being treated for her lung cancer in an Indian hospital. According to Professor Zafor, such incidents are very common because our doctors do not care for a coordinated treatment for cancer patients.
"It is mandatory to form a 'tumour board' for treating a cancer patient; a concept which is virtually unknown in Bangladesh. The board should consist of a surgical, medical and radiation oncologists, an onco-pathologist and several other specialists based on a patient's medical condition. The board members will decide on the best treatment plan for the patient. If Khaleda's doctor had consulted the medical or radiation oncologists with the investigation reports beforehand, her treatment might have been completely different. Because in such cases if radiation therapy or chemotherapy can be applied before the surgery, mastectomy may not be required at all," he comments.
"The practice of treatment of cancer patients by an individual specialist, without consulting relevant doctors is not right," states Dr Zafor.
He further adds that due to the lack of a comprehensive approach in treatment, many innovations and specialisations of cancer treatment simply could not be implemented yet. He says, "We do not have onco-pathologists in our country who are specialised in cancer diagnosis. We still have to depend solely on microscope and regular pathologists to detect cancerous tumour. We cannot conduct immune-histochemistry test which can diagnose cancer more precisely. We are still dependent on chemotherapy and radiation therapy whereas the world has already advanced to more effective and less harmful immunotherapy. To implement these treatments and precise diagnosis techniques, there is no alternative to treating cancer in a coordinated and comprehensive approach."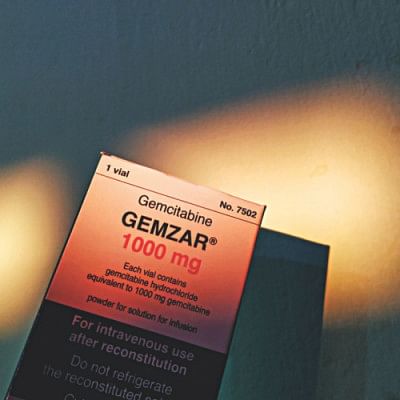 Besides, Bangladesh does not have a national protocol for treating cancer patients. Currently, Bangladeshi patients are treated according to the cancer protocol for US citizens called Evidence- Based Cancer Guidelines developed by the US's National Comprehensive Cancer Network (NCCN). According to Dr Zafor, "Cancer patients require highly individualised treatment. Most developed and developing countries such as India and Singapore have their own national protocol for cancer treatment."
Unfortunately, Bangladesh's NICRH, which has not even published a single research journal in its 36 years, is way behind in developing a national protocol for cancer treatment. When we asked about the aforementioned issues, expressed by various renowned cancer specialists of our country, Professor Md Moarraf Hossen, the director, focused mostly on the physical expansion of the treatment facility and allocation for more funds.
"In the last four years, we have turned NICRH into a 300-bed hospital which started with a capacity of only 50 beds. We cannot deny that cancer treatment facility in Bangladesh is not adequate. But we have plans to set up cancer centres at eight medical colleges that will be monitored and coordinated from Dhaka. These will be established within five years and existing gaps can be closed."
However, without resolving basic issues such as formulating population-based cancer register, updating oncology curriculum, conducting fundamental research and implementing  comprehensive treatment approach, how far will infrastructural expansion like installing eight new cancer centres benefit cancer patients, remains a question.
The writer can be contacted at [email protected]