spotlight
To the polls and beyond
The dream of a credible poll
Taayeeb* Ahmed, 28-year old video editor, 3D generalist and photographer based in Dhaka
I have no hope or aspirations and I won't go to vote either because I am pretty sure by the time I go, my ballot will be cast. But even in all this hopelessness, there still remains a flicker of hope that we might just have a credible poll.
Will Dhaka ever be safe, for me, my children?
Roshni Akther, 20-year old RMG worker in Savar
You know what I want? I want to be able to go to work safely. I want help to be readily available if I am ever harassed. I hope the upcoming government ensures a safer city free of crimes and drugs. Actually, I dream of a city where these things are not even a concern.
I also want the new government to raise the minimum wage even though the minimum wage was raised this year, it is not enough for our living. I have a little child and I don't know if I can afford her education once she is of school-going age. Although there are free public schools in Dhaka, they almost always end by 2:00 pm, after which children are sent back home but we are still at work and it becomes difficult to care for them or ensure their safety. Which is why like many of the other parents around me I am thinking of sending my children to madrasahs, where at least I know they will stay there for longer hours till I can get back home. And about the question, whether I will go to vote, of course I will. Because if I don't cast my vote, it will mean one vote lost.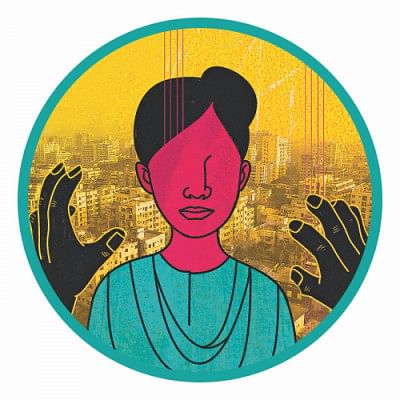 Check and balance in the parliament
Amayi Manish*, 22-year old graduate student based in Hungary
My only hope from this election is that people will go to the polling centres and cast their votes. We need a solid opposition in the parliament so that there is a check and balance system in the house. So that whoever the ruling party is, they simply cannot pass whatever bills they fancy. I am also fearful that the way the field is set, the election may not be as fair as we wish. Everyone is being silenced. What is so scary about all of this is we are somehow complicit in this crime, by not dissenting.
I hope the youth goes to vote—and that its votes are not stolen from them, or else I cannot even begin to imagine what will happen to Bangladesh's politics. Democracy will be a far cry, to say the least.
A boom in business
Inzamam Khan*, 31-year old businessman based in Chattogram
I don't even know if the polls will end up meaning anything, but all I want is for people to show up to the polling centres. At this point, I feel, if the current political party comes back to power using unlawful means, it will simply make them invincible, and this streak of authoritarianism will continue.
I also have some aspirations from the new government—that they can create a business-friendly environment in a country with little to no unrest and an administration that is free of bureaucracy. I also desire to see reforms in the business policies of Bangladesh where the government establishes an alternate export market and also provide incentives to businesses.
A festival of flyers
Jewel Hossain, 28, rickshaw-puller based in Dhaka
My grandfather was a freedom fighter, so was my father. In some ways, I feel that I too fought for the country, which is precisely why I think that we all should have some role to play in shaping this nation. But given the situation we are in, this just feels like a festival now, a festival of flyers seeking votes for boats. And I am quite liking it. I don't think there is anything more to it, other than just the festivities.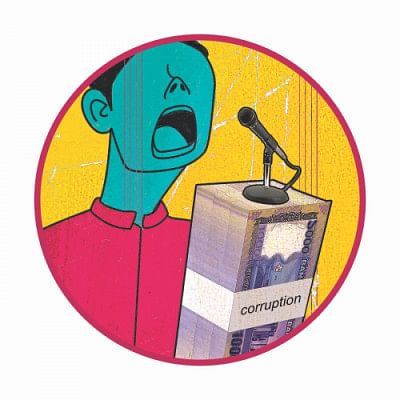 Let the water flow
Jamil Shamim*, 26-year old NGO employee  in the water sector in the south-west of Bangladesh
I will vote and it does matter because casting my vote to reshape the future of the country is beyond you and me, it is bigger than all of us. We should go to the polls because if I at least show up they cannot steal my vote.
From the new government, whoever it is, I hope they focus not only on development but the environment as well. In case of reforms, the ECA 1997 and national water policy needs changes. The national water policy does not address climate change issues, there is no provision for adaptation measures and is focused more on the food security. In 2009, the AL government had provided some very specific manifestos, such as saving the Kabodakh river, but that took 10 years to complete. But this time around, from what I have seen on TV and what I have heard, most of the parties do not have site-specific goals. And when interests, which are very localised, are absent from the manifesto, it fails to garner the local's votes and also reflects that the political parties are not really putting much thought into their manifestos at all.
Stop petty corruption
Abdul Awal, 32-year old, tea-stall owner in Dhanmondi
I have been selling tea and cigarettes in this very corner for years. But my living standard has remained the same. The prices of cigarettes increase, I sell it for a higher price and at the end of the day I end up paying more in "commission" to the cops nearby. That is what I want the new government to ensure, that this petty corruption stops. We should all be able to make our living without paying up to law enforcers, the very people who are meant to ensure our safety and well-being.
Pessimistic about the elections
A J Abir*, 27, journalist based in Dhaka
Voting matters but only when the voters are aware and reasonable but I feel these aspects are absent in the majority of Bangladesh's voters. Plus, I am very apprehensive of the upcoming elections altogether. Still, being a citizen, I feel it is important to exercise my civil rights, whether it matters or not in the end, time will tell. I am not very optimistic that my voting will actually make any difference. In this country, we will still see corrupted people and goons get elected, get their pockets full, rob people of their basic rights, and the cycle will continue, I am afraid.
*Many of the young voters who talked to Star Weekend refused to reveal their names for fear of retaliation.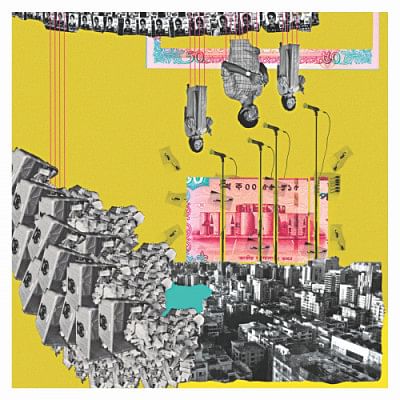 Young at '18
The Bangladesh demographic skews heavily towards the younger generation. But how many of them truly care about the upcoming elections? Will they even vote?
Star Weekend conducted a brief survey among eighty young readers of The Daily Star and interviewed a dozen others to know how aware they are of, and willing to engage with, the electoral process. It should be mentioned here that the survey respondents only represent a fragment of voters from Bangladesh, coming as they do from relatively well-off and educated backgrounds with access to English and the internet. While the survey and interviews are in no way representative, they do offer a glimpse into what urban, educated millennials think about politics and the polls. 
A large number of the respondents were aged between 18 to 24 years and while 75 percent of those who responded are first-time voters, only 30 percent of the total respondents said they would vote in the upcoming elections. A whopping 70 percent of the total respondents chose either not to vote or had not decided yet.
Asked why they are unsure or will not vote in one of the most important elections to have been held in the country in almost a decade, with a solid opposition on the field, 35.7 percent said they do not have their National Identity Cards (NID). A number of respondents we interviewed stated that they had applied for their NIDs way ahead of the elections, but were informed that they would not receive it before the elections.
Most of our respondents spent their formative years during Awami League rule, and some felt that this aspect would have a bearing on the upcoming election. 21.4 percent of them said that they did not think their votes would count, and as many as 87.5 percent of the respondents—and 100 percent of the interviewees—opined that they did not believe the elections would be free and fair. Zahra Zain, 18, who just completed her 'A' Levels, said, matter-of-factly, "What does it matter who I vote for? All of us know who will come back to power."
Ahnaf Ahmed, 25, who is completing his Masters in development studies at BRAC University, voiced similar concerns, jokingly adding he would only vote if the "queues are not too long." He explained, "It's my first-time voting, so there's the novelty factor. But beyond that, I don't care much about it because it's quite pointless whether we vote or not."
Asked why she did not think the elections would be fair, 26-year-old graduate student Mim Hasan said, "So many BNP candidates are being arrested right before the elections, not to mention the attacks that are taking place every day. I really don't see a 'level playing field' and I feel the EC is failing to ensure this."
"I don't think it is possible to hold a fair election by the government in power. Our political parties have always tried to stay in power by any means, so hoping that they will let any other party topple them through a fair election seems impossible," argued Marzuka Esha, a recent graduate from the University of Dhaka.
Interestingly, many readers who felt that the elections were going to be rigged said they would still go to vote. Arshae Ahmed, 22, an undergraduate student from North South University, explained, "I have a responsibility as a citizen, so at the end of the day, I will do my part." Mahee Azreen, 23, student of University of Liberal Arts Bangladesh, added, "I'll vote anyway because, at the end of the day, 'hope' is what keeps us alive." 
Survey respondents and interviewees both stated that they were apprehensive of going to the polling centres to cast their votes and mainly blamed it on chances of violence breaking out centring the voting process. Many voters also mentioned feeling unsafe about going to the polls. 
"If I face an unfortunate incident or if I need help, I am pretty sure there will be no law enforcement members to come to my aid. I have zero faith in the government to stop miscreants and thugs during the polling," said one respondent.
Meanwhile, another respondent simply said "BCL" (aka Bangladesh Chhatra League), which is the student-wing of the ruling party, to the question why they feel unsafe.
While we are on the topic of safety, the respondents clearly indicated they have no confidence in the law enforcement agencies and they believe the deployment of armed forces is necessary during the elections. A total of 62.5 percent of our respondents believe that deployment of the army is necessary.
With questions of voting and fair elections out of the way, we focused on how a candidate would be elected. Among other things, we asked how many of our young readers had actually read the manifestos.
Get this, 62.5 percent of the respondents had not read any manifestos. Among the ones who had read the manifesto, very few said they had found anything of interest in them. "All the same hollow promises," said one respondent about why they did not feel the manifestos had any tangible value.
Another respondent cheekily added, "The only point of interest is how the ruling party refuses to let other parties hand out their manifestos in our area."
This is surprising because if we look at international examples of electioneering, the manifestos or pledges are declared a long time before the election actually takes place and debates are organised between the opposition, with public participation. All of this, then, becomes a driving force for the campaign of that particular candidate.
So, if not the manifesto, then how does one choose their candidate?
"I personally look for someone who actually cares about the country and her people. It's not about their own portfolio, it's about serving the country. I know that, at the end of the day, there will never be a black and white picture of politics. However, that doesn't mean the right thing can never be done," says Ahmed.
All the interviewees we spoke to reiterated that they were "tired of dynastic politics" and "corruption from top to bottom". As Azreen reflected, "I'd want someone who'd come into politics not because his dad/granddad was doing it, but someone who's actually willing to change the idea that 'politics' is a dirty thing and confront the corruption at every level of society."
ILLUSTRATIONS:
SADAT
NAHFIA JAHAN MONNI AND
KAZI TAHSIN AGAZ APURBO
---