spotlight
Dreaming of a Traffic Free Dhaka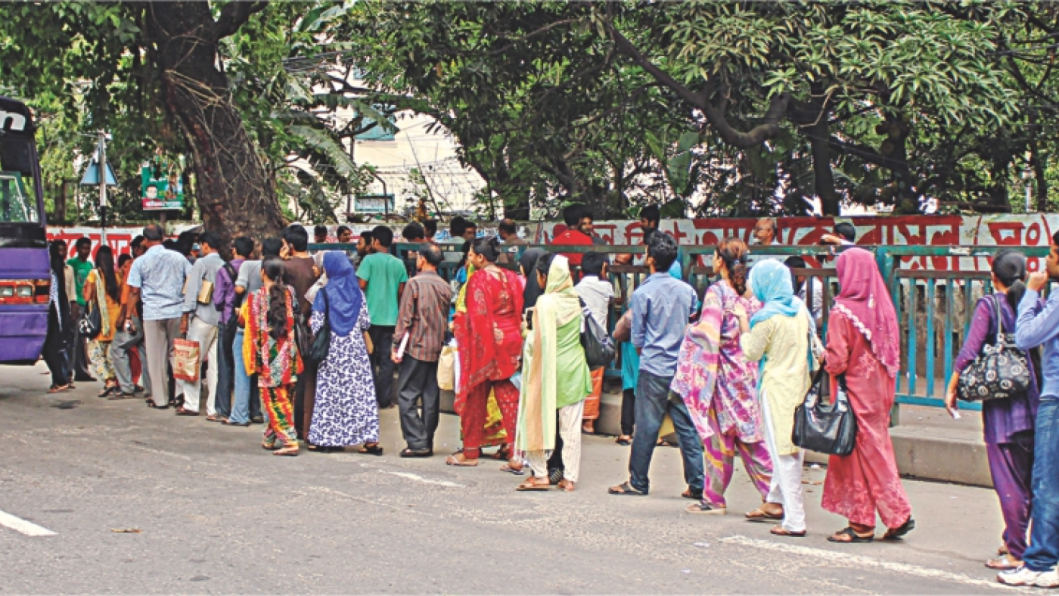 Photo: Kazi Tahsin Agaz Apurbo
It was 6 o'clock in the afternoon. The open square of Bashundhara shopping mall was crammed with people desperately looking for public transport to return home by iftaar. Taxi and CNG auto rickshaw drivers grabbed the opportunity very well, doubling and tripling their fares, despite the fare-metre. Having no other options, passengers agreed to paying the high fare but of course, there was no certainty of them reaching home on time. The entire street from Bashundhara City Mall on Panthapath to Shonargaon intersection was gridlocked with hundreds of vehicles. Eventually, the shoppers ended up sitting in the open square and take iftaar with snacks and water.
This has been a regular Ramadan scene for the last few years, when the entire city of Dhaka chokes with uncontrollable traffic jams. Unfortunately the situation has not changed much this year. Apart from blessings and religious fervour, for Dhakaites, the holy month of Ramadan brings disastrous traffic conditions. Like the previous years, despite short term initiatives by the traffic division of the Dhaka Metropolitan Police, key factors of incessant traffic congestion will bring terrible street experience for Dhaka dwellers.
According to the World Bank report on World Population Day, Dhaka is one of the fastest growing cities in the world whose population (around 5 million) has been stretched to its limit. However, for transportation of such a huge number of people, the city offers a very limited number of open, wide streets, a manual traffic control system and a force of some three thousand overcommitted traffic police who have to struggle a lot to control such enormous volume of people and vehicles with very limited resources.
According to experts one of the main reasons for Dhaka's characteristic extensive traffic jam is the uncontrolled movement of public transport. As there is no metro rail or tubes, 15 million citizens of Dhaka rely mostly on buses for travelling in and around the city. According to Bangladesh Road Transport Authority (BRTA), the number of public buses in Dhaka is around 22,814 among which 9,995 buses are 20-seater mini buses. However, the total number of vehicles in Dhaka is more than 4 hundred thousand at present. With no automatic system for traffic control, Dhaka Metropolitan Police's Traffic division is fighting a losing battle to control such huge and increasing number of vehicles.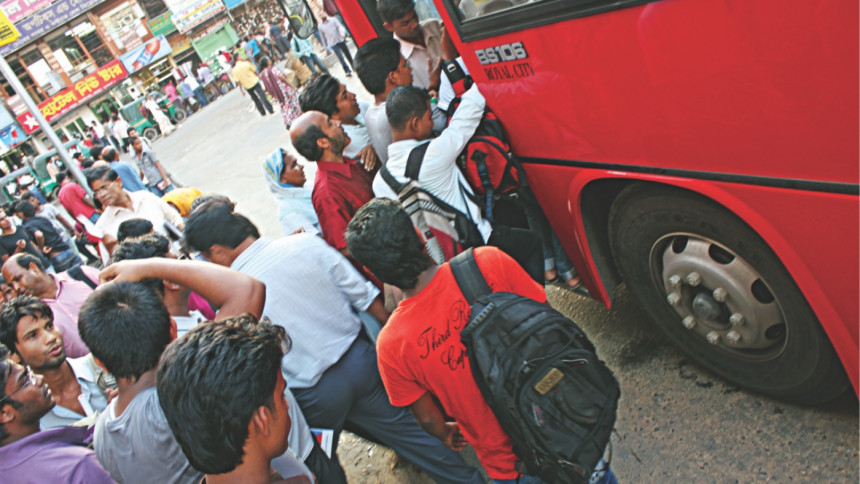 While issuing route permits, BRTA specifies terminals for the buses and gives instructions to the bus owners where the buses can stop and where they cannot. However, none of the bus drivers obey these instructions. For example, if a bus returning from Mirpur to Azimpur stops at Kalabagan, it is not permitted for the bus to stop anywhere before crossing Dhanmondi. In reality, bus drivers do stop their vehicle wherever they find passengers. 
Several of its initiatives to control the buses -- such as specified lanes for specific vehicles and automated signalling system -- have failed miserably due to immense vehicle pressure and lack of adequate infrastructure. Even today in some intersections such as Sonargaon and Farmgate, DMP's signboards can be seen saying "No Stops for Buses. Any violation of the order will be fined immediately."  Another signboard in Sonargaon intersection says, "Don't even think of slowing down your vehicle here." However, buses are frequently seen stopping near that very signboard to take passengers blocking passages for hundreds of vehicles.
The situation in Farmgate intersection is probably the worse. In the afternoon every day, whether in Ramadan or not, hundreds of people are seen standing in the open street waiting for buses. The bus drivers park the vehicle on the busy main street and block the other vehicles while they drop the passengers and take new ones which lead to serious traffic jam frequently. However, the passengers have no alternative to wait for the bus in the open street as the waiting shed in the bus stops are always occupied by hawkers, beggars and homeless people. Besides, the open sewerage system near the waiting sheds has made the sheds completely unusable.
Besides, while racing with each other to take more passengers, bus drivers often deliberately block the road by turning the vehicle so that another bus cannot go past it. Such bullying in the roads is very common in Dhaka which leads to accidents as well. Md Shirajuddin, a bus driver of Dhaka's Moitri Bus Company Ltd says, "We have to deposit 7000 takas everyday to the owner of this bus. So, our prime target is to take maximum number of passengers and that too within a very short time. We have no time to care about whether it is a designated terminal or not."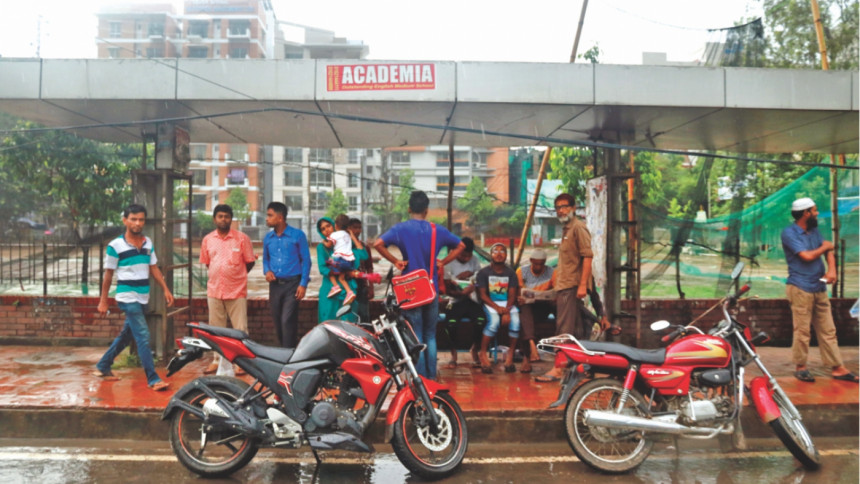 "And if we do not take passengers, how will they reach home? By walking?" adds an apathetic Shiraj. Shiraj represents almost all the bus drivers in Dhaka. In fact, according to DMP's traffic division, proper maintenance of designated bus stops can play a key role in regulating Dhaka's traffic. However, Sheikh Shoyabul Alam, General Manager (Transport) of Dhaka South City Corporation says, "Dhaka is going through a massive infrastructural development. At present, establishing new and fixed bus stops is very difficult because we might have to change locations frequently."
"For instance, for the construction of Jatrabari flyover, Fulbaria bus stop had to be removed. As a result buses are now stopping on the main streets in Gulistan which has now become an unofficial bus stop," he adds. In fact, the city's entire public bus transportation is relying on these 'unofficial' bus stops known to all passengers.
This year for Ramadan, the DMP's traffic division has come up with some short term initiatives to decrease sufferings of the commuters. According to DMP officials, they have contacted the bus terminal authorities of Gabtoli, Mohakhali and Sayedabad and reached an agreement with the bus owners that their buses will not stop outside the terminals to pick and drop passengers. In the shopping mall areas, DMP will allow car parking facilities on the alleys next to the malls to facilitate the flow of traffic on the main avenues.
Moslehuddin Ahmed, joint commissioner of DMP's traffic division says, "All the members of the traffic division -- from the constable to the top brass will do round the clock duty on the streets and they will have their iftaar on the streets as well!"
Nonetheless, it is very true that management of traffic involves a lot of other relevant factors as well such as condition of roads. Digging of roads by different government organisations for maintenance work is one of the major reasons for frequent traffic jam in the city.
However, if the city authority can ensure the establishment of some designated bus stops in the city and maintain these with suitable sitting arrangements and proper enforcement of traffic law, it will be possible that a significant amount of traffic congestion can be reduced. In fact, there are existing infrastructures like bus bays and bus stops with waiting-sheds in many parts of Dhaka. All we need is proper maintenance and utilisation of these resources and unbiased enforcement of traffic rules.