A Campus Forever Linked to Liberation
"The city wrapped in starlight, was in deep slumber. The night was as pleasant as a spring night in Dacca could be. The setting was perfect for anything but a bloody holocaust. At around 11:00 pm, the local commander [Dacca] asked permission to advance… everybody looked at his watch. The Operation Searchlight began with great cunningness, surprise, deception and speed combined with shock action… The gates of hells had been cast open." This is how Brigadier Siddique Salik, a Major in the Pakistan army in 1971, described the gory night of March 25, in his memoirs "Witness to Surrender". 
The Pakistan army used all kinds of combat weapons in their arsenal that night—tanks, heavy artillery, rocket launchers, recoilless rifles, heavy machine gun—to wipe out Bengalis from the face of the earth. Dhaka University, the epicentre of Bengalis' struggle for self-determination, was one of the three key targets (the two others being East Pakistan Rifles HQ at Pilkhana and Rajarbagh Police Lines) of Pakistan army's genocidal Operation Searchlight.
Gopal Chandra Das was a peon of Dhaka University Central Students' Union (DUCSU) at that time. The severity of the Pakistan army's genocide was reflected in Gopal's description. He shares with Star Weekend: "The attack was a total shock for us. My father and I used to live in a hut near the DUCSU building. Our hut was trembling like a leaf from the sounds of explosions. There were unbearable sounds of rattling machine guns and cries of terrified, panicked people."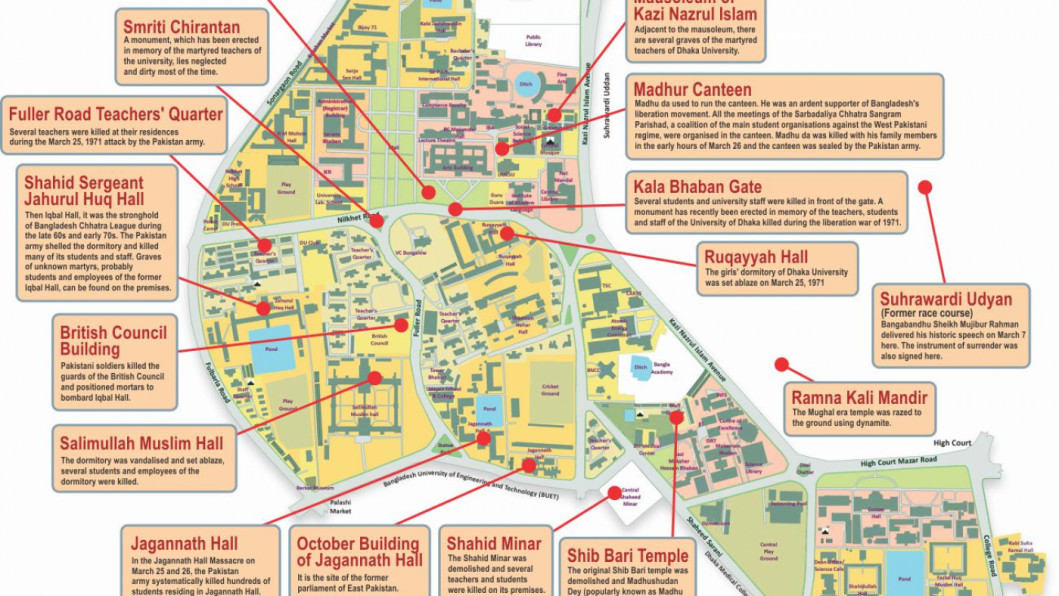 "At dawn, we cautiously moved out of our hut to join our family members who used to live near Shib Bari temple. There was an open space between Madhur Canteen and the dormitory of the international students. There were numerous dead bodies in that open space. Some of the dead bodies were badly burnt and mutilated. My father and I examined the bodies to see if anyone was alive," adds Gopal.
Finding no one alive, Gopal and his father moved towards Madhur Canteen, the meeting place of Sarbadaliya Chhatra Sangram Parishad, a coalition of the main student organisations against the West Pakistani regime. Just then, they spotted a Pakistani armoured vehicle moving towards Madhur canteen. "We quickly hid ourselves in a bush. We saw the vehicle stop in front of the canteen. Some soldiers emptied their machine guns at the canteen. Then they got out from the vehicle and destroyed all that was left in the canteen," recalls Gopal. 
As Gopal and his father were trying to reach Shib Bari, they witnessed horrific signs of genocide on their way. "The entire Iqbal Hall (now Sergeant Jahurul Huq Hall) was burnt and demolished. I saw at least 10 dead bodies just at the entrance of the hall. Salimullah Muslim Hall was also badly destroyed. In the narrow lane between Shamsunnahar Hall and Ruqayyah Hall, I saw heaps of dead bodies that included women and children as well. When we reached Jagannath Hall, we saw hurriedly dug mass graves. I noticed a hand wearing a valuable wristwatch had come up from one of those graves."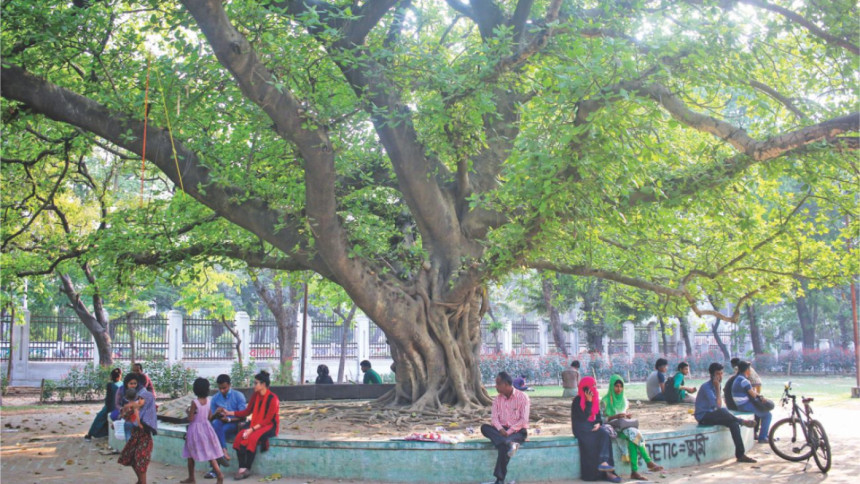 Gopal's description of genocide was quite similar to Brigadier Siddique Salik's accounts. He wrote in his book, "…I was surveying mass graves in the university area where I found three pits – each between five and 15 metres in diameter. They were filled with fresh earth. But no officer was prepared to disclose the exact number of causalities. From the university area, I drove on the principle roads of Dacca city and saw odd corpses lying on the footpaths or near corner of winding streets."
The biggest atrocity of Dhaka University genocide of March 25-26, 1971 was committed in Jagannath Hall. Nurul Ullah, a teacher of Bangladesh University of Engineering and Technology, secretly video-recorded the atrocity from his residence. He described his experience in a book titled 1971: Bhoyaboho Obhigyota (1971: Dreadful Experiences), "At night I saw thousands of Pakistani soldiers had taken position with their heavy fire arms all around Jagannath Hall. Many rooms of the dormitory were burning. And Pakistani soldiers were searching for students in other rooms. At day break I noticed Pakistani soldiers were piling up dead bodies. They were shooting at dead bodies to confirm their death. I hurriedly took my camera and placed that on my window. I took a black paper and made a hole in it. I put the paper over my camera to hide it. Then I recorded three incidents of genocide in Jagannath Hall field. I also took footages of how Pakistani soldiers prepared mass graves with bulldozer and buried the dead bodies".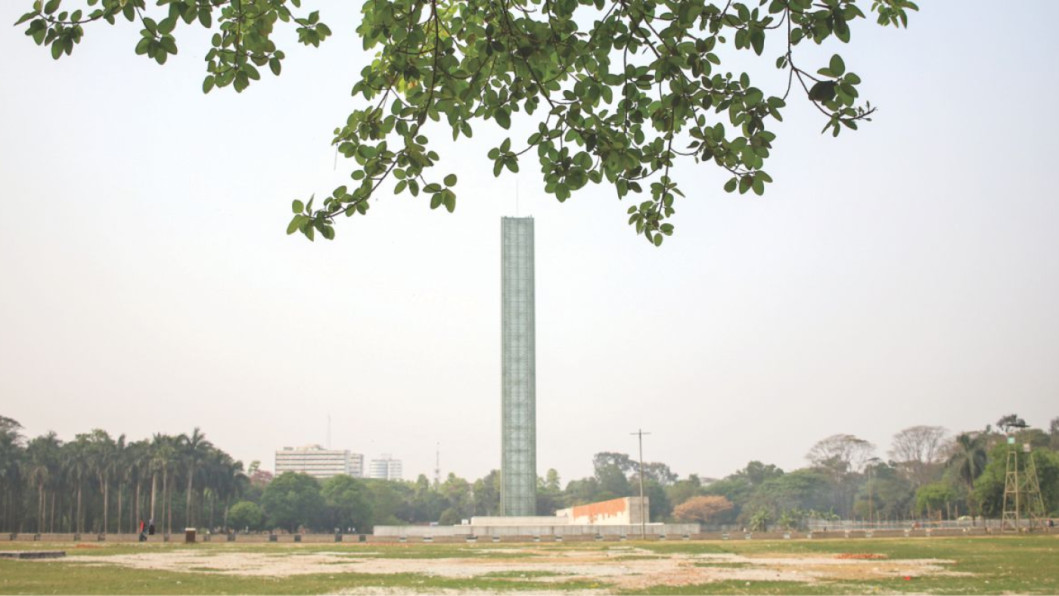 This video can still be found on YouTube. The video showed how Pakistani soldiers lined up students in the field and shot them. Before firing, one of the students suddenly ran to the soldiers and begged for his life but he was kicked and pushed back towards the line. Then all of the students were killed and their bodies were bayoneted to confirm death. Besides, the Pakistan army vandalised Dhaka University Teachers' Club and killed four of its staff. They also killed 12 students of Salimullah Muslim Hall, seven students of Fazlul Huq Muslim Hall, seven students of Master Da Surja Sen Hall (Jinnah Hall in 1971) and 10 students of Haji Muhammad Mohsin Hall. All the priests of Gurudwara Nanok Sahi, Shib Bari temple and Ramna Kali temple were killed. They also killed 27 Hindus in Ramna Kali temple who took shelter there on March 27.
Herbert D Spivack, the US Consul General in Dhaka, sent a report to his government describing what had happened in Ruqayyah Hall (the biggest female dormitory of the university) of Dhaka University on that night. He stated in the report that six female corpses were found in a room of Ruqayyah Hall. The corpses were found unclothed with gagged mouths and bound hands. Besides, all of the employees of the dormitory were killed along with all of their family members that night. Fortunately, most of the female students escaped the genocide as they left the dormitory several days earlier due to the students' strike. Later it was estimated that on March 25 and 26, the Pakistani army killed at least 200 students and 10 teachers of Dhaka University.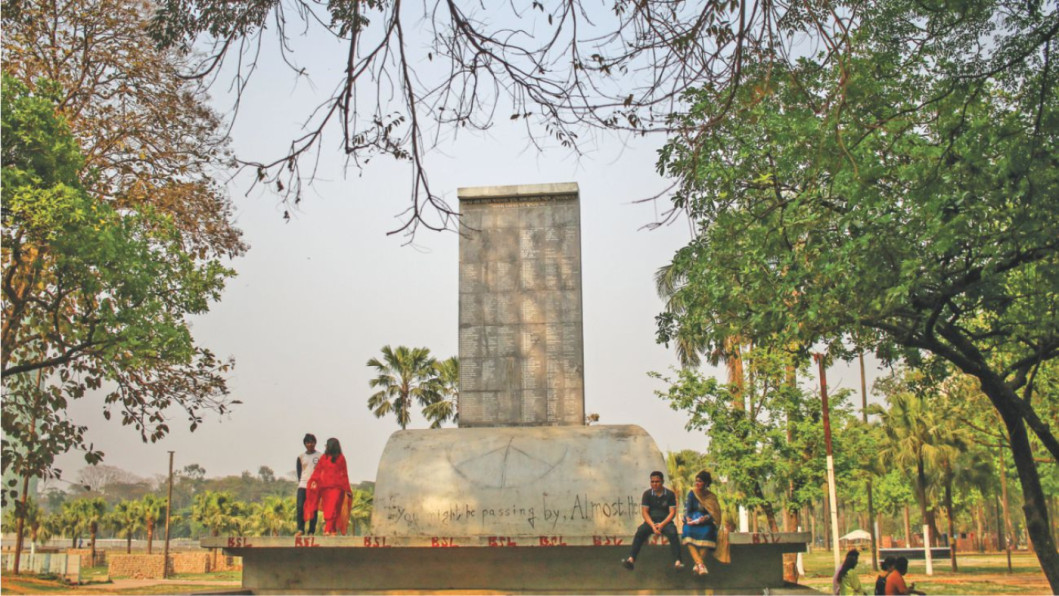 According to Professor Dr Imtiaz Ahmed, Director, Centre for Genocide Studies (CGS), Dhaka University: "Targeting a university and killing its students and teachers is unprecedented in the history of human conflict. It's a textbook example of genocide. Pakistan army tried to erase Bengali nationhood by annihilating Dhaka University and its teachers and students, as Dhaka University is the birthplace of Bangladesh's struggle for emancipation."
After nine months of atrocious war, the Pakistan army surrendered to the allied force (Bangladesh and Indian joint command) and Bangladesh was born. The instrument of surrender was signed in Suhrawardi Udyan (the then Race  Course) located inside Dhaka University premises. Lieutenant General J F R Jacob (then Major General) wrote in his book "Surrender at Dacca: Birth of a Nation": "When he (Lieutenant General A A K Niazi) agreed to surrender, he wanted the ceremony to take place inside the cantonment. We wanted it at the Race Course where Bangabandhu had given his famous March 7 (1971) speech, nine months and nine days, earlier. 
"There are hundreds of places in Dhaka University which have immense significance for their connection with Bangladesh's history. In fact, the entire university campus can be considered as a museum of the liberation war of 1971," argues Professor Dr Imtiaz Ahmed. However, the unfortunate truth is very few students of Dhaka University even know about the sacrifice of their institution's teachers and students during the Liberation War of 1971.
A forgotten trail of history?
Until this year, there was hardly any initiative from the university administration to make its students aware of the hundreds of historic places located inside the university campus. In Sergeant Jahurul Huq Hall (Iqbal Hall in 1971) premises, there are several unidentified graves of the martyrs of the March 25, 1971 genocide. However, nobody knows their identity and most of the students  do not even know that those graves belong to 1971 martyrs. There is a small monument in Jagannath Hall field in memory of the martyrs of 1971, but it does not provide any description of the tragic incidents that took place there during the early days of the war.
There is a magnificent monument, an amphitheatre and an underground museum in Suhrawardi Udyan. However, due to lack of maintenance, throughout most of the year, these commemorative places remain occupied by homeless people and junkies. The historic building of Madhur Canteen can be seen covered entirely by political posters and banners. Most of the students who now spend their leisure time under the shade of the gigantic banyan tree near the Arts Building do not have a clue that it was the starting point of all the protest marches of Sarbadaliya Chhatra Sangram Parishad.
"It is really unfortunate that still we could not erect the plaques in these historic places," says Professor Dr Nasreen Ahmad, pro vice-chancellor (Academic), University of Dhaka, who was also a student leader at the time and served in Shadhin Bangla Betar Kendra during the war.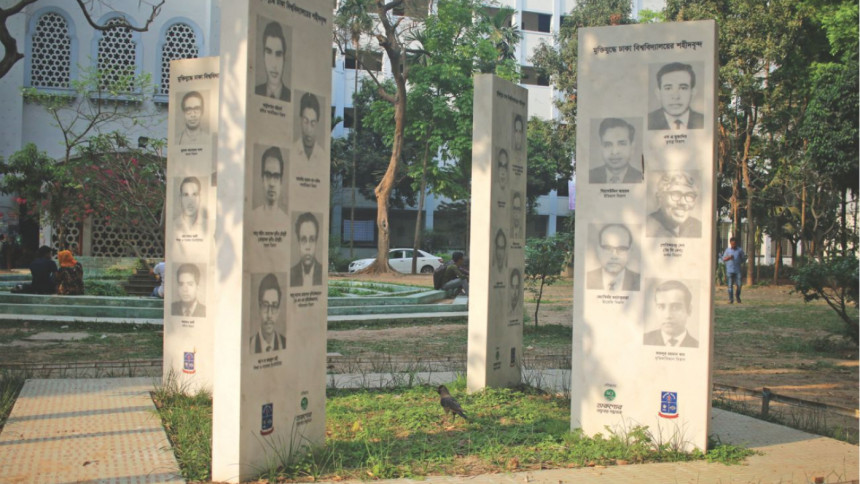 "When I see the Bot Tola, I sometimes feel nostalgic. From there we used to start our processions and, in that very place, the student leaders declared their next activities. In one such procession in 1969, the police fired at us and bombarded us with countless tear gas shells. I took shelter in Dhaka Medical College and when I returned home I learned that Amanaullah Asaduzzaman (Shaheed Asad) was killed by the police on that day," she recalls.
"After the attack of March 25, Pakistani soldiers uprooted the ancient banyan tree. On February 14, 1972, US senator Edward Kennedy planted another banyan sapling at the same spot," adds Professor Dr Ahmad. 
However, Dr Ahmad also gave us some good news. She stated that the Ministry of Cultural Affairs has promised their support to erect commemorative plaques with their real history in different locations of Dhaka University. The Centre for Genocide Studies of Dhaka University has also recently taken an initiative called 'The Walking Museum'. Through this initiative, from this year, the freshers of DU are being taken on a guided tour to the historic locations of Dhaka University. According to Professor Dr Imtiaz Ahmed: "We invite eminent personalities or freedom fighters who were here at that time. They take our students to different locations and describe what happened there during the Liberation War."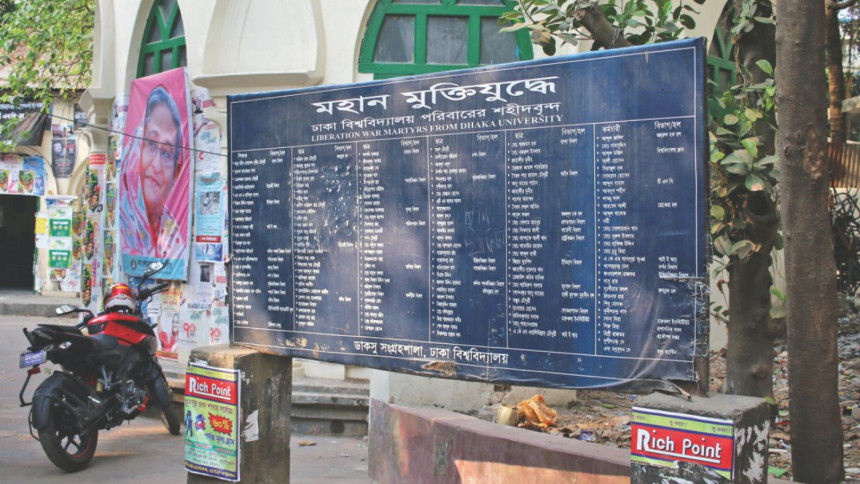 "We are getting immense positive responses from the participants. Students and teachers of science and business faculties have also expressed their interest to participate in the tour. We are even getting requests from other universities, schools and colleges to arrange such tours for their students," adds Dr Imtiaz. Dr Nasreen Ahmad informs us that in the next meeting of the academic council they will try to make this initiative a compulsory academic activity for all the departments and institutes of Dhaka University.
It is cause for real hope that Dhaka University authorities have finally taken the initiative to preserve the invaluable history of this nation spread all over its campus. Establishing the initiative called 'The Walking Museum' as a regular academic activity and erecting the commemorative plaques with accurate historical descriptions can be some useful steps towards preserving the history of our great war. Through these initiatives it is possible to preserve the real history of our Liberation War, which is so inseparably entwined with this university. As Dr Ahmad rightly points out, "If anyone wants to know about Bangladesh and the Liberation War of 1971, s/he must know Dhaka University and visit its campus."
The writer can be contacted at shahnawaz.khan@thedailystar.net