Remembrance
The Jagannath College Concentration Camp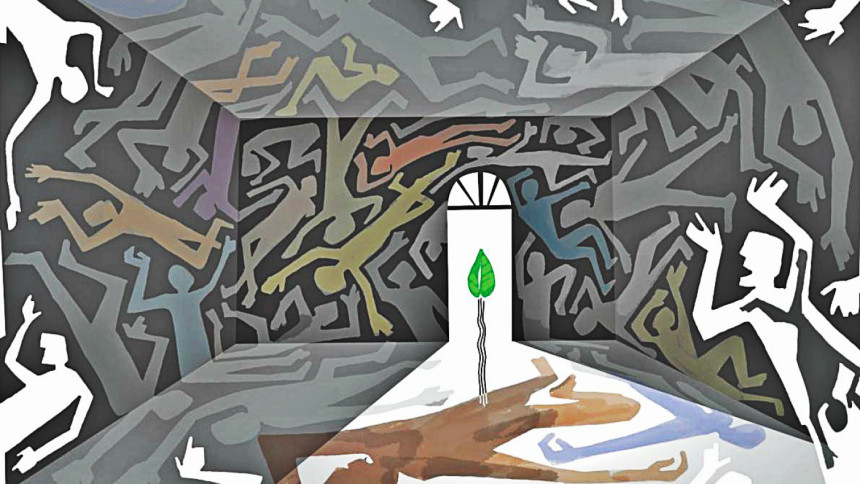 Translated by: Meghna Guhathakurta
It must have been either the 22nd or 23rd (of January 1972). I went with Suraiya to Jagannath College. Classes had not begun yet. She was just going to have a look around. She taught philosophy there. We climbed the stairs to the first floor of the old building and wandered around the verandah. After exchanging a few words with the guard we were coming down when we realised that following us from behind was a middle-aged man wearing a lungi (sarong) and a soiled vest. I suddenly realised that he had silently followed us up from below. As we reached the bottom of the stairs, we wondered for a while where to go from there. Suraiya had heard of a room where people were brought in and tortured. They had brought a colleague's brother there. Her husband had somehow managed to get him freed. The man asked us, "Do you want to go to that room, apa*?" I was thinking whether the man was a spy or just demented. I asked, "Which room?" He replied, "That room…. where they used to take everyone to be killed."
I shuddered and asked "Who are you?" He replied, "I am the guardian of one of your students. My daughter is Malati. She studied at your school. I too was brought here. I don't know how I escaped." I turned and took a good look at him. He was fair. His face round and broad had such a shadow that it seemed he had taken stage make up. Where was Malati, I wondered? Was she no longer alive? Why was her father wandering these dark corridors? Was he crazy? Then I asked him, "Will you take us to that room?"
Just past the college gate at the left is the principal's living quarters and behind the garden is a row of newly built two-storied buildings. We retraced our footsteps to the bottom of the staircase there. The man led us to the room, which had popularly come to be called "the red room". We took the narrow verandah facing the south. There was no lock on the door. With one push of his hand, he opened the door. It was a big room, a few benches and high benches littered across it. There was blood on the floor, on the benches and the high benches had blood splattered on top. The most horrifying scene was where some hapless victim must have been pierced by a bayonet and the blood gushing from his heart sprinkled high on the eastern walls. The walls all around bore witness to this gory incident, the stains appearing like sparklers in the night. At some point it had trickled down slowly against the walls and onto the high benches from where it clotted in a thick mass on the floor. It was not possible for us to remain there much longer. A silence-filled terror struck us. But even so, our guide, Malati's father, kept on saying, "Look apa, this must be where they dragged the bodies through the door onto the narrow corridor and staircase." We saw the one-foot wide brush mark of blood gradually thinning out as it reached the stairs. Our knees started to crumble. Our guide must have had more stories to tell. We did not ask him, we could not ask him, and the stories remained untold. A silence enfolded us as we got into our car. The man put his palms together to say farewell. My head was spinning, my throat parched. I tried to wet my mouth with my spit. It was only on reaching Suraiya's house that I could regain my strength with a cup of hot tea.
I had not told anyone of this event, not even my daughter. The face of Malati's father haunted me night and day. Where was Malati? How was she? Was she alive? Why couldn't I ask about her to our guide, about her family? Did he come to tell me something as a guardian, as a father? Why did I not ask him about her?  Now after so many years, on March 1990 I am thinking I must have been mad not to do so. I must have lost my senses.
* respectful form of address
---
Source: Basanti Guhathakurta, Ekattorer Smriti [Memories of '71] (Dhaka: University Press Limited, 1991), 145-6.