Hostage in our own country?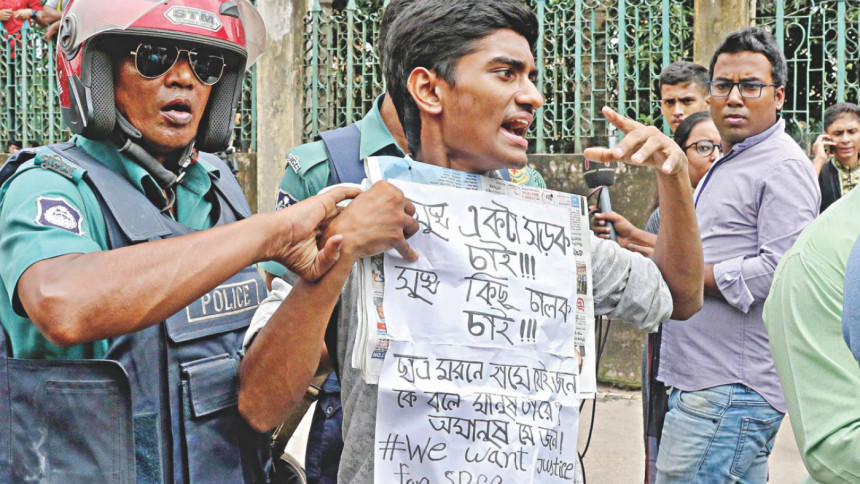 "In Maharashtra of India, 33 people were killed in a road accident, but do they talk about it like the way we do? Whenever something happens in Bangladesh, no matter how insignificant it is, everybody makes a fuss," commented Bangladesh's shipping minister Shajahan Khan, who is also the executive president of Bangladesh Road Transport Workers Federation. The minister made this remark, laughing, at a press conference while Dia Khanam and Abdul Karim, students of 11th and 12th grade respectively of Shaheed Ramizuddin Cantonment College, were being buried by their distressed family members.The two high schoolers were run over by a bus at Dhaka's Airport road on July 29, 2018. Throughout the conference, he kept addressing this ruthless act of murder as an "accident" although it was far from it—the bus driver unlawfully overtook another parked vehicle at full speed and knocked down the students waiting on the footpath for transport.
Deaths caused by reckless driving of buses are not uncommon in Dhaka city—the have become the norm. Last week, a bus driver and his helper injured North South University student Saidur Rahman Payel  in a freak accident, and then threw him in a canal to kill him. Just a couple of months ago, on April 4, Rajib, a student of Titumir College, was severely injured and later pronounced dead, when a bus tried to overtake another and knocked Rajib down, detaching one of his limbs from his body. Just two days later, on April 6, another double-decker bus ran over a teenage girl called Rozina Akhter and killed her. All these are old news now; but the question is, why is our government—which is powerful enough to subdue all of its political opposition—fails to control unruly transport workers? Who all are giving bus workers the indemnity to break all the traffic rules and kill people on the streets?
Obaidul Quader, Minister for Road Transport and Bridges, partially answered this question last year, when Dhaka's bus owners made the headlines for increasing fares up to two to three times its initial price, causing public outrage. Quader, upon failing to stop the fare increase, remarked, "Bus owners are not ordinary people. They are very influential and powerful. They don't respond to our call for meetings."
Who are these all-powerful bus owners who can dare to defy the government's call? Not surprisingly, some of the transport owners are also policymakers of the current government. Several of them run the companies using their friends and family members' names. For instance, Jabale Nur, the bus that killed the two students at Dhaka's Airport Road, is owned by Nannu Mia, the brother-in-law of Shipping Minister, Shajahan Khan, the same person who laughed upon hearing about the deaths. Khan's brother, Hafijur Rahman Khan, also owns a bus company called Kanak Paribahan which operates in Dhaka's Gabtoli-Mirpur-Abdullahpur route. Another bus operating the Mirpur-Jatrabari route named Shikhor Paribahan is run by Mahmud Hossain, who is known as the right-hand man of Shajahan Khan. In fact, in 2009, when the bus got its route permit, the launching ceremony of the company was chaired by Shajahan Khan's wife.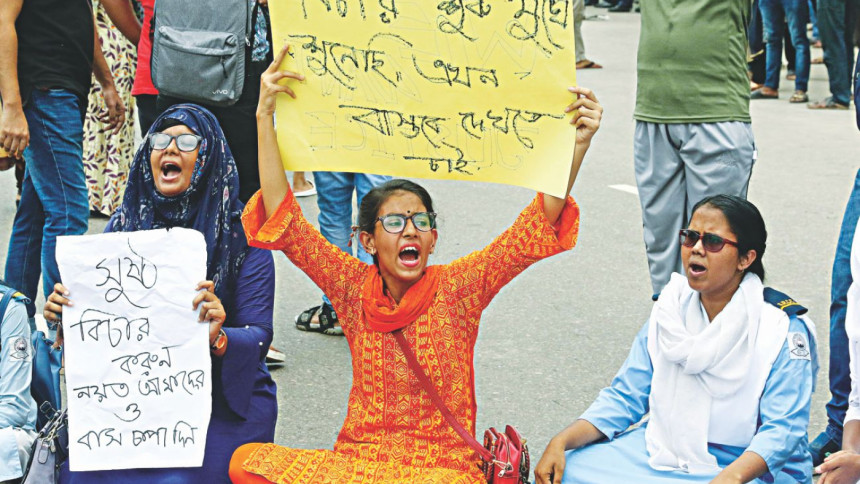 Bihongo Paribahan, which killed two students in 2014 and three people in 2017, is still operating. This company is owned by current Awami League lawmaker, Pankaj Debnath. Another bus company called Tetulia Paribahan, which operates around 150 buses and has already earned the notoriety of killing the highest number of people on Dhaka's roads, is owned by an MP from Bhola constituency. In 2016 and 2017, buses of Tetulia Paribahan killed at least five people on Dhaka's roads. Its managing director, Mashiur Rahman, is also a cousin of Abdul Awal, MP of Pirojpur-1 constituency. Fifty buses of Projapoti Paribahan are operating in Mohammadpur-Abdullahpur and the company is owned by Shahida Tarekh, a former MP of Awami League.  Basumati Paribahan, one of the largest bus companies in the city, is owned by Khandaker Enayet Ullah, a strongman of Awami League, and the current president of Bangladesh Sharak Paribahan Samity. In this way, Dhaka city's public transport is virtually controlled by the activists and leaders of the ruling party.
In fact, buses competing with each other to reach the bus stop first (an act that killed two high school students) is a common practice in Dhaka. Transport workers claim that the reason behind their reckless driving is that they are instructed by their management to maximise profit from each trip. Their management assures them protection in case something goes south. So, the workers drive faster than the next bus to ensure more passengers. They park their bus in a way that obstructs other buses from taking passenger, further creating traffic congestion and possibilities for accidents along the road.
Astoundingly, law enforcement agencies barely act against these unlawful behaviours. Even if any kind of punitive action is taken, the workers retaliate by paralysing the entire transport system. On  February 22 and 23, 2017, when the court convicted two transport workers—a bus driver for killing a woman and a truck driver for the collision that killed renowned filmmaker Tareque Masud and Mishuk Munier—the transport workers and owners responded to the verdict by paralysing the whole country for two days by blocking the roads and highways.
After the murder of two high school students, shipping minister Shajahan Khan promised that transport workers and owners would not stage any protest this time if the real culprits are brought to justice. Shajahan Khan, although in charge of the shipping ministry, has now been widely criticised for defending the unruly transport workers and stating that driving license can be issued to those who can just recognise the road signs.
There is no doubt that, over time, we have instituted a culture of impunity and disorder in the public transport sector of Bangladesh. After Shajahan Khan's controversial statement on the recent tragic incident, media outlets claimed that the Prime Minister has rebuked him and told him to use his conscience before laughing at tragedies. We can only hope that the Prime Minister will also act against the profiteers who has no regard for the law and public safety and who have held us hostage by monopolising the country's public transport sector.
The writer can be contacted at shahnawaz.khan@thedailystar.net