Where it all ended and where it all began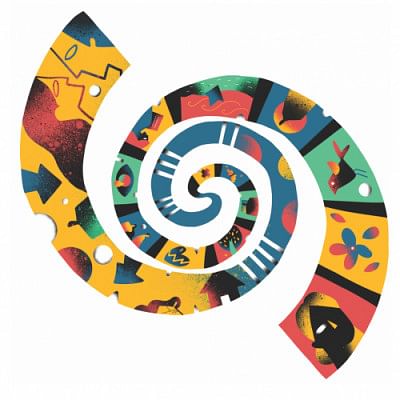 This is the fifth and final (for now) instalment in a fiction series about a family navigating the woes of immigrant life. Of a family having to move bases, break ties, form new ties, and always be on the move. It is the story of a father who suffers from psychotic breakdowns and a woman navigating different identities—that of a wife, a mother, a woman who wants to be set free, who wants to know what it is like to hold liberty in the palm of her hand. It is a story of magic and ghosts and of a village by the hills. And a story of a young woman who is gifted with an unwanted family heirloom that threatens her sanity—yet she chooses to carry it with her, allowing it to flourish, till it consumes her too.
In this edition, young Nauroze tries to set up base, develops unhealthy coping mechanisms, tries to escape but fails, and continues to tackle the madness slowly manifesting inside the recesses of her mind. A madness that she inherited from her father Shafiq, who lived most of his life trying to climb out of poverty, who moved countries and cities in search of money and who eventually fell victim to his mind. Meanwhile Minu, a mother and a wife, struggles to help her husband and daughter fight the ghosts of their past. This story is of a family caught up yet again in another transition—this time from a foreign land to their own (blurry concepts), from economic solvency to struggling to make ends meet, from highs to abject lows and of many, many poor decisions.
Living out a prison sentence
Those endless days and nights stuck inside a hostel opposite the graveyard stretched for eternity. Every day Nauroze thought she could get out of it. She planned it meticulously many a time. But it never really panned out as she dreamed. Sometimes the darwan would wake up earlier than she did, some days she would be caught in a fit of nerves, and on some other days she made elaborate charts detailing why she should or should not escape. On no particular day could she muster the courage to escape the place.
Those days inside that room with only one large window staring out onto a large mango tree felt like a prison sentence. She certainly lived it out as such. She would stop showering for days. She would cry endlessly clutching her mother Minu's only photograph in her hands. Some days she could not believe how life had become like this. She thought of her life in the Middle East and shuddered at just how quickly everything fell apart. How her father had crossed over from lucidity to raging madness, how quickly old friends walked away from her family, how fast the business that Shafiq had built in the foreign land had just disintegrated.
On other days, she rebelled and told herself she does not really need any one. "If they can live without me, so can I," she would repeat to herself like a chant.
But nothing worked. She spent day in and day out sinking further into a long winding sadness with no end in sight. But this time in the hostel was not entirely devoid of fun. She made friends. And in those moments, those friendships felt like a lifeline. Yet Nauroze kept losing these people in quick succession. People came, people left. Some days those friendships made Nauroze feel like she could survive here without her mother, but the loneliness always crept back. A few good days would always be followed by episodes spent battling her mind. Nauroze longed for the day when she could go back to her home forever, wherever that was.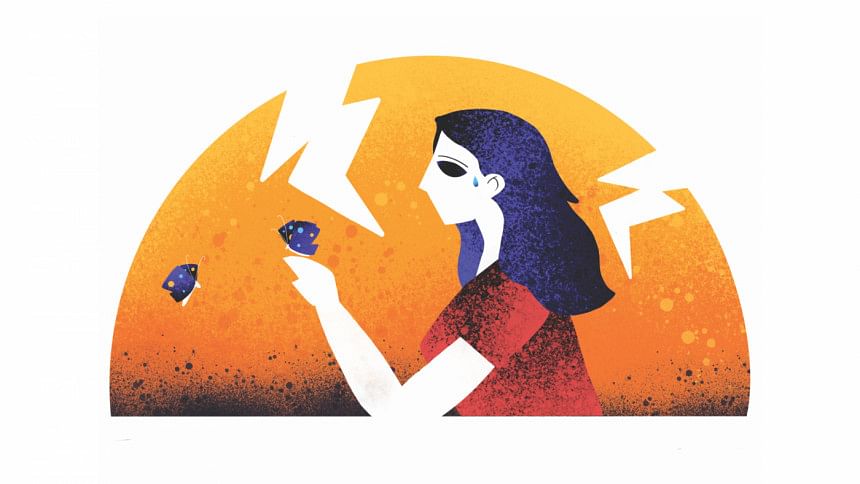 Minu plans an escape
The family, now back from a long stint in the Middle East, were struggling to set up base in Dhaka. They did not know anyone here. Did not have any relatives. Shafiq, Nauroze's father, simply had his savings from the business in the Middle East and no formal education or training at his disposal. He was also not well. The family could not quite grasp just how sick he was and the longer he avoided continuous treatment, the worse his nervous breakdowns got.
"What would they do here in the country? Where would they stay?" these thoughts kept Minu up late into the night, but she was powerless. She had gotten married young, had come from a poor family, and did not have any savings to her name.
Shafiq wanted to keep Nauroze in the hostel because it would be hard to move the whole family to Dhaka. Their village home, nestled in between, was a much safer and cheaper option for the rest of the family. But Minu could not bear the thought of spending all that time away from Nauroze. Her daughter was just a teenager; Minu could not have her grow up away from her.
Minu, always timid and a woman of very, very few words, decided one day to take on the fight with the extended family. They would all oppose the move to Dhaka. She knew what they would all say.
"Bhai is not in a good state of mind. He cannot handle your finances. Who will cover your children's educational expenses? And Dhaka is a bad place. Your daughters will run astray and bring shame upon the family," the brothers said in unison the moment Minu brought up the subject.
But she was relentless, egged on by the fact that her husband had taken a detour to Cox's Bazaar instead of going to visit Nauroze for her monthly visits.
Many fights, many arguments, many tears from mother and daughter finally convinced Shafiq to move the whole family to Dhaka. They had survived in a foreign land. They should be able to make it in the city too.
Another move, one more beginning?
And yet again, just a year and a half after the family had left their home in the Middle East, they packed their bags and were on the move again. They would pick up Nauroze from the hostel in Dhaka and hopefully find a home to rent. All of this had to be done with the constrained income that the family had to subsist on from now.
But for some strange reason, the fear that had gripped her all these years was slowly being lifted away. Minu knew she had to take this step in order to give her daughters a chance at survival. Or else, stuck in the same set of circumstances as her husband, Minu was sure her daughters would wither away too. This cemented her resolve. 
Together again
A year and a half after her many failed attempts at escaping the hellhole, Nauroze was finally getting her chance to leave. She knew she wanted to erase every moment spent inside those hostel walls. She wanted to forget the warm, sticky nights with the mosquitoes buzzing right outside her mosquito net. She wanted to forget sleeping alone in that room with three beds and no other companion. Those meals of scrawny chicken curry, thick rice, and runny dal. And those ghost scares she would get almost every night.
She woke up very early that morning. Her bags had been packed for days. Rushing through her breakfast of two slices of white bread and a whole banana, Nauroze went and sat down in the verandah adjacent to her room, the one that looked out onto the street. She stared at the road waiting for a microbus to appear through the trees and stop right in front of the red gates.
When it did appear, late in the afternoon, Nauroze sprinted down the stairs, through the walkway and out the main gate, leaping in to hug and kiss her sister Nahla. Her mother looked frail since the last time she had seen her. Her grey hairs had spread and her wrinkles now appeared deeper.
Nauroze did not leave Nahla and her baby sister Nazwa's side for even a second. Not even to get her bags or check for anything she had left behind in that room.
The family set up camp in a small house in Dhaka. The place was unfamiliar. They had never before stayed in the capital and the traffic, the chaos of navigating its basic public services, had them all in a fix. Minu was bad with roads and had never gotten on public transport in Dhaka before. They did not have a car here like back in the Middle East and had to rely on taxis and CNG-run auto rickshaws to move around the city. This made moving around expensive so they spent a lot of time just holed up in that house.
Growing pains
Shafiq split his time between the village and Dhaka. He had started investing in rice but returns were nominal. The family struggled to make ends meet. Some days he could not believe it. Especially when he struggled to find a cheap bus that he could afford to Dhaka. With his savings from the Middle East and with the little money he earned from the rice business, he continued to finance his children's education. But it was never nearly enough.
Nauroze struggled to adjust to her new reality. By the time she completed her high school, her father had spiraled through multiple nervous breakdowns into a barely recognisable version of himself. The worst came on the night just before her A' level examinations, forcing her to miss the first set of exams altogether. She and her mother had to take the morning bus from Dhaka to their hometown to almost rescue Shafiq and bring him back. He had had a complete breakdown on the streets, forcing the police to take him into lock up.
The OC of the Habiganj police station called Nauroze that night to inform her that Shafiq had stripped naked in the main town square and screamed profanities at people before breaking down into tears. Over the call, the officials threatened to send Shafiq back to the national mental hospital. Nauroze knew, from all the stories she had heard over the years, that this would be the end of her father. The cop gave them until morning to take Shafiq off their hands. After that, they would not bother to keep him any longer.
Those were strange times in her life. She was 17. But for reasons unknown to her, Nauroze believed herself to be an adult, taking decisions for the family, helping her father, taking him for routine checkups. She also started getting romantically involved with men, men much, much older than her who had no business being seen with a 17-year-old. She dated them with all the focus that was absent from all other spheres of her life. But to no avail. The men never stayed and they were rarely good to her. Some called her fat, some said they loved her but they never saw themselves with someone like her. Some said she was too young. None of this made sense to Nauroze. Did she not take care of the whole family? Did she not travel the city alone, work as a tutor to bring some cashflow into the household? Then why did these men not take her seriously?
As they grew older, they moved neighbourhoods. Nahla and Nazwa were growing up in the blink of an eye (although if they looked back, life seems to have stretched on in this elastic and loopy manner for ages). Shafiq got better for long enough to sell some property in the village and improve their living conditions. Minu started learning the ways of the city and even managed to save up enough from their property sales to buy a small car. By then, Nauroze was in university, finishing up her first year. Things felt moderately settled for once in their life. They finally had a steady income. Nauroze was doing well in her studies and the two younger sisters were also in a sort-of-okay school in the city.
Good times never felt so good
University was a special kind of drag. Nauroze found it hard to make meaningful connections and found it even harder to make friends. Most classes were a bore and she found the school work fairly easy. There was not much to stimulate her. She moved on from one relationship to another, constantly looking for That One, the one that would stick it out. The one she could finally show her madness to. The one with whom she could bawl her eyes out because she had missed a bus to Sunamganj and had dived into an anxiety attack over how she would never make it out of this town. The one who she could lure to her house with promises of Ma's special goru bhuna only to be surprised with a full range meltdown soon after. Nauroze the teenager had taken on adult roles and played them out with precision, but as she aged, the once somewhat stable, somewhat anxious, mostly decisive teen morphed into a young woman with erratic control over her emotions.
As a child, Nauroze had gotten no time to dive into her mind, what with moving continents and trying to stay afloat. But as a young adult, she developed a sort-of-backhanded approach to dealing with her father's routine hospitalisation, his routine madness. It all became background music as she decided to give centre stage to her own psyche.
The memories of childhood that she had suppressed all these years gushed out. Some days in trickles, some days like that of a volcanic eruption. She let it flow, allowed it to consume her. And it did. Over time, just as it had consumed her father Shafiq, Nauroze too allowed the ghosts of her childhood to take over her. The only difference between father and daughter was that one of them knew the ghost intimately, and the other was always caught by surprise.
Nauroze had nurtured the ghost—all the way from that time when she visited her village as a child, to that time she lived in the hostel alone always fearing she would be left behind. Always thinking that her father would discard her mother and then they would never find each other. These fears stayed and grew within her. They would forever taint her future decisions. They would dictate how she approached her career—moderately unsure, jumping at the first chance of employment and belonging somewhere. Maybe this would become her identity. 
Her love affairs were also victim to these bouts of madness. Her most recent one was invasive. Volatile with promises of forever only to disintegrate in a moment's notice. And in that moment of disintegration, this love affair chipped away at her sense of self. Took away her sense of self. It made her open up that box of childhood memories and cradle them in her arms. She looked at them every day and every night, mulled over them. Let them break her down to bits. She allows these memories, these moments with her father, this lost childhood, to take over her life and break it little by little, in the hope that maybe, just maybe, her mind will come together again. Maybe this is life. Ups and downs, constant transitions, falling apart, and coming together again?