Can protecting the seas, help protect the wild?
Dolphins, Hilsha and Sharks to be conserved in vast Marine Protected Area in the Bay of Bengal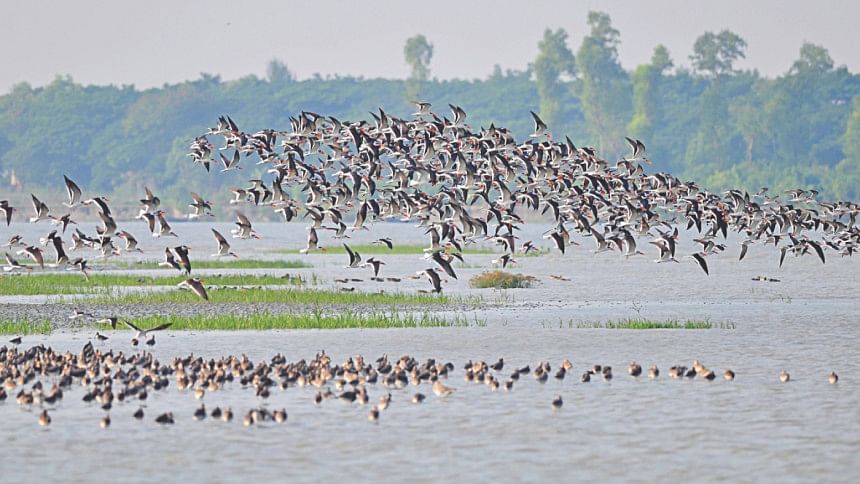 In a country bursting at its seams with a continuously growing population, it can be hard to get things right especially when it comes to wildlife conservation. But the recent declaration of its second ever Marine Reserve or Marine Protected Area (MPA)—Marine Protected Areas involve protective management of natural areas so as to keep them in their natural state—in the Bay of Bengal, seems to be a step in the right direction.
Just recently, news broke out of a massive dead zone in the Bay of Bengal. Can you imagine, one of the most productive bays in the world, connected to rivers that flow from the Himalayas draining in hundreds of tonnes of nutrient dense sediment, just ending up dead? This is a glaring example of the exploitation of natural resources that is rampant everywhere and especially at the coast.
In spite of this, after every expedition to the bay conservationists' have chanced upon some new discovery—from Humpback Dolphins to humungous Sawfish, the ocean is full of enchanted beasts that roam the blue-black waters of the ocean bed. This is because, despite aggressive development, growing threats of climate change, and an immense pressure on natural resources and of growing tourist pressure, the bounties of the bay still continue to thrive and grow.
All of which makes this declaration made on June 24 by the Ministry of Fisheries and Livestock, an especially important one. This provides all stakeholders—government, law enforcers, fisherfolk, locals and wildlife conservationists—a legal basis to protect and manage the waterways here.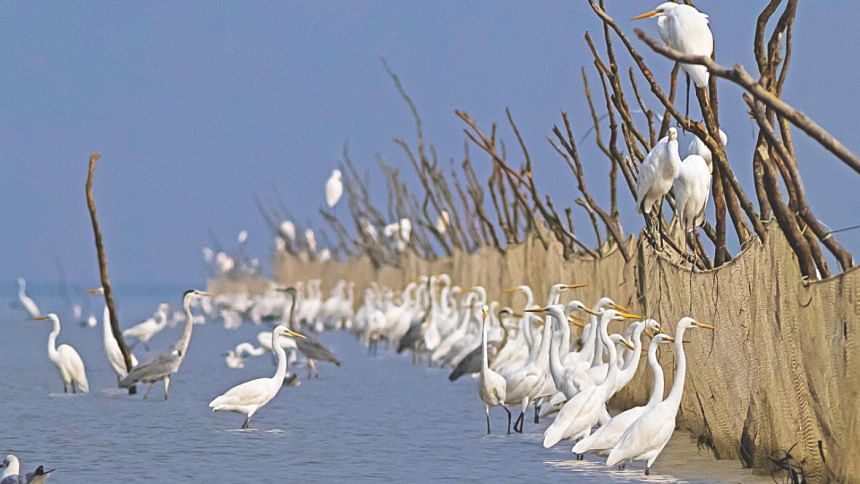 Spanning across an area of nearly 3,188 sq km, the second marine reserve of Bangladesh is the area around Nijhum Dwip and adjacent to it. The species that will be protected by the MPA include globally threatened Irrawaddy and Humpback Dolphins, Finless Porpoises, Olive Ridley Turtles, Scalloped Hammerhead Sharks and at least six species of Rays including the endangered Giant Freshwater Whipray. Along with this, it also aims to protect the migration routes and highest priority spawning grounds of the Hilsha.
The first MPA declared by the country is the Swatch of No Ground way back in 2014, which remains a biodiversity hotspot to this day and is home to species such as Irrawaddy and Bottlenose Dolphins, Finless Porpoise, Bryde's Whale, Orcas, and Hammerhead Sharks, Tiger Sharks among others.
The difference between the first and second MPA is in their relative distance from the mainland which determines how each one is managed. The ships that can access the Swatch of No Ground are usually commercial vessels but in case of Nijhum Dwip, accessibility is easy meaning every day the area has a number of visitors. Be it via tourist launches, fishing vessels or a fleet of Hilsha fishermen, Nijhum and its nearby areas are a busy one, owing to its proximity to the mainland.
This excessive pressure on the sea results in mayhem underneath the waters. Endangered dolphins and turtles get caught up in the fishing nets laid out by the Hilsha fishermen as by-catch. They also get injured often during playtime as they hit the rudder of a whirring ship. Along with that a year-round flow of people means the natural resources get no chance to rest, recuperate and rejuvenate. Something the MPA hopes to reverse.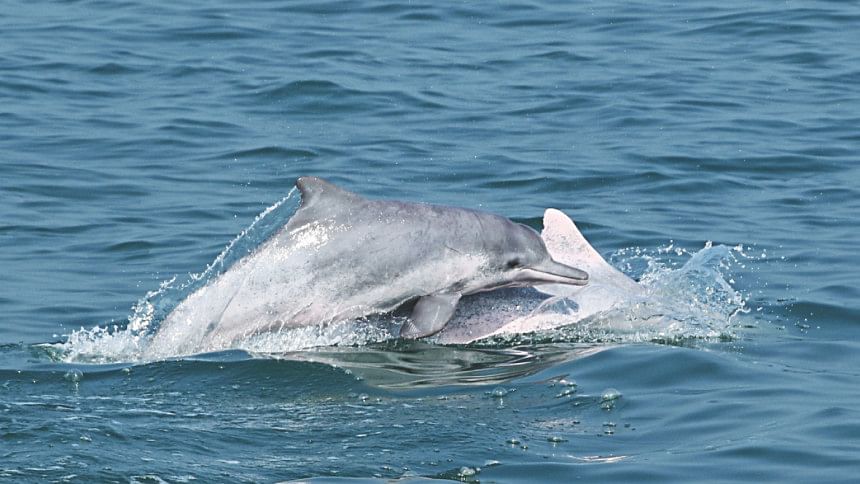 The MPA took years of work which was kickstarted by IUCN and WorldFish in 2016. Other stakeholders such as the Wildlife Conservation Society and key government bodies joined along the way.
"The process to establish this MPA was significantly different from the first MPA because a bottom-up approach has been taken up here instead of top-down. The ministry is already coming up with a management plan and here too, all stakeholders will be involved, from conservationists to local fisherfolk to the Bangladesh Coast Guard and Bangladesh Navy, everyone's expert opinion will be taken on the matter," says Raquibul Amin, country representative of IUCN Bangladesh.
This area was declared as protected under law after considering expert opinion on how to optimise marine conservation benefits, support sustainable fishing livelihoods and ensure a productive future for the diversity of our marine fisheries, said Abu Sayed Md Rashedul Haque, director general of the department of fisheries.
The MPA spans an area that at its farthest is simply 30km away from the shore. Yet, this area of shallow water is so nutrient rich that critically endangered Rays use this as their nursing grounds, says Shamsunnahar Shanta, coordinator of the MPA programme of the Wildlife Conservation Society.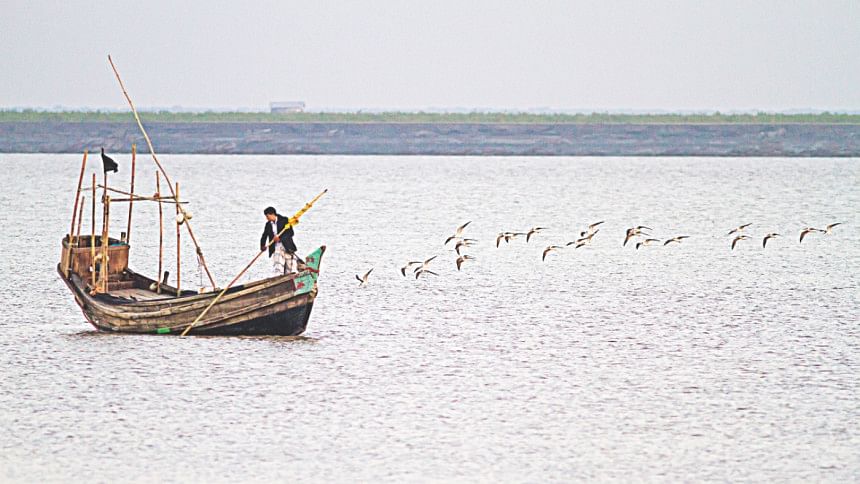 Conservationists are hopeful that the MPA will be able to regulate the amount of fishing that goes on in this area and thus allow time for species to thrive and also reduce by-catch of species significantly, which is currently a major threat.
However, so many people rely on fisheries for income, it would be ambitious and grossly impractical to clamp down on fishing altogether.
Shanta agrees and emphasises the need for an effective management plan to ensure that fishermen are not deprived. "Given the number of people in the area whose income relies on fishing, it should be allowed at certain periods of the year but research is required to understand the amount suitable for sustainable extraction. Some more time is needed to come up with a management plan which will act as a guideline on how to sustainably use the resources here."
Asked about the current monitoring of MPA, Shanta says, "The government recently removed a 65-day ban on Hilsha and this MPA is a key area for their migration, meaning the catch here is huge. So, the fishermen are still going to the area but hopefully the government will soon come up with monitoring plans to ensure no one will overexploit natural resources."
Not only will the MPA provide a blueprint to protect these species, it will also deter any new development plans in the area.
"I believe that protected areas strive to conserve a habitat for life. And in a country where every inch of the landscape is considered prime real estate, this will deter any plans to develop the area. In fact, when a habitat is protected on paper, it also discourages any foreign funding for development initiatives in the area. It is crucial to protect habitats, rather than pick up species specific conservation efforts. This is because if a conservationist works to save one species, that will do nothing, unless its home is protected," opines Sayam U Chowdhury, conservation biologist working on endangered species in the country.
The new MPA aims to protect at least 15 species of globally threatened or near threatened marine wildlife species, and as many as 30 additional species suspected to occur in these waters. Intertidal mudflats shared by the MPA and Nijhum Dwip National Park are priority migratory feeding habitat for threatened shorebirds including the critically endangered Spoon-billed Sandpiper.
One of the top priorities of the MPA is to protect the migration routes and highest priority spawning grounds of the Hilsa, which migrates between the big rivers of South Asia and the Bay of Bengal.
It is the key ingredient of the classic 'Shorshe Ilish', the flesh is soft, meaty and oily at the same time and is cooked in a gravy of mustard paste in a blend of spices. The fish is a national treasure, providing employment to about 2.5 million people and generating more than USD 1.3 billion for the economy.
We cannot afford to overexploit this biodiversity hotspot and conservationists are hopeful that an approach which will reap both commercial benefits and protect biodiversity just might prove fruitful in the end.
It remains to be seen though how these policy changes will translate in the field but that will take time as the authorities concerned are formulating an ambitious management plan for now.