A New Force in Politics, not really at all though/ New Politicians, Old Politics/ Am I Politicking, yet?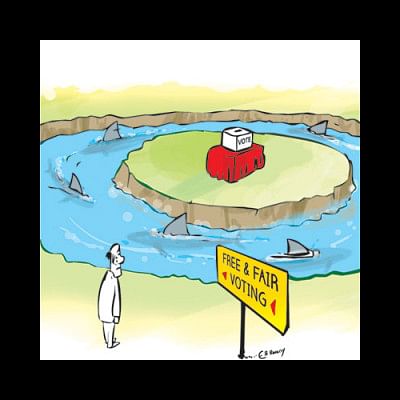 At a recent press conference held in one of the sleazier hotels of the city, Bangladesh International People's Alliance of Truth Tellers (BIPATT) announced their intentions of contesting the next democratic elections. With their slogan of 'Truth or Death', much catchier in Bangla, 'shotti ba mrithu', the party's president, Hitler Stalin Rahman, decked out in the customary Mujib coat, promised the people of the country a real change. "No longer shall politicians distract you with lies and hide the truth which we still cannot believe all of you cannot see. It's frustrating that we actually have to spell it out for you idiots. Do you guys not even know how the electoral process works?" Hitler said, shouting into the mike as if he was addressing a mass gathering of people demanding independence when in reality there were literally four journalists and ten people who came because of the promised biryani. Hitler Stalin outlined his Vision 2024, which he also called Vision 2026 and Vision 2028 because no one knows when the next election will be held. "If a free and fair election is conducted, we will surely win," he declared emphatically, amidst much derisive laughter. To lend further credence to his nomination, Hitler Stalin went on to address a few key problematic areas and offered solutions to them.
Traffic
"One of the biggest hindrances to development in Bangladesh is obviously the traffic congestion. The traffic though is also a sign of progression in public transport as almost all the buses and CNGs are always full. Plus, most of the congestion, 70 percent in fact, is caused by private cars, meaning our people are now richer than ever before," he said, displaying blissful ignorance of how development really works. "To ease the traffic congestion, all roads will now be designed for left-hand driven cars which have odd numbers in their number plate. This will drastically reduce the amount of congestion on the street," he explained. When asked if he would stop all traffic and unleash hell when his convoy travels, Hitler said that would not be the case as he would build entirely new roads for ministers and VVIPs to use.
Corruption
"One of the biggest hindrances to development in Bangladesh is obviously the corruption. However, corruption isn't a government issue; it is in our blood. We like sweets and we like sweetening every deal we make. However, I shall root out corruption nonetheless. In my first year complaints of corruption against government officials shall drop to below 0%. Also, citizens or anti-corruption bodies will no longer be allowed to file cases of corruption against government officials. This will boost morale and further help the cause, duh!," Hitler Stalin promised.
Freedom of Speech
"One of the biggest hindrances to development in Bangladesh is obviously the lack of Freedom of Speech. Like LMAO Freedom of speech is a basic human right, like clothing and shelter, which we also do not like providing," he began, showing absolutely no knowledge of how internet language works. "To ensure Freedom of Speech is always present, we will personally monitor every newspaper article and scrutinise every Status update, Meme and wall post on Facebook to ensure everyone is exercising their rights to tell the truth. Of course, this right should not be misused against me or to tarnish the image of this nation and it's great leaders or to spread hateful propaganda or to make speeches that incite or invoke revolutionary behavior or to say things that the party doesn't like you saying such as making jokes about us or exposing the complete ineffectiveness of most of our actions," the Party Chairman added.
Economic Growth
"One of the biggest hindrances to development in Bangladesh is obviously the lack of development. We have been known as the next economic tiger in Asia ever since people started relating tigers to Asia for some reason. However, development and economic growth are not the same thing. There are many differences but I don't know them because let's face it, none of us really understand the intricacies of a fake science such as economics. But I digress. To solidify our promised status, we need to construct brand new bridges and of course a deep sea port and a nuclear power plant. Basically, we need to make things that developed countries have because that's development, isn't it? Plus, the fact that there are literally zero beggars in the country is testament to the fact that we are heading in the right direction and with the right person at the helm, there is no way we won't develop as time progresses because that's what development is about. Plus, everyone has a mobile phone these days and did I tell you how all the congestion is caused by private cars because of how developed we are?"
Whether Hitler Stalin Rahman wins the next election isn't the biggest question. Whether there ever will be a next election is. Secondly, Hitler Stalin Rahman has so far talked a big game, but politics is about the right words and words can just be wind.  Hitler Stalin Rahman concluded by saying the Truth was to be Bangladesh's salvation and he would be the saviour. As his wise words echoed through the hollowed chambers (ok, 4x4 room) of the hotel's table tennis/seminar room, the laughter drowned out his final promises. Against the backdrop of a giant poster with Stalin's face below his party name, next to a giant face of some past revolutionary with whom he has no connection whatsoever, Stalin could tell that he was not being seriously. Because, politics. However, the future is still up in the air and we can all take some consolation from that.