The Kite flyers of Old Dhaka
Walking through Shakrain, the festival of kites on a cold winter evening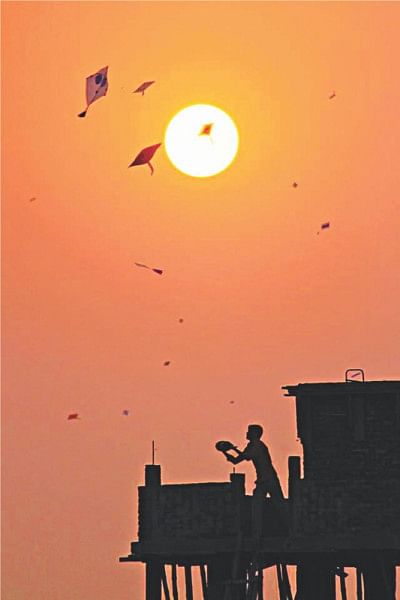 As the rickshaw, painted bright with a distorted Bengal tiger and even more distorted images of Dhallywood stars, breaks through the sea of other rickshaws, the kites appear almost suddenly through the narrow old Dhaka skyline. 
It is a sea of colours, almost as though humongous, mutant butterflies have laid siege to the Old Dhaka sky.
Always tormented by nostalgia and of memories from another time, the scenes of busy rooftops, old crumbling mansions and the passionate screams of kite flyers quickly take me back to the time I was reading The Kite Runner, a book by Khaled Hosseini, now a household name.
In the book, the schools close for the icy season, and boys spend this time flying kites. Baba takes Amir and Hassan to buy kites from an old blind man who makes the best in the city. The highlight of winter is the annual kite-fighting tournament, when boys battle kites by covering the strings in broken glass.
For me, it was like being thrown into scenes from the book and old Bollywood movies, names of which I find difficult to remember now.
Kite flying and the festivities surrounding it is not simply unique to our region or to any religion alone.  Residents of old Dhaka start preparing for Shakrain, celebrated on the last days of Poush, the end of the ninth month in the Bengali calendar from weeks back. Poush is the first month of winter in the Bengali calendar. There is another month of winter left—Maagh.
Here in Old Dhaka, Shakrain, is a veritable carnival of colourful kites, fireworks, fire-breathers, paper lanterns, old school games and food.
It's being celebrated here since the Mughal period, says resident Ishti: "My family is Muslim but there was never any talk of not celebrating this festival. After all, Shakrain has been celebrated from the Mughal times, probably even before!"
For another Old Dhaka resident, Taposh Ghosh, an undergraduate student of the Institute of Business Administration at Dhaka University, Shakrain means going down memory lane. "I used to look forward to going to Narinda, my maternal grandparents' house. All the festivities happened there."
I get down from the rickshaw where the narrow lane paves way to the narrower 'goli' of Shankhari Bazaar, an almost 400-year-old neighbourhood.  The narrow lane is lined with jewellery stores casting a golden-yellow hue from the gold ornaments showcased inside the glass windows. There is the smell of incense and syrupy laddus in the air.
Everywhere there is chaos. Although celebrations start from morning, it is dusk by the time the pace picks up.
"We start preparing from weeks back at least. There is a lot of work. Buying the right kites and then preparing them for war takes time you know," says Pratik, a teen from the Shankhari Bazar area.
For Old Dhaka residents, Shakrain is not simply about flying kites. They are at play here. From each rooftop, competition ensues. In the kite fight, the aim is to slice the other flier's string with your own, sending the defeated kite teetering to the ground.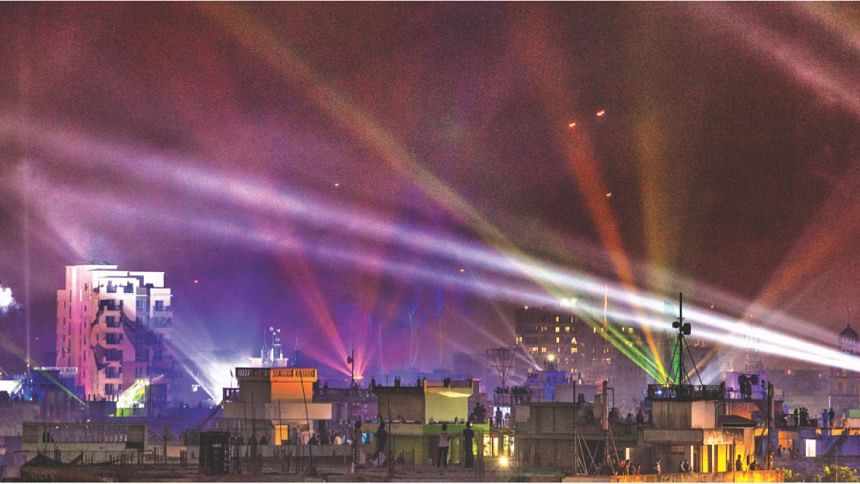 The kite string is coated with a resin made of glue and finely crushed glass, which turns it into a blade. This is done weeks in advance. 
"I managed to cut 26 kites today so I guess it is a relatively good Shakrain for me," said a grinning Pratik.
Here, kites have different names based on their shapes, sizes and designs, such as hearts, goggles, squares, eyes and the traditional kite shape.
As the sun sets, a new kind of party kicks in. Old Dhaka becomes modernised. The old and new mingle seamlessly. Old Bangla songs from one roof intermingle with Linkin' Park from another roof. Light shows paint the city red, green and blue. Fireworks go up as though everyone is in some Olympics game vying for top firecracker spot. 
"It is as though the whole neigbourhood is partying. We only see scenes like this in the movies," says Rahnuma, a Dhanmondi resident who was visiting Shakrain for the first time.
She also talks about the stark differences that still remains between Old Dhaka and New Dhaka.
"I still do not know any of my neighbours in my building in Dhanmondi.  But here, people are having full-fledged conversations between rooftops," says Rahnuma.
The light shows and fireworks go on late into the night. Plates of food keep piling up. Pithas, samosas, bottles of Coke litter the floor.
Shakrain is often celebrated on two consecutive days by the people in Old Dhaka depending on their locality. One day of the celebrations is based on the English calendar and the other is based on the Bengali Calendar. 
This day is also celebrated by the Hindu community in India, Nepal and Bangladesh in many cultural forms, with a variety of names like—'Maghe sangkranti', (Nepal), 'Saakrat' (Delhi and Haryana), 'Uttarayan' (Gujarat), 'Maghi' (Punjab) and many more.
I made my way back home when the celebrations were going on full pace and I thought of 'Googling' why celebrations matter and why they are so important to us, irrespective of race or religion. Google answered me with many quotes, the gist of which boil down to this: without festivals, how would communities come together?How would there be fervour and excitement that break the mundanity of living in this urban jungle?
Abida Rahman Chowdhury is an online journalist, The Daily Star