Of meals that ended up as the pièce de résistance of journeys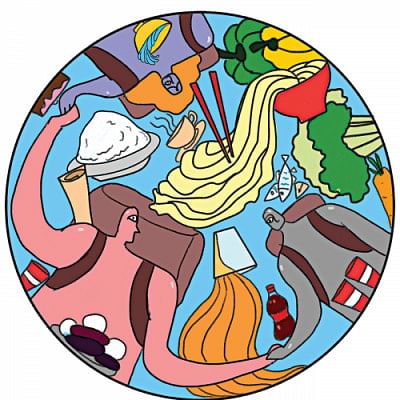 Bourdain, the genius both in and out of the kitchen, once famously said, "Travel changes you. As you move through this life and this world you change things slightly, you leave marks behind, however small. And in return, life—and travel—leaves marks on you." There is another piece of advice by the sixty-one-year-old chef and author that has become a veritable blueprint for my travels; it goes something along the lines of: "You learn a lot about someone when you share a meal together."
This story is part my appreciation for Bourdain, something that took me a year and a few months following his death to eventually pen down and come to terms with, and part my jog down memory lane remembering fantastic meals.  Sometimes, at someone's home, sometimes in a small tong perched atop the banks of Brahmaputra river, sometimes in a Garo village in Haluaghat of Mymensingh, sometime on a launch coursing through the vast Jamuna River and sometimes inside a bhaat er hotel in strange cities from the north to the south.
Thanks to my favourite TV show host, chef and author, Anthony Bourdain, I have often made it a point to plan my travels centering around food. In fact, I have come to believe that other than the very air we breathe, there's hardly anything more integral to our existence than food.
How can I forget being completely beat after looking for one particular bird through the chars of Brahmaputra all morning and finally chancing upon it just near a tong (makeshift store) sitting on the banks of the river? Tired in the dipping winter temperatures of Kurigram, we quickly ordered plates of rice—fat and white—and asked the owner to bring us all her specialties. The day's menu was fresh fish from the river cooked in turmeric and red chilli broth, then goat meat in a gravy of thick potatoes and split chickpeas and a slightly soupy spinach with the tiniest shrimps. We were quick to gulp down the meal and over the moderately dismantled table discussed how to find the bird we had set out to seek, how it used to be abundant by the chars just a few years back.
I also carry fond memories of one particular breakfast at a village in Askipara in Haluaghat. Together with the Garo family who was hosting us, we ate gooey jackfruit, sticky rice, Khari chicken (cooked with crushed green chilies and baking soda), fresh mangoes and lukewarm milk. Mashima, the matriarch of the household, sat down with us and talked about her family, the village, how they settled here and gave us a verbal tour of their cuisine. I knew she had so many more stories and it made me deeply regret that Bourdain, the only white man I would be comfortable with showcasing stories from this country, had failed to do so.
Bourdain even got the seal of approval from a journalist. Lebanese journalist Kim Ghattas said, "Bourdain developed a new approach that used conversations about food to tell the story and politics of the countries he visited in ways that hard news couldn't."
There are some meals I remember for other reasons: for their simplicity, for how good they tasted and for the experience shared with my friends and family during those meals.
"What goes on the table has never mattered as much to our lives as what goes on around the table—the scene of families, friends, lovers coming together, or breaking apart; conversation across the simplest or grandest board. This, ultimately, is who we are." I can attest to that statement. I will not forget that one particular meal I had in Barishal. As we sat across a cramped table in a small bhaat er hotel and ordered plate over plate of fluffy, rounded, steaming hot mounds of rice, shorisha ilish floating in yellow mustard oil, dishes of bitter gourd fry, and runny dal, the table first turned completely silent before exploding in raucous joy. "How good is this ilish? It is so oily and fragrant. I could die for this ilish.  In fact, if that had been my last meal, I would die a happy person. And we all know how elusive happiness is, especially in this time and age."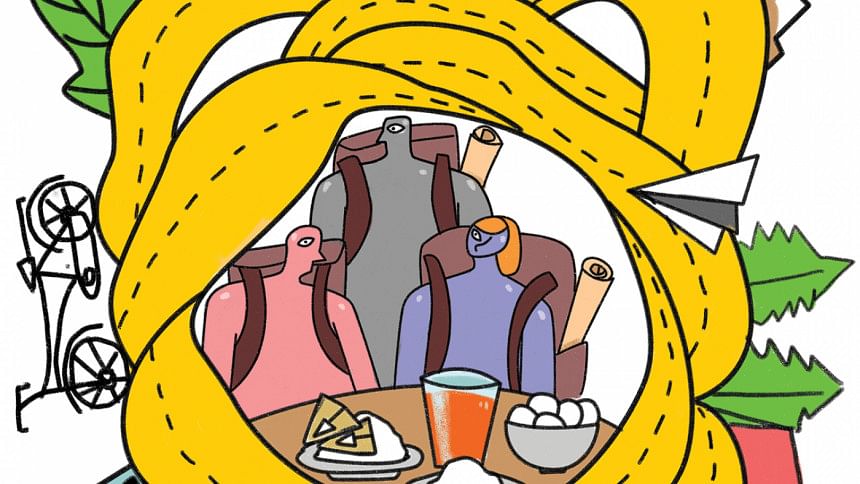 There was laughter and some more conversation. One person talked about their college years coming to an end and how much they feared for the future, another talked about their ideal last meal in elaborate detail—a roshogolla, soft and spongy, sweet but not overpoweringly so. This prompted the schoolteacher sitting next to our table to suggest us to try Shoshi er mishti inside another alleyway in the city. We were quick to take on the offer, just in case we died on our way back to Dhaka. The river was rough, after all, the launches cramped and overcrowded. And launch accidents, at least until a few years ago, were a common occurrence.
So off we went to Shoshi mishti. It was hidden in another discreet corner of the city, but somehow the establishment was so old and so famous, despite its humble setting, that pretty much every rickshaw-puller knew the location. Still, they insisted that if it was sweets we were looking for, we should go to the newer, more modern chain stores that had opened up in the commercial area of the town. But upon our insistence, they ended up taking us to Shoshi.
Good thing they did, because we ended up eating nearly three plates of Roshogolla and some mishti doi (sweet yogurt) each.
As I recall these adventures, I cannot help but take a quick detour to the haors of Sunamganj, where I feasted on fresh bowal fish from the haor in a tomato gravy garnished with crisp coriander leaves and tonnes of green chili, then some duck in a spicy gravy and plenty of aloo bhorta (boiled potatoes that are crushed and spiced with crushed red chilli and mustard oil).
However, this is by no means the end to my memorable meals on journeys. I remember fondly eating freshly cooked duck meat in a blend of Bangladeshi spices, reduced to a thick, gravy consistency at the bus stop at Chapainawabganj, or the Kalai er ruti (a flatbread made with crushed pulses) much like the corn tortilla that was used to scoop up the duck curry or the begun bhorta (grilled aubergine that is pounded lightly and mixed with pungent mustard oil, freshly sliced onions and dried red chilies)?
Food is like a keyhole, a famous haikuesque meditation, something I live by: "We have happy days, remember good dinners."