Down Memory Lane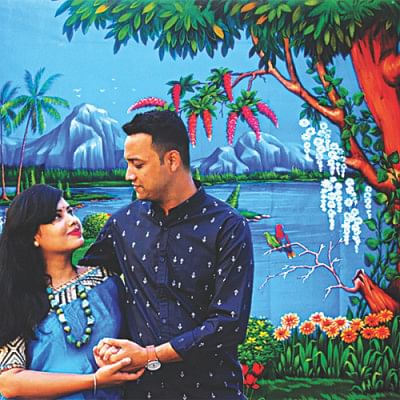 During a chat with my mother one evening, I asked her, "Which belonging of yours do you cherish the most?" I expected her to name her favourite kitchen utensils (which she guards with her life by the way) or her money pouch or that mobile phone of hers which she uses to video call anyone and everyone at the oddest of hours.
But to my surprise, she got up and brought out three old Fujifilm photo albums, which were stored in one corner of her almirah, and said, "These are the most precious things and I want to keep these with me till my death."
It was not as if I was seeing the albums for the first time; yet, somehow, as I leafed through the pages and rubbed off the thin film of dust, I found myself lost in bittersweet nostalgia, remembering the, dare I say, good old days?
There were nearly 300 old photographs in the three albums, each page containing four family photos. A good number of them had already faded—some had lost their vibrant colours and appeared as though someone had applied a vintage Instagram filter to them. Many were damaged entirely. My mother had also taken care to laminate in plastic her favourites—possibly after someone told her that laminated photos don't fade for a long period.
As we flipped through the album, she showed me her favourite moments. One was a family portrait. It was captured in a photo studio in Gazipur, in the late eighties. My parents were sitting on a cane chair, a rigid smile on their faces,with my only brother on my mother's lap. My sister and I hadn't yet been born. In the background, there was the blue ocean. A few green hills could be seen far away. The sun was almost setting, its golden rays spread across the ocean. The artist didn't forget to add some birds flying into the horizon—a picture perfect holiday moment, smack in the middle of Gazipur town. My parents looked happy and content—in their momentary "vacation", choreographed inside the dimly lit back room of a studio. It radiated simplicity and I could see why my mother loved the photograph so much.
Like most other middle-class families back then, the idea of a fancy vacation to some sandy white beach was out of the question but that did not stop my parents from trying to create memories minus the #instafilter or #instatravel moments. Regardless of the circumstances behind it, the joy she feels seeing this picture, even today, is possibly more real than what many couples feel exploring beaches abroad.
I took a look at another photograph which had all my family members. That, too, was taken at a studio, in front of a park in the background (during a time when there was no park in our area). We were sitting beside the yellow tulips. The photo was captured when I was only five months old. My mother had put on some kajal on my forehead so that I would be protected from the evil eye. According to my mother, that day when we entered the studio, I was crying ceaselessly, and no one was able to make me stop. At one point, my father said, "Let's go home after taking a snap. We will come back another day." But surprisingly, when they took me in front of the camera lights, I stopped crying. My father was ecstatic and apparently paid some extra money to the photographer.
For my family, back in those days, the main source of entertainment was watching Bangla movies and posing for photographs at the studio. During Eids or birthdays or if one needed a photograph for a marriage proposal, they loved going to the studio. The stories behind each of the photos were so unique that those stories, too, would surface every time one glanced through the photos.
The studios would have a small mirror, a comb, a pink lipstick and a powder box in one corner—which many women would use to "polish" themselves up before posing for the photos. The colourful backgrounds were not the only props. There were colourful and glossy ribbons and flowers on the walls; there was a telephone for posing and even plastic bouquets.
It was not too long ago that the studios would earn as much as BDT 35,000 to 40,000 everyday, according to studio owners. But, thanks to digitisation, today their incomes have dropped to Tk 3,000 to 4,000, as the availability of smartphones, computers and cameras mean that people are not willing to come to studios to take photos anymore or develop their "negatives" into photographs. People mainly come these days for official passport sized photographs. Of them, a large number take a copy of their photo with them through pendrives or mobile devices, so that they can reuse these in the future. Only a small number come to the studios to get their photos printed and some others pay visits to get their photos enlarged.
Studio owners say that they have had to downsize their businesses, replacing the vivid nature backgrounds of yesteryears with standard blue or white walls (for passport photos). While they once needed an average of six to seven staff to serve customers throughout the day, today one or two staff is one too many.
I strike up a conversation with Mohammad Asad, owner of a Fuji Colour Lab studio in Mirpur, close to where I live. When I ask how business is going, he laments that he and his staff are struggling to make ends meet.
"Earlier, families would come together and each member would take around 12-14 photographs and prints. These days, when people come to take passport sized photographs, some do pose for portraits. But they do not want to take a print. They prefer taking soft copies," says Asad. "People now get their passport sized photos from the photocopier shop, where it's much cheaper. We cannot compete with them!"
These businessmen have tried different strategies to survive in the competitive photography market. Asad tells me that they even tried branching out into wedding photography—charging BDT 10,000 per event. But now, almost every house has a DSLR camera, and everyone is a photographer, says a frustrated Asad. "They are opening Facebook pages to promote themselves and doing events at a cheaper rate. Why would people come to us?" asks Asad.
"We thought maybe we could specialise in mugs and prints, but there, too, we haven't been able to compete with the online businesses with their flashy ads and online offers. Even if we are offering good quality products, customers prefer to get products at a cheaper rate and delivered to their home."
Many of those who invested in studio businesses in the 1990s are frustrated, lacking the skills and capital to start new, more profitable, businesses. And so, they carry on, despite incurring constant losses.
Mohammad Shamim Ahmad, proprietor of Shammi Digital Studios of Kazipara in Mirpur, says that he learnt photography in a small studio of Shahjadpur in Sirajganj, during the eighties. After that, he came to Dhaka to fulfil his dream and worked at many studios in Rampura, Mirpur and other parts of the city.
"When I started my own studio, it all began to go downhill. But since I have a profound love for this business, I kept at it. Can you imagine, even at a grocery store, people are sitting with a computer and a printer and offering 20 copies of passport sized photographs for 40 taka?" He asks, "Who cares about my love for this profession?"
Will these old-style studios fade out entirely over time, replaced with smartphone photos and Instagram filters, and relegated to a room in a museum as a relic of the past? I do not know the answer but what I do know, is that thanks to these studios, I will inherit three full albums with a strange '90s aesthetic—one that guarantees hundred percent nostalgia. Something my online albums posted way back on Facebook in 2010 or 2011, fail to invoke.