Can we redefine some definitions?
We have an education system in which student after student—countless of them—write the same definitions as answers. They probably get the same marks too— four out of five, nine out of ten.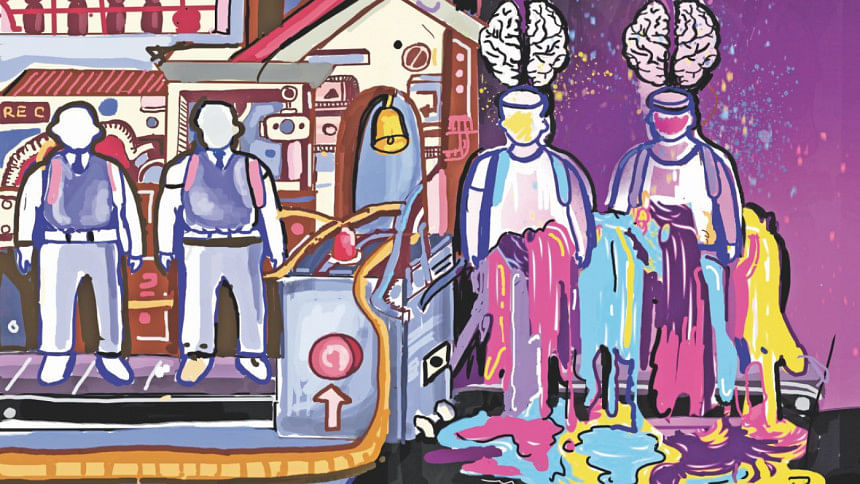 We have an education system in which student after student—countless of them—write the same definitions as answers. They probably get the same marks too— four out of five, nine out of ten.
In school, the biggest challenge I faced was memorising textbook definitions so that my answers resembled the words of the book as closely as possible, so I always started with the 'examples', and shaped my definitions through my explanations. I liked being creative and original in my answers, and some teachers were happy about that. Most were not.
Since getting high marks was a priority—which of course had a lot to do with my belief that they would make my mother happy—I would tailor the construction of different answers according to the sensibilities of different teachers in order to keep them happy. Because their definitions of a 'good answer' varied widely, what made them happy differed too.
After all, happiness is relative. And it's also competition-based; at least in our society. Why else are children being pressured to achieve good results instead of being encouraged to love learning? Our relative definition of happiness matters—for some parents, good grades is what makes them happiest. This has reached the extent of parents actually seeking to buy leaked exam questions so that their children's good results are guaranteed.
For most of us, every step we take in our careers is to get a little ahead in the rat race. Get top results in school to get into the best colleges, do the same in colleges to get into the best universities, then sculpt it all together in the form of the best jobs. God forbid, if a child studies hard but still does not end up with GPA 5 or straight A's, his or her brain is not as 'good' as others!
In this environment, social status does not only depend on wealth and position, but also on how well your child did in the exams or which university your child got into. Don't get me wrong, it is of course a matter of pride for a family and even for the country when our children gain admission to top schools, when they achieve world-famous scholarships and when they make a difference in the wider world. However, what we often fail to acknowledge is that these children reached and even exceeded their potentials despite the chaotic education system through which they emerged. Therefore, it is unfair to expect such fulfilment from every single child as we are not giving our children the education system and the support they deserve in order to strive for excellence.
Definitions are what it comes down to. Our definitions are biased by competition, by winning and winning at any cost. Most things that are going terribly wrong in our society today are results of our definitions changing over the years. Today, success is getting a high-paying job, gaining recognition and fame. Happiness is posting a selfie with our mothers on Facebook and then not spending even ten minutes with her each day. We've defined beauty based on complexion and figure; we've defined students as good and bad based on grades.
Could changing our definitions be a solution to our problems? I believe it could be a starting point. I believe that definitions need to be adjusted as we evolve with time. Even academic definitions sometimes need revision based on time, place and context. For example, the assumption that human beings are rational is the basis of many economic thoughts and theories. The theory of rationality suggests that a person is rational if they take decisions based on self interest to maximise their utility. Many concepts of behavioural economics refute the theory of rationality and suggest that even rational people are often irrational as a result of psychological biases.
I think we should change the definition of rationality altogether. A rational person, in today's world, should not be someone who simply decides in favour of self interest. It should be somebody who takes decisions based on self interest without compromising on ethics—without harming others.
If we're to challenge definitions, I think we should begin by redefining happiness. Tell your child that learning is more important than achieving good grades; tell them that would make you happy. Tell your employer that you are not enjoying your job and you are quitting to do what makes you happy. Easier said than done, right? Reality often complicates our efforts to redefine definitions. Who would risk their child not achieving good grades and falling behind in the race? Would you risk your good-paying job to pursue what you love? It's difficult to start redefining such big definitions alone. Most of us aren't that brave.
But how about we start from the basics? Finding out what makes us happy, regardless of whether we get to do what makes us happy or not, could be the necessary research we must conduct to shape our definitions. We have got to rewrite theories and challenge established notions that no longer fit.
Rubaiya Murshed is an ordinary girl with the simple, yet complex, aim of living a fulfilling life. Rubaiya has requested that her degrees or profession not be listed as her identity--because they simply aren't. Her only identity is that she is a dreamer who wishes to do what brings happiness to her, and to others.