The European Dream
Bangladeshi migrant deaths among list of thousands who died trying to get into Europe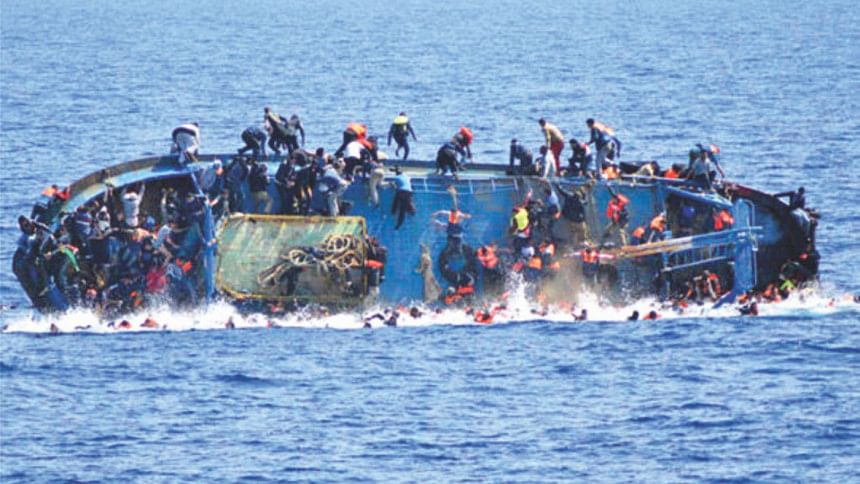 Rubel Ahmed from Sylhet had gone to the UK on a short-term working holiday visa in 2009 and started working as a chef. After working at several restaurants and starting to send money home, the 26-year-old applied for leave to remain in the UK. Denied, he was detained and sent to Morton hall immigration removal centre in Lincolnshire (with others awaiting deportation) in July 2014, according to UK reports.
Rubel is one of a 34,361-strong list by United for Intercultural Action (UNITED), a pan-European network of anti-racist organisations, which counts among its entries scores of Bangladeshi migrant deaths, dating back to 1993. Rubel was additionally profiled in The Guardian. The list includes 29 incidents involving up to hundreds of migrants from Bangladesh who were killed on their way to, or once they reached, Europe.
Rubel hanged himself in his cell three days before he was set to be sent back to Bangladesh in September 2014. In the prison-like setting of the centre, he was locked up every evening until morning. An inquest into his death came to an open conclusion about his death essentially meaning various factors, including no system of checking up on him after he was informed that he was going to be deported, led to Rubel's death. He wasn't the only one. Around 400 migrants on the list have taken their own lives.
While the attention on refugees going to Europe has diminished since 2017, the latest list (updated as of May 5) of people who died in the process was published prominently in The Guardian on the occasion of World Refugee Day on June 20. The large number of deaths over the years, of course, is nothing new with UNITED having published the updated list annually since the 1990s. The list is sourced from newspaper articles, NGO records and coastguard reports.
Last year, when rickety boats were still traversing the Mediterranean to reach Europe's shores, the fact that Bangladeshis made up such a large number of the boat migrants made headlines around the world. 7,106 Bangladeshis arrived in Italy by sea between January and May 2017, according to data from the Italian Ministry of the Interior. The numbers in the first quarter of 2017 alone made Bangladesh the top country of origin of migrants arriving on Europe's shores.
Journeys also took place overland through routes via Turkey and Eastern Europe, as shown by earlier entries on the list. In February 2006, an unnamed Bangladeshi man died after a broken leg led his group to abandon him while running from Iran to Turkey. Another unnamed Bangladeshi man froze to death in a forest near Eisenstadt, Austria, after crossing the Hungarian border in October 2003.
Recent journeys were no less dangerous with risky passage across the Mediterranean leading to drowning, starvation and death from exposure, for those seeking a better life abroad. To make it to Europe, Bangladeshi migrants fly via Dubai or Istanbul to Libya from where they pay smugglers to cross the Mediterranean in an often-deadly journey. From Libya, the boats which make it across alight on the Italian island of Lampedusa, south of Sicily, or are rescued by the Italian authorities. The waters around the island are the site of numerous boat capsizes and the watery grave of many migrants.
One entry in August 2012 shows that 32 migrants from Africa and Bangladesh, went missing and presumably drowned after their vessel from Tripoli capsized off the coast of Libya. The bodies of 10 others were found. For those whose bodies were never found, such incidents on the list are based off the survivors' estimates of those on the boat. The vast majority of entries on the list are listed as "N.N." (no name), having no name or story, with just the details of the incident—typically when large ships capsized at sea and bodies washed up on the nearest shore. A majority of reported migrant deaths on the list, more than 27,000, are due to drowning at sea.
There are at least nine incidents of deaths at sea involving Bangladeshis, with up to hundreds in a single boat capsizing, on the list. One entry is of a large boat carrying 325 migrants (including women and children) from Bangladesh and several African countries, including Chad and the Ivory Coast, which sank off the coast of Lampedusa in Maltese territorial waters in April 2011. The vessel was one of the first to set off for Lampedusa from Libya, since the fighting began there in February 2011. Up to 217 unnamed migrants from the accident went missing, their bodies were never found.
Many more are unable to even reach the Mediterranean. "Deaths are less likely to be reported if they occur in remote areas of Africa, and the number of people are dying inland, or in Libyan detention camps, isn't recorded," said Ann Singleton, an academic specialising in migration data at the University of Bristol, to the The Guardian.
Migrants on the list also perished in hate-crime attacks, or similar to Rubel, took their own lives or otherwise died in grim detention centres, in a hostile reception at their destination. 64-year-old Tarek Chowdhury died in December 2016 of an assault by fellow detainee, Zana Assad Yusif from Iraq, at the Colnbrook immigration removal centre located in Harmondsworth, West Drayton, next to Heathrow airport in the UK. 
21-year-old Alim Abdul Manan was chased down and then stabbed in the Kato Patissia area of Athens, Greece, by two men on motorbikes in May 2011. The Institute of Race Relations, a UK organisation researching racism in the UK and other European countries, has reported that unchecked far-right and racist crimes in Athens led to anti-migrant violence such as Manan's case. His stabbing was part of a concentrated period of anti-immigrant violence in Athens for three days in May 2011. Earlier, in 2009, the body of another Bangladeshi migrant, 24-year-old Hussein Zahidul, had been found in a ditch in Votanikos, near central Athens—another entry on the list.
Asylum applications of Bangladeshis have grown significantly in Italy, for example; from almost 6,000 in 2008 to more than 17,000 in 2016, according to 2017 Eurostat data. That year, 75.5 percent of all first-time applications were rejected. Some on the list, such as Hamidur Rahman, committed suicide after his latest asylum claim was rejected in 2008. The 31-year-old Bangladeshi had tried to seek asylum in a number of countries including Germany and also tried to cross Greenland on foot in an attempt to reach Canada. Shortly after he was found and brought back to Germany, he overdosed. His life was the subject of a play which ran in Bangladesh, India and Germany.
The list is a snippet of the enormous price Bangladeshi migrants pay to reach Europe, looked at as the promised land with jobs aplenty, and their desperation in resorting to such uncertain, expensive, and risky journeys.