Is there any ideology behind romance?
Watching telefilms on Eid is a household tradition for TV-owning families all over Dhaka. The popularity of Eid special telefilms marked a shift from state-sponsored programmes on BTV (though Ittadi still remains a classic) to a variety-based, commercial-heavy, television culture. While I would disagree with a commodity-backed entertainment culture any other day, Bangladesh private network television is one instance where I can make an exception. Private TV channels have provided a platform where filmmakers can experiment with dissenting content and also with new techniques of storytelling. With relatively less censorship, private networks have become a bastion for modernism, allowing filmmakers to adapt television's language to an expanding urban reality—likes of which would have been otherwise impossible in a state-owned channel or state-censored cinema.
And filmmakers have made good use of this opportunity to speak about social, economic, and political issues of our time that plague the streets of Dhaka and the hearts of its dwellers. This Eid, several telefilms stood out for their bold stance on topics that are less addressed in mainstream cinema. However, what is interesting to me is the dominating love-story narrative that still reigns over the screens of Dhaka residents. Yet, webbed within its layers of romance, various ideologies are entering our TV rooms.
In Himel Ashraf's Kokhon Thambe Kolahol, for example, the telefilm deals with stigma surrounding rape where a small-town girl played by Nusrat Imrose Tisha attempts to explore romantic relationships. The telefilm begins with the female protagonist trying to commit suicide by jumping in front of a random car. The car stops at the right moment and the car owners' family takes the girl into their home. The family debates on what to do with the girl and these discussions depict the various ways our society speaks of mental health.
Consequently, the family takes a positive approach towards the girl only to discover her past of being scrutinised and abandoned by two former suitors due to some goons raping her. The pacing beautifully deconstructs what we know as post-traumatic stress disorder among rape survivors without falling into a trap of victimhood. What bothered me about the drama though is its closure—which depended on a man's acceptance of the woman to truly own up to her past. The closure demonstrates the limitations of imagining women's agency by men within a patriarchal structure. A telefilm that had a strong feminist tone fell inconsistent in, literally, its last scene which made it seem disloyal to its cause.
I felt a similar conflict while watching Home Tutor directed by Mabrur Rashid Bannah. The opening monologue by the male protagonist on his unemployment situation due to quotas at the workplace promised a radical exploration of the precariat class.  The protagonist, played by Afran Nisho, stares straight at the camera and says, "Asholey ami eta dekhalam rupkorme. Unnoyonsheel deshe toh abar mukher upor straight kichu bola jay na."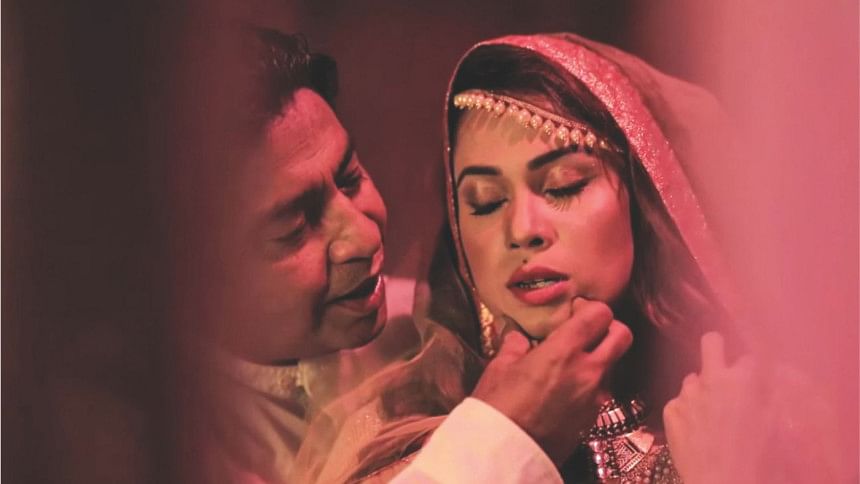 The main character, thus, chooses to be a home tutor and finds fulfilment in his job. However, his profession as a home tutor becomes a cause for unsuitability when he proposes to his girlfriend. The telefilm, and the protagonist's love-life, is stringed with pathos and briefly touches on issues such as domestic and drug abuse on the side. But to my disappointment, it loses the systematic anger displayed at the beginning and the whole issue of the protagonist being forced into a precarious state of unemployment simply disappears.
It is not to say that these telefilms are not enjoyable. The entertainment value and emotional appeal is high on all of the aforementioned telefilms. But the premises of these stories somehow remains unaddressed as the story progresses. I sometimes wonder if it's a case of self-censorship or if it's some shortfall of the writers themselves. Albeit the various bumps, two Eid telefilms left me feeling slightly, and only slightly, optimistic.
The first being Dalim Kumar, a satirical dramedy directed by Mahmud Didar with screenplay written by Mohammad Ali. The story is set in a fictional realm, as hinted by the fairytale inspired title, whose appearance is akin to modern day Bangladesh, save for some comical props. In this fictional world, a heartbroken don has ruled out romantic love between men and women in the entire kingdom. He maintains an authoritarian regime clean of theft, murder, drugs—and women! The writer shows us an extremity of homo-social space: all round and throughout the story, one can only see men and more men.
In this authoritarian regime, a villainous "bootlegger" named Lord Clive, cheekily modelled after the British coloniser, opens shop for romance with the infamous Kongkabati, the only female character of the story.  The shop sells a few seconds of romantic gestures such as sitting next to Kongkabati, or staring at her, at an expensive price, and starts "corrupting" the men in the kingdom. Clive laughingly announces, "Je joto beshi khoroch korbe, shey toto beshi prem korbe".
The telefilm provides critique of the commodification of women as well. Kongkabati, modelled as a prototype vamp, is eventually shown to have been imprisoned by Clive for business purposes. The story uses humour to explore the demises of fascist regimes and the problems with resistance movements that assume corporatisation is a liberating force. And all of it is done through the metaphor of romance.
The last Eid-special telefilm I want to mention is Ashfaque Nipun's Ferar Poth Nei—a drama of the realist strain that will be talked for days to come. The telefilm, essentially, is about the nuances of marriage. It draws on two couples from two opposite tiers of the class spectrum, with double roles played by Nisho and Mehazabien. However, the fates of these two couples are dramatically affected by extenuating circumstances. The telefilm daringly addresses contemporary political gridlocks such as drug raids, enforced disappearances, and crossfire. The sensitive screenplay exhibits a neutral angle with which one may approach these injustices. Watching oppression affect the two couples lets the audience connect to recent events at the level of family.
Both these telefilms explore realities that are murky water and perhaps can only be accessed through fiction. And that's a scope which I would like to see developed more in the following Eid seasons. These telefilms have the potential of exploring rich and complicated themes through simple and accessible angles such as love and romance. Eid being prime time for television networks is an apt space for filmmakers to approach the political while not compromising the entertainment aspect. The relatively less regulated landscape of television provides for radical steps in storytelling which remains untapped, in my opinion, but is slowly disclosing itself.
With that, I end my Eid telefilm review. Till Korbani Eid!
This is not an exhaustive list. All telefilms mentioned in the article are now available on YouTube.
Sarah Nafisa Shahid studied Art-History at McGill University, Canada and is a columnist of Star Weekend.