For actor and director Nandita Das, filmmaking is activism
In a short but candid conversation with Star Weekend, Nandita Das discusses the female gaze, the social responsibilities of filmmaking, and the passion that drew her into the industry.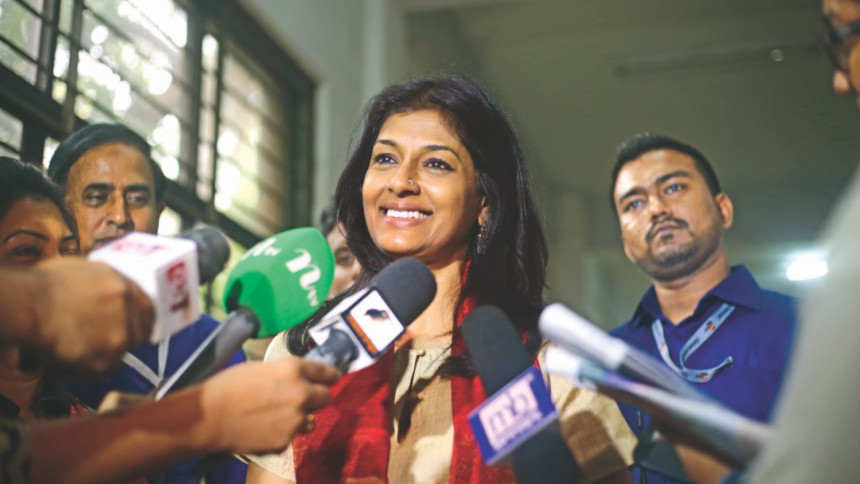 Backstage at this year's Dhaka Lit Fest was a riot of activity—of footsteps, voices, human bodies all jostling to snag a conversation with some of their favourite cultural minds. My focus was on Nandita Das, the maverick Indian actor who was among the first to portray homosexuality in mainstream Indian cinema in Deepa Mehta's Fire (1996). A student of Geography with a Masters in Social Work, Nandita's films have always reflected her off-screen activism. She has directed, and acted in over 40 films in 10 languages, many of which dealt with intercommunal political tensions in India. She served twice on the jury for the Cannes Film Festival, and has campaigned against violence against women and for children's rights and HIV/AIDS awareness. Her latest directorial venture Manto was screened on November 8, 2018 at the Dhaka Lit Fest.
In person, Nandita is all warmth and no-nonsense. She cuts no corners with her responses. Unlike many celebrities who need to be wheedled for answers, Nandita speaks with purpose and relish, with a genuine interest in the issue you're trying to discuss. At one point during our chat, she stopped the PR personnel trying to wrap up the interview, insisting that she wanted us to keep going. "Ekbar shuru korechi, ekhon toh thambonah," she announced firmly. I'd been promised two minutes with her backstage. I managed to steal five.
As we all know, the #MeToo movement is sweeping—
It's not really sweeping, it's starting, thankfully, and it is high time.
You're right. We're finding out what happened backstage in some of the most iconic Indian movies. But I want to talk to you about the movies themselves, because Indian films—and not just mainstream Bollywood—have a huge impact on Bangladeshi culture. Do you think films should be conscious about the messages they portray? Is filmmaking, your filmmaking especially, just art for art's sake, or is it also activism?
For me filmmaking has always been a means to an end. Just making the film is not the ultimate goal. I came into acting by default; I came into direction by default. And both were because I wanted to be part of powerful stories that needed to be told. The same has happened with Firaaq and Manto. They're contemporary stories that tell us something about our prejudices, our concerns, our dilemmas, things that we are grappling with. My social advocacy work, my acting work, my writing work, they're all leading up to the same thing; they're just different ways that I find to say what I want to say.
You talked about the female gaze as an alternative to the male gaze during the 'Breaking Bad' session with Manisha Koirala. Let's delve into that a bit more. What is the 'female gaze', and what can it bring to a film?
There have been women who made mainstream movies that contained an element of the male gaze. More importantly, many male filmmakers have created some incredible films about women, from Satyajit Ray to Ritwik Ghatak, Shyam Benegal, Mrinal Sen and Rituparno Ghosh, etc. So I don't want to generalise. But when you tell a story, there is a gaze, and that gaze is impacted by your different identities. Your gender is one of those identities.
To use another example: we have the Dalits in India. Their stories are hardly told because the film industry is so occupied by the upper class and upper castes. Even if they tell their stories they say it from the outside, which lacks nuance. We need representation from within. It's more in interest of bringing in diverse stories.
So what I mean by the 'female gaze' is that eye, that way of making a film that will inadvertently contain that nuance if it's made by a woman. When I work with a woman director, I feel there's a certain level of empathy on set. There's a kind of bonding that happens between women. We're strangers but we sit and talk for hours; we share our stories more effortlessly. There's a different kind of feeling. And what this will do to cinema is to bring in more diversity, because cinema must represent different sides of life. If it's only going to be made by a particular region or class or gender, it will remain one-dimensional. It will not be true to what exists in society.
We're hearing allegations of sexual abuse or harassment carried out by several filmmakers and actors. Should we stop watching their movies? Should we boycott the movies they have made in the past?
It's a difficult question. Again, it's not so black and white. Only some people have been called out; but we don't know—there might be so many others. There are also some known secrets in the industry, and yet they're given the best of platforms to continue their work just because they haven't been called out. Therefore, this is something one has to literally see case by case. But having said that, a film doesn't just belong to one actor or director. Film is a collaborative art. Do I completely throw out the baby with the bathwater and not see the film again? I don't know.
It's something that I've been struggling with myself. There are so many films that I've grown up loving but as an adult, I now recognise the things that are wrong with them. It's difficult to reconcile that tension, you know?
Yes! It's okay to sometimes change your stance. Many films are a product of their own time. Things that were okay 20 years ago are not okay now. And experiencing this tension is part of learning and growing. It's okay to admit and say that yes, I was okay with this then. But I'm not okay with it now.