A Life Changing Journey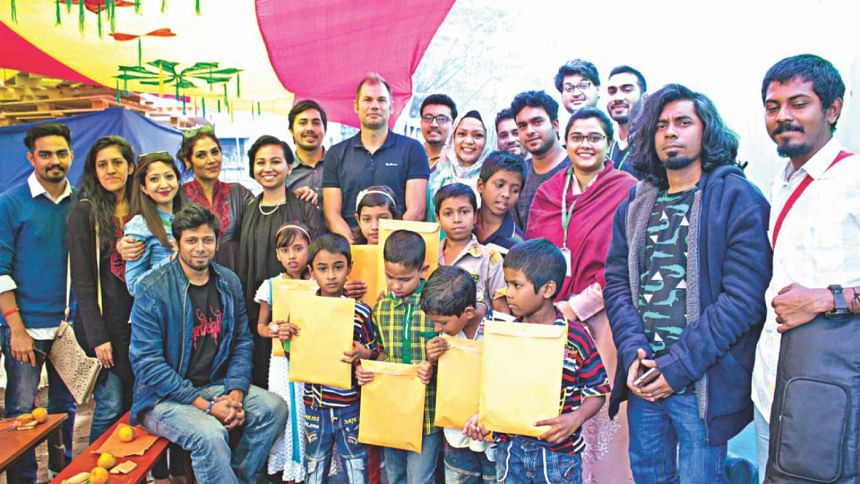 During the fall of 2009, a young 20-year-old participated in a winter cloth distribution campaign in his hometown Saidpur and was left baffled. He came across families who did not send their children to schools run by different NGOs, even though they were free. "I spoke to these parents and asked for the reason. What I heard in reply left me perplexed and somewhat in pain," expresses Adnan Hossain, the founder and chairman of It's Humanity Foundation (IHF).
"These underprivileged children were being sent to work in exchange of Tk. 80 a week!" exclaims Adnan. He was left speechless as the income was not even equal to the price of a burger. 
It was then that he decided to do something to change the plight of these children. 
"After coming back to Dhaka, I shared my thoughts with my friend and colleague, Syed Fazle Niaz," says Adnan. The two of them had met when Adnan, while pursuing his undergrad at Brac University, was working as a personal assistant to Tim Steel, a British consultant in Dhaka who was researching the history and culture of Bangladesh. 
The solution they came up with was to establish a free school but with a difference. "We decided to not only provide free education to underprivileged children, but also change the mindset of their parents by conducting workshops or counseling sessions and encouraging them to send their children to school," he says.
On June 4, 2010, Adnan finally gathered the courage to initiate the project. He took a semester off and started teaching 17 children in a small corridor in Saidpur which he rented for Tk. 500 per month.
Eventually, however, Adnan was pressurised to return to Dhaka by his family members. For the next six months, Adnan would take a bus on Wednesday nights and ride for 7 hours to reach Saidpur. On Thursdays, Fridays and Saturdays, he would teach the children and then take a bus back home.
However, Adnan soon realised that, despite his best efforts, his part-time contribution was not enough for the students. It was then that Wahida Zaman Moni, a medical student back then, offered to help teach five days a week. She worked for a year as a teacher until she obtained her medical degree.
In January 2011, the first teacher recruitment began and three teachers were hired.
On asking Adnan how he managed the funding, he replies, "I paid for the rent, stationeries, salary of the three teachers and other costs from my pocket money and the money I earned by working as a model back then."
Towards the end of 2011, Adnan realised that most of his students were dropping out of school. "We conducted a survey and found out that families in the rural areas tend to find education a luxury and not a necessity," says Adnan. 
That's when Adnan and his team began to wonder if there were some ways to encourage parents to send their children to schools. "We thought that the women from our region know handicrafts by birth. Could we make something out of their talent? They know work, but, could we turn them into masters of their art?"
At the end of 2011, two more members, Afsana Huda Chowdhury and Arman Ahmed, joined the team. They decided to revamp the project. "From 2012, we decided to conduct free professional crafts training. Afsana took the responsibility to raise funds from her friends and family." shares Adnan. "We spoke to 20 families and only five of them agreed to join the training and send their children to our school regularly. In return, we would sell their works and the profit would be shared between the craftsman and the school fund," informs Adnan.
In June 2012, they named their free professional crafts training programme, "Protibha Crafting Training." It made women who already had the talent more resourceful.
Towards the middle of 2012, Tim Steel and his friends decided to contribute to the project every month, and thus, Adnan and his team could rent a bigger room in Saidpur and begin a new journey. "Today, the large Saidpur campus provides free education to 383 children, and 255 women have received training so far under Protibha," says Adnan.
At this point, Niaz and Adnan decided to name their school, "It's Humanity Foundation."
In 2014, IHF opened their second school in Tongi with 60 students. Currently, they provide free education to 94 underprivileged students in the area. "Steve Wills, our chief advisor, provided us with the money to build the Tongi campus and with his generous help every month, we are able to run the school," says Adnan.
In 2015, the third campus in Birampur was launched where currently 172 students are accommodated. In the same year, IHF successfully registered itself as an NPO.
In April 2015, Adnan was awarded the "Most Promising Young Social Entrepreneur" title by Jolkona Catalyst that is hosted and funded by US Department of State.
So far, 1700 volunteers have worked for IHF and there are 11 members on the team. The renowned media personality Sharmin Nahar Lucky is the brand ambassador for IHF.
When Adnan is asked about his feelings, he replies, "If I die, then I would do so without regrets. I started It's Humanity Foundation when I was 20 or 21 years old. Today, at the age of 27, I am a proud father of 649 kids."