The Last Bastion of Traditional Boatbuilding
73-year-old Boidhonath Chondro Shutrodhar is one of the last remaining master carpenters in the country making traditional river boats. Living by the Jamuna river in Pabna, he started working at the age of around 20 under an ustad. In his early days making boats, he would earn just two taka per day.
Dressed in a blue shirt and lungi, Boidhonath sits in a makeshift workshop making a replica of one of the roughly 120 types of boats that once sailed on Bengal's waters. At the moment, he is making a three-and-a-half feet long malar, a cargo boat indigenous to his home district of Pabna. "I used to make many such [life-sized] boats down at Nagarbari ghat," says Boidhonath. There was once a bustling boatbuilding yard at Nagarbari, Pabna, where large numbers of indigenous boats were being built up to 1998, following which boatbuilding and restoration rapidly declined.
One of the boats made by Boidhonath, a 93-feet long malar, is docked on the Dhaleswari river right next to where the carpenters are working. Malar boats would be primarily used to carry crops and cattle around Pabna. Beside it is a smaller panshi, also from Pabna, traditionally used for ferrying people and cargo for short to medium distances.
Making the malar involves stapling the wooden planks of the hull together using patam (metal staples); patam clippings are traditionally used in most river boats. The wooden planks are held over fire, in a traditional way of bending the wood. These techniques and materials closely replicate those used to make the life-sized boats.
The life-sized malar, would require five to six people to manually bend thick planks of wood. The angle of the boat's curvature is not an exact science—but craftsmen such as Boidhonath are able to bend the wood by sight, with only minor adjustments needed. The life-sized malar takes two and a half months to build if eight people work on it, he says.
Now working on a replica alone, it takes Boidhonath around 12 days. "The small boats are more difficult to make than the larger ones [pointing to the malar on the river]," he says. The work is more intricate—the materials used are miniscule compared to what he has been used to working with for decades now. "My hands have adjusted to making these by now," referring to the scale models, "It's no longer as difficult."
Kartikh Chondro Shutrodhar, in his 40s, sits across from his father Boidhonath. He is making a replica goina, a type of boat which sails along the Padma river and is largely used to ferry passengers. The tools with which he is working, some of which are custom made for the smaller boats, includes the gozal, metal nails which are used to reinforce the wooden planks.
As the demand for naval carpentry dried up, many turned to other woodwork such as making furniture, says Boidhonath. Old boats fell into disrepair and gradually deteriorated. "The old boats are gone. If repair work is not done, what can you do? I've made a lot of boats but many of these have been destroyed as well."
"After we are gone, there won't be anyone who can do this work. No one is learning it anymore," he says. Boidhonath is not optimistic about the future in this industry, though his sons Bhojon and Kartikh are also master carpenters who learnt working side-by-side with him on life-sized boats.
A disappearing heritage
Traditional wooden boats have long plied the 600 rivers of Bangladesh, which create a vast network meandering across the country. While sea-faring boats were influenced by foreign designs to some extent, the river boats are almost completely indigenous.
Among the various river boats is the patam, a smooth-skinned boat native to Sylhet which also uses the metal clipping technique from which its name is derived. Others include the balar of Kushtia, podi of Khulna, and the goina of Rajshahi. Sea-faring boats include the shampan of Chittagong, shuluk of Kutubdia and chand nouka, still commonly seen around Teknaf and Cox's Bazar. The dingi, one of the smallest river boats, has given its name to similar boats around the world. Boat designs and names differed according to the various regions and were dictated by the rivers these would traverse.
Many of these boats now exist only as scale models. "We came up with the idea of making miniatures, using techniques which go back completely unchanged for about 3,000 years," says Wasama Doja, head of cultural preservation at Friendship, which employs Boidhonath and the other craftsmen at work. Right now, the craftsmen are working off of the technical designs of 87 types of traditional boats. As for the rest, there are none living who can say what those looked like.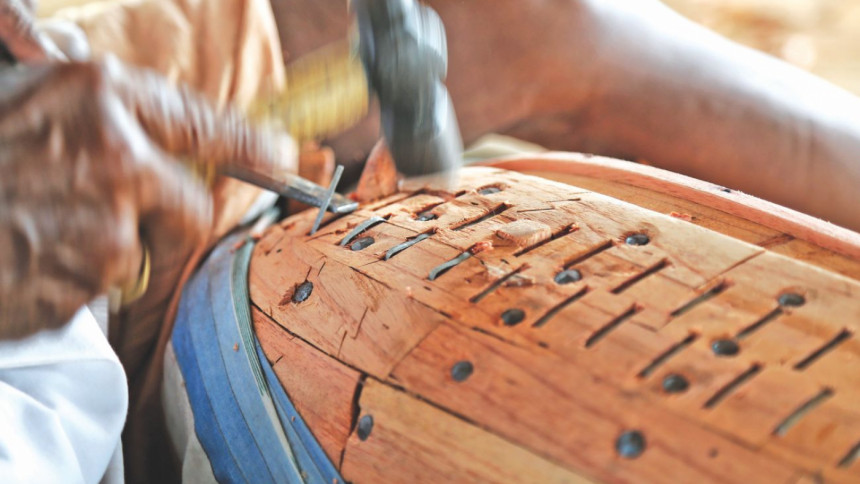 Unlike other cultures, no written records of the techniques used or drawings of the construction process by the master carpenters historically exist in Bengal, with the knowledge passing from craftsman to craftsman by word of mouth.
Bhojon Chondro Shutrodhar, Boidhonath's other son, became an apprentice at the age of 15. He first worked on a life-sized malar under his father. Though now a master carpenter himself, he says, "There is no end to learning this job. I'm still learning," as he works on a replica mayur pankhi, a boat specific to Mymensingh.
With the advent of imported diesel engines in the 1980s, these diverse wooden boats dwindled. Steel-built and diesel-powered boats today dominate Bangladesh's rivers, as these are faster and more efficient than sail boats and earth-dyed sails are practically non-existent. What this has meant is not just a disappearing heritage of traditional boatbuilding, but also a loss of livelihood and the valuable skills of carpenters such as Boidhonath as well as the entire industry of boatbuilding which also employed blacksmiths, ropemakers and sailmakers.
From Kutubdia, Muhammad Abdul Halim, a master carpenter of sea-faring boats, is the only one amongst the carpenters to still have a full-time job boatbuilding. He builds fishing trawlers down at the Chittagong shipyard year-round. He specialises in boats which traditionally traverse the waters around Teknaf, Chittagong and Kutubdia.
His uncle was a master carpenter and would make fishing trawlers and shampans among others. His older brother also used to work there and since they weren't given lunch, Halim would take rice down to him. "While they ate, I would wander around and handle everything… I liked the work."
Halim went on to also work under his uncle for around four years. The first boat he ever made was a large fishing trawler. Traditionally, carpenters are apprentices for around five years until they build their first boat under a master. If they then learn to make another type of boat, the process would take a further three years. "I like making chand nouka the best," says Halim.
At the moment, Halim is working on a replica shuluk but has never actually seen one of these in the waters. These boats are among those which have disappeared completely, no longer being made for almost two decades now. "There was only one man down in Kutubdia who remembered how to make a shuluk… He designed it and they [the carpenters] have learnt to make the boat from him," says Doja. The master, in his mid-70s, passed away soon after.
According to Halim, there is still great demand for wooden boats but only for fishing and salt trawlers, tempos and shampans. "There is a lot of work, but carpenters can no longer be found in the country." Many carpenters moved away from this line of work after the decline of boats started, others have died taking with them their skills.
Making the replicas preserves the designs of traditional wooden sailing boats and provides work for the last generation of master carpenters. "But we feel bad that these [the replicas] are all that are left, though the work is the same on a smaller scale," says Kartikh. He remembers how most men in his village were boatbuilders by trade and they would all work together joyfully to make the large boats. Now, Kartikh has no one to pass on his skills to as his father did to him and Bhojon. And he doesn't want to either. His children go to school and he envisions a different life for them than his, having a valuable skill that is no longer in demand.