PHOTOS: PRABIR DAS
What do you reckon is the most common element featured on the book covers of publications about Old Dhaka? Of course, many things have been portrayed. But one article that keeps recurring is the horse carriage – our beloved 'ghora gari'.
The hackney carriage, therefore, may be argued to be a symbol of the heritage of Dhaka. Such is the influence of this vehicle. And why would it not exert this influence, given that it was one of the most popular modes of commute?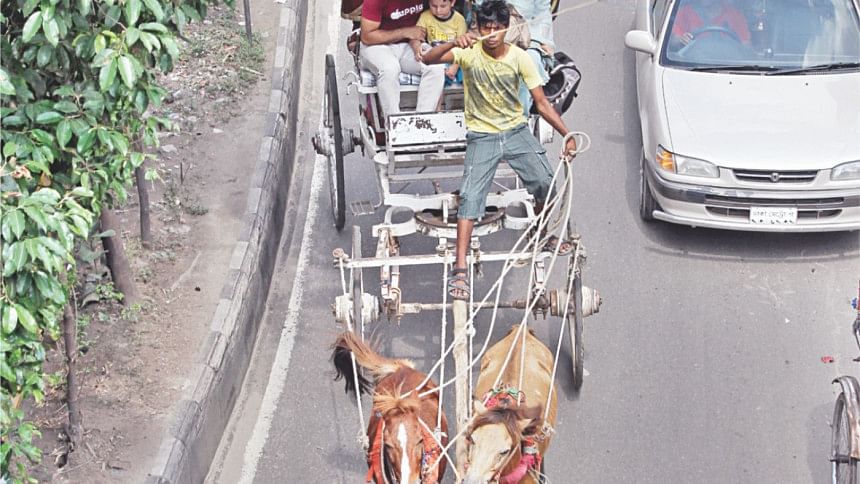 Before 1840 horse carriages were rare. There was at least one in 1823: Bishop Heber, an English clergyman, had come across it. It was the carriage of Nayeb Nazim Shamsuddaula, imported from Kolkata. 
The affluent and influential Armenians eventually brought horse carriages into vogue in our city. The Armenians of Dhaka, who were merchants and zamindars, had left behind a rich heritage. A couple of weeks ago, we talked about the glory of Armenians, by citing the example of Pogose School, the first private school in Dhaka established in 1848 by JGN Pogose. 
But one write-up doesn't suffice to the contribution of Armenians in our city and to our culture. The business of horse carriages was premiered by an Armenian organisation, GM Shircore & Sons. "Shircore thus pioneered a transport revolution," wrote Dr. Sharif uddin Ahmed in his book Dhaka- A Study in Urban History and Development: 1840-1921, "and his 'horse carriage' business became such a great success that his example was soon followed by other Armenian and local businessmen: the ticca garries rapidly became the chief form of public transport..."
In 1867, there were 60 horse-drawn carriages for hire. That number became 300 in 1874. By the year 1889, the figure soared to become almost double. 
Advertisements were printed to lure customers. According to the 20 December, 1856 issue of Dacca News, a specific buggy could be hired for a month at a price of Tk35.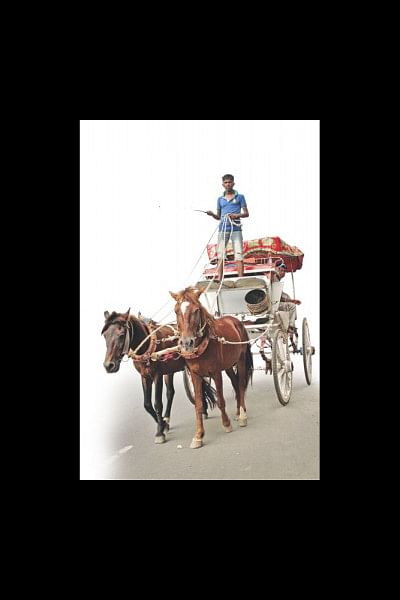 There were different kinds of horse carriages in Dhaka, from buggy to britzka to 'tanga', varying in design, number of passengers it could carry and the number of horses required to pull it. 
Advertisement was not the only thing newspapers printed about the horse carriage. Dhaka Prakash published an article on 4 July, 1897 about a strike called by the coachmen, due to the injustices done to them by the police demanding bribes. 
If you were a coachman during those times and were really good at your job, you could even get hired by the Nawabs. Those coachmen had an uniform and a special 'pagri' and they were respected in their community.            
GM Shircore & Sons of course had other ventures. For example, their shop was one of the first retail outlets in Dhaka to sell European goods, from cigars to honey soaps to fancy note papers.  
But perhaps their biggest contribution was the horse carriage. Today, hackney carriage is a mode of transportation often called upon for a recreational ride. Sometimes, the bridegroom arrives at his wedding riding on it. 
More so, it is the reflection of how one company contributed to the progress of Dhaka. 
Source: 'Dhakar Coachoanra Kothay' by Ridwan Akram 'Dhaka- A Study in Urban History and Development: 1840-1921' by Dr. Sharif uddin Ahmed.