Carnival of grotesque
Nisar Hossain's solo exhibition manifests chaos through relief printing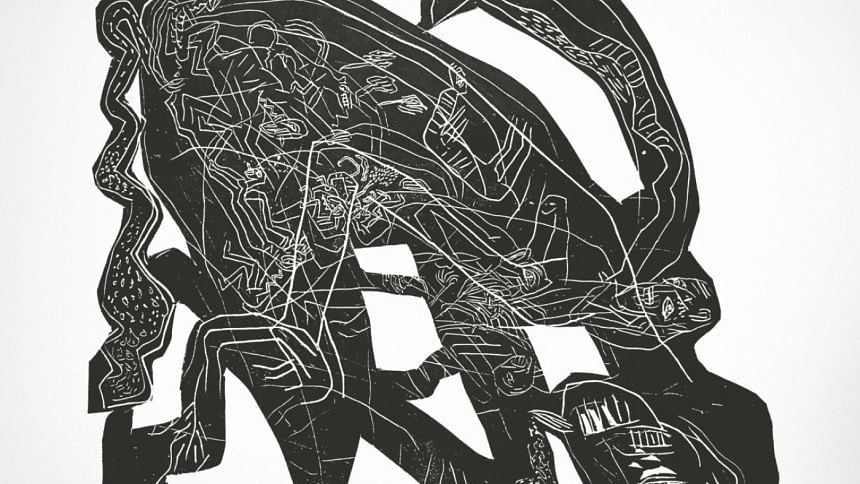 The walls of artist-run space, Kalakendra, host artist Nisar Hossain's drawings and prints this month. Part of the third instalment of the gallery's "Drawing and Thinking" series, Bikargrostho Shomoyer Roikhik Boyan (Linear Text of a Delirious Time), curated by Wakilur Rahman, opened on June 30, 2018 in the presence of special guest, artist Rafikun Nabi. Notable artists such as Sheikh Afzal, Abul Barq Alvi, Shishir Bhattacharjee, and Rashid Amin were also present at the event.
The series is meant to explore drawing as a form: how does the ritual of drawing manifest in the fine arts? What is the functionality of drawing? How does drawing progress from its primary stage to any sense of completeness? And how will Nisar Hossain's works address these concerns?
To me, it seems that in this particular exhibition, drawing manifests as a folk expression of resistance at the face of lawlessness. Nisar Hossain's work reflects the political and social structures under which the artist functions and how the artist perceives these as dehumanised planes. The images are a carnival of grotesque figures. At the same time, the mediums incorporated in his work, such as palm leaf drawing and relief printing, is deeply rooted in traditional art practices of the region. The form of drawing, too, is a fundamental artistic tradition.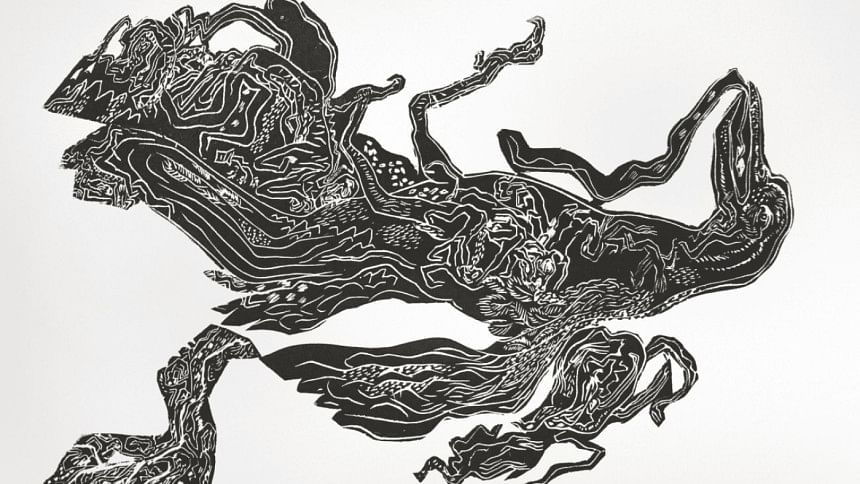 The artworks are compartmentalised into two sections along Kalakendra's semi-partitioned gallery wings.
One section is entirely penned drawings. Scenes of anarchy adorn various sized canvases. Jagged outlines solidify a frenzy of chaos inside those frames. What is happening in any one picture is, at best, unclear, and intentionally so. But there is no debate whatsoever in the overwhelming theme. It's a mood board for the restless, the anxious. In miniature portraits, a man appears helpless, his head in his hands; another depicts a man in the shower, genitals exposed and fragmented. It is as if the times have disappointed the existence of man—or perhaps it's the other way around. And as such, visions of the man in states of panic and mania continues in several tiny frames.
But what of the mania? To which extent does man remain the societal man? Nisar Hossain's drawings on palm leaves take this musing to new heights. Drawing on palm leaves was prevalent at one time in Bengal but is now more commonly practiced in the region of Odisha. The artist researched this method during his 2016 art camp visit to the region. The palm leaf drawings exhibit a dialectical tension between civil and uncivil (barbaric) in images of animals and non-animals, humans and non-humans. The mesh of species and organisms is shocking to the beholder. And to top it all, the palm leaves are bordered with perfectly organised and neat, floral and geometrical patterns—as if just at the brink of calamity, there lies the calm.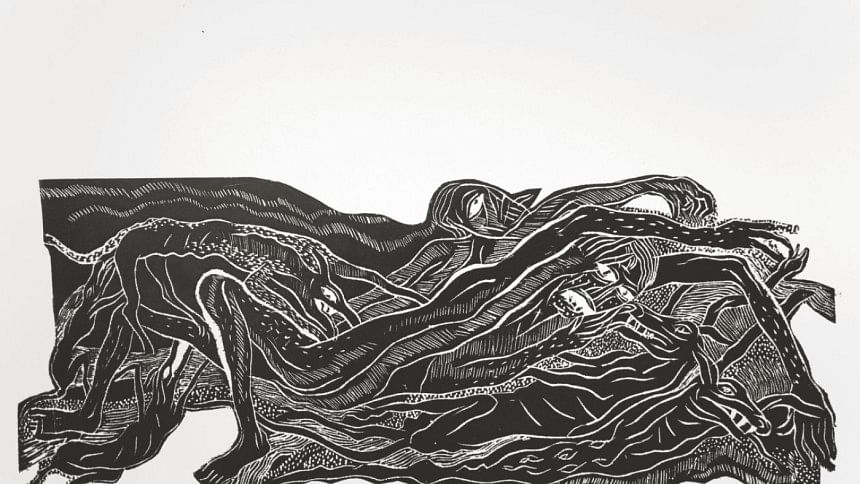 The images violate our self-prescribed superiority as a species. Humans repeatedly take pride in their organised behaviour, in their ability to think, to cultivate, to yearn for an existence beyond our primitive wants. But how much of that is real and how much of it is farce? And what happens to that composure when reality continuously becomes strained and stressful?  Nisar Hossain's drawings particularly disturbs this realm of speciated identity where the human and non-human are constructed with blurred lines.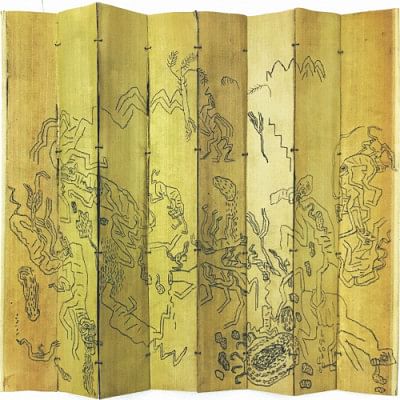 Overheard chatter of the gallery visitors during opening night provides interesting insights: "Is that an umbilical cord?" "Are these drawings all about sex?" "What does that dragon refer to?" "I think that's a demon dog, actually."
For me, the content of the artwork is all of those questions and more.
The second section of the exhibition contains relief prints either signed as "coal images" or "relief process". These images are dark. Dark as in the colour, and also dark, as in the feeling. These images are not outlined; instead, they emerge out of the blackness. Relief prints are created through etching on a plate and then translated onto paper as a print image. Exploring drawing through relief process is unique due to its exhaustive methodology—a combination of drawing, etching, and then printing, drying, framing. Many of the displayed prints still hold strong resemblance to traditional etchings.
However, the modernity of these images is distinct due to its unabashed linearity, by which I mean the jagged and raw lines which form the deformed figures in the painting. In works such as Fear of Darkness or Towards Hell, strong lines provide a sense of structure. Yet, it is hard to tell where any line begins or ends, adding a level of circularity to such constriction. These images often emit aggressive masculinity in its commitment to violence. Yet traces of rejected femininity appear in the birthing men. Little babies are seen to be inside naked men, and sometimes exposed genitals give way to more babies. Men crying, men killing, men attacked, men naked, men into animals, animals into men—all of that in repeated frames.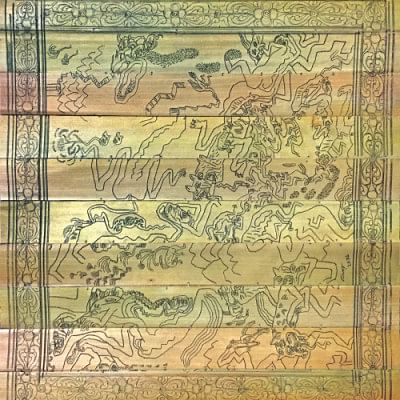 The images of this exhibition are a violent testament of, and response to, modernity—whatever we think of modernity anyway. It talks of a time which is constrained to the extent that all around seems chaotic. Bikargrostho Shomoyer Roikhik Boyan (Linear Text of a Delirious Time) is an imagination of the Bengali proverb Moger Mulluk (an anarchic state). It is provocative, disturbing, and shocking.
Bikargrostho Shomoyer Roikhik Boyan (Linear Text of a Delirious Time) runs from June 30, 2018 to July 25, 2018 at Kalakendra, (fourth floor) 1/11 Iqbal Road, Mohammadpur, Dhaka
Sarah Nafisa Shahid studied Art-History at McGill University, Canada and is a columnist of Star Weekend.