No longer a burden
This is the last of a three-piece series produced by The Daily Star in partnership with Deutsche Gesellschaft für Internationale Zusammenarbeit (GIZ) and Centre for Disability in Development (CDD)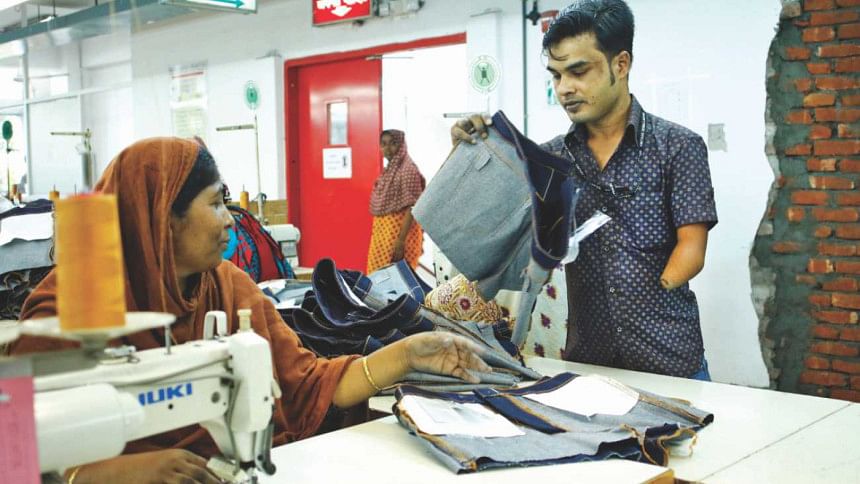 In countries like Bangladesh, where people with disabilities often face societal barriers, negative perception and discrimination, 28-year-old Humayun Kabir, who was born with physical malformation in his lower limb, believes quite the opposite. Humayun is a Human Resource (HR) and Compliance Officer at Vintage Denim Ltd., an export-oriented denim bottom woven factory in Sreepur, Gazipur, and he feels that societal attitudes towards the physically challenged are changing day by day, as their skills and aptitudes take them to the centre stage. People's tendency to focus on the disability instead of the individual has reduced to a great extent. 
After receiving a one-year sewing training from  the National Training and Rehabilitation Centre for persons with disabilities at Tongi, Humayun first got a job at the Finishing and Quality Control section at Vintage Denim Ltd. "Since it was very tough for me to work standing long hours at a stretch and I also had a master's degree, within the very first month, I caught the Managing Director's eye", says Humayun. "Soon, he called me into his office and after going through my academic qualifications, told me to join as an HR and Compliance Officer. I cannot tell you how blessed I felt hearing this!" he expresses with gratitude.
Humayun was quite doubtful about his new duties and responsibilities, and how he could support 2000 workers, in spite of being a person with disability. "I must say, I am the lucky one. My employer, seniors and colleagues, made me feel very welcome. I can still remember our HR manager giving me hands-on training on my responsibilities, and the Assistant HR Manager teaching me how to use different software applications to make my work easy," he says. "Even though I have the option to try for a government job, I have never gone for it." Similarly, his employer and colleagues are also very pleased having a diligent employee like him in their team. 
Like Humayun, there are currently more than a 100 workers with disabilities working in Vintage Denim Ltd. The factory hired these workers with support from the professional team of the Inclusive Job Centre (IJC), a unit under the Centre for the Rehabilitation of the Paralysed (CRP). Promotion of Social and Environmental Standards in the Industry (PSES) supported IJC in this initiative. PSES is a joint project of the governments of Bangladesh and Germany, and is being implemented by the Deutsche Gesellschaft für Internationale Zusammenarbeit (GIZ) GmbH.
"Besides striving to create harmony among the workers without disabilities and workers with disabilities, we have arranged general meetings and workshops with different staffs of the factory and discussed how to treat the workers with disabilities and communicate with them properly, especially with those who have hearing and speech impairments," says S.M. Ali Has Nain Fatme, Manager of Corporate Affairs at the Centre for Disability in Development (CDD).
In addition, the Vintage team constructed barrier-free access for persons with disabilities at the factory premises based on universal design, arranged reasonable accommodations in the workplace, revised HR policies, and raised awareness on workers with disabilities among the factory and the management. 
Both CRP and CDD are partner organisations of PSES. The most important part of their job is creating harmony between the workers with and without disabilities, notes. Md. Asaduzzaman, Production Director, Vintage Denim Ltd. "Instead of finding negativities, one might surely find a great source of amity and intimacy among the workers", he adds. 
During our visit, Md. Al-Amin was seen helping his co-worker Mohidul Islam, a finishing helper, who was experiencing difficulty moving jammed clothes with his artificial lower limb. 
On the other floor, while the sewing operator Md. Rozob Hossain, who has hearing and speech impairment, was using signs to communicate with one of his co-workers, Md Humayun Mia was also trying to reciprocate with gestures. 
In the beginning, Humayun Mia also faced difficulty trying to understand what Rozob was trying to communicate. "I started following our HR officer Humayun sir, who trained in sign language, to interact with the workers with hearing and speech impairments at our factory. Within a very short time, I realised that it was not a very tough thing and became able to understand Rozob," he adds. Today, Humayun and Rozob are friends, and support each other in the workplace. 
Vintage Denim Ltd. has become a model for our society to work with persons with disabilities. If other organisations can take it as an example and create an inclusive environment, it will greatly alleviate the stigma and discrimination often faced by these workers and create a prouder, better Bangladesh.