An inclusive initiative
This content was produced by The Daily Star in partnership with Deutsche Gesellschaft für Internationale Zusammenarbeit (GIZ) and Centre for Disability in Development (CDD)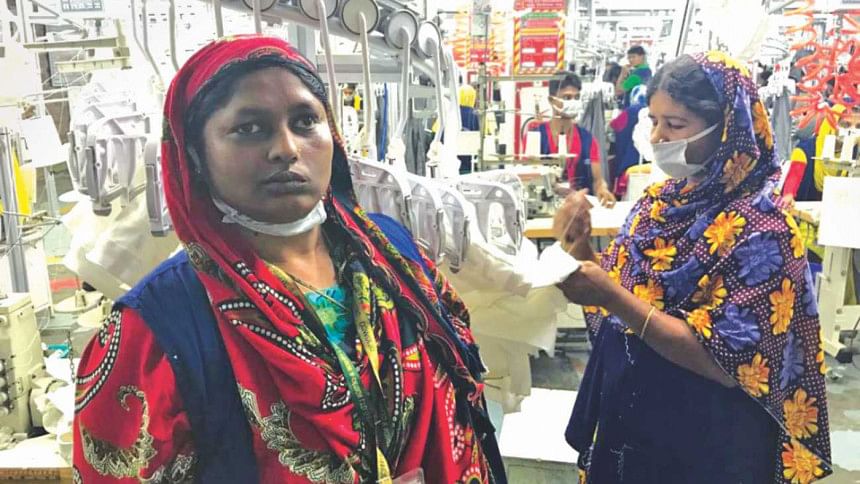 "I have a disabled leg. I fell when I was young, and it affected the nerve. One of my legs is shorter than the other," says Shireen, a quality inspector at the Beximco Textile and Apparel Division, in Savar. "I came to New Dacca Industries Limited through some people I knew, and after coming here Beximco was the first place to hire me. The people here treat the disabled in the same way they treat anyone else. We are never turned away from the door."
A Memorandum of Understanding (MoU) was signed between Centre for the Rehabilitation of the Paralysed (CRP), Bangladesh Garments Manufacturers, Exporters Association (BGMEA) and Promotion of Social and Environmental Standards in the Industry (PSES), around two years ago, to start a platform through which workers with disabilities would be evaluated and placed at several positions of work in factories, called the Inclusive Job Centre (IJC). Bangladesh Knit Garments Manufacturers and Exporters Association (BKMEA) later joined the initiative. Around 200 factories are now part of this project, including Beximco Textile and Apparel Division. PSES is a joint project of the governments of Bangladesh and Germany. It is being implemented by the Deutsche Gesellschaftfür Internationale Zusammenarbeit (GIZ) GmbH, which works on behalf of the German Federal Ministry for Economic Cooperation and Development (BMZ), in partnership with the Bangladesh government.
Through this initiative, many lives have been changed, lives of those who grew up facing stigma and discrimination from society. "I always wanted to make something of myself, despite my disability. Since I was young, even though I would get mocked and unmotivated, I always wanted to live just like everyone else. Beximco really helped me experience a normal life. I come in at 8 in the morning and leave at around 7.00 pm, including overtime. Sometimes, if I fall ill they let me go home early," says Shireen
Asheka Begum has been paralysed since childhood, due to typhoid. After all the ups and downs of life, and with no family left, she found some stability and peace after she got a job at the factory. "My life had quite the turnaround after I got this job. Contrary to how I grew up, I was accepted here with warmth. The staff and authorities are very supportive and helpful. After my mother passed away, I was admitted into CRP. My friends there said they had heard about Beximco hiring those with disabilities. They knew I couldn't handle too much work considering that I still face limitations in movement due to the paralysis. Through CRP, they hired me here for general duty; it's been a year since." 
The facilities provided by Beximco for their employees are also praiseworthy. An operator himself, Rana, boasts of the help they receive. "We have our own bathrooms with ramps and handles to help us. We also get whatever equipment we need to move around better. I don't need to think about where or how to eat." After a relative had helped Rana and his wife come to New Dacca factory, his wife was the first to get a job. "After learning that they hire the disabled, I applied and began working here too."
Hailing from India, Shivendra Shukla has been working at the factory as General Manager, Head of Factory, Crescent Fashion and Design Ltd, and is thoroughly impressed by this strong initiative. "I just began my work here, and saw that they have this wonderful initiative of including the disabled. If we're able to help someone who is disabled, or has low self-esteem due to it, this initiative will help them lead their lives well. And a good ensured future for them is a good ensured future for the country." 
According to him, such initiatives will also have a good impact globally. "Countries will turn their heads towards Bangladesh and ask, 'If they can do it, why can't we?'"