DUCSU POLLS
Why blame the observers?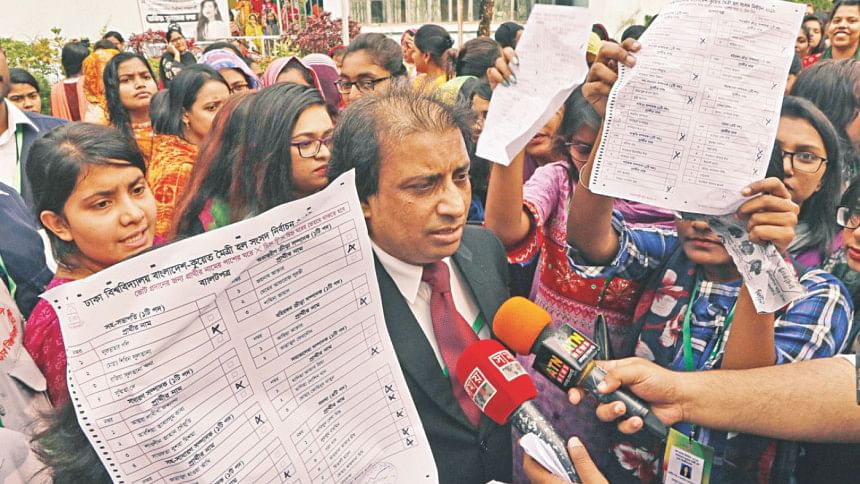 During the Dhaka University Central Students' Union (Ducsu) and hall union polls on March 11, a group of eight teachers voluntarily carried out the duty of election observers. They reported multiple cases of irregularities and demanded reelection, claiming that the polls were not free and fair.
A week later on March 18, Dhaka University's provost committee issued a statement saying that "in the name of voluntary observers some teachers of the university visited polling centers without any permission and also circulated false and fabricated information in social media and others to defame the image of the university."
The provost committee also said that the election observers were a "vested quarter that tainted the image of the university deliberately by spreading out untrue and misleading information." The committee urged the vice-chancellor to take action against the observers' team.
On behalf of the election observer team, 50 academics from home and abroad issued a press statement, titled "When teachers fail". It includes signatures from teachers of Dhaka University, Jahangirnagar University, Chittagong University, Jagannath University, Rajshahi University, University of Liberal Arts Bangladesh, San Francisco State University, and more.
"We applaud the teachers [election observers] who stood their ground despite facing many obstacles. We received news of multiple irregularities in Kuwait-Maitree Hall and Sufia Kamal Hall from trusted media outlets, and there were reports of booth jamming and coercion," says the statement, "The Pro-vice Chancellor (Administration) had to admit that the election was not fair, when he went to meet the students who were on hunger strike. The Maitree hall incident was not an isolated one--it has broken the relationship of trust between teachers and students."
The observers' team comprised of eight teachers—professor Geeti Ara Nasrin and professor Fahmidul Haque of the mass communication and journalism department; professor Kamrul Hasan of physics; associate professor Tanzimuddin Khan of international relations; assistant professor Rushad Faridi and associate professor Atonu Rabbani of economics; professor Kazi Maruful Islam of development studies and assistant professor Tahmina Khanam of the department of management.
The statement dismisses the provosts' claim that the observers were operating "illegally". It cites the Dhaka University Order of 1973, which says that any teacher of the university has proctorial power to an extent, and they can choose to exercise it. It also mentions that the team had verbally taken permission from chief returning officer professor Mahfujur Rahman.
Associate professor Samina Luthfa of the sociology department says, "It is astounding that there has been no exemplary punishment for those who assisted in vote rigging, rather the blame is on those who spoke the truth after observing the election. This is an injustice against honest teachers, and we must speak against it." Samina is one of the signatories to the statement.
A faculty member who wishes to remain anonymous, argues, "It seems that the provosts' demand for action against the observer team is an attempt to silence all those who do not support a certain political power. If the VC acts on their demand, it will permanently silence the voices of those who speak for students' rights."
The election observers' team volunteered to put themselves in a dangerous position, simply by visiting the polling centres and speaking the truth about what they saw. Associate professor Tanzimuddin spoke about his personal motivation behind this. "It is not only my right to carry out this duty, it is also my responsibility. My identity as a teacher will always come before my political identity. I had a duty to my students, and I fulfilled it."
The teachers think that the provost committee's statement is simply another example of the partisan politics practiced by DU teachers. Multiple teachers have expressed their dissatisfaction about the lack of unity in their community, which is caused solely by the partisan attitude of politically affiliated teachers. "There has always been a certain level of politicisation among teachers, and perhaps it is getting worse every day," said assistant professor Rushad Faridi, "But I had a duty as a teacher. Students and teachers were very interested to see how the Ducsu election would play out, and many feared that there would be irregularities in polling. That is why we were motivated to observe it."
"Students of Dhaka University deserve teachers who are dedicated to their profession, but instead the majority of faculty members are invested in internal, or even party politics. Somewhere along the way, most have forgotten their role as educators. They no longer want to work for students' welfare, or the greater welfare of the university, rather they are focused on personal gains," adds a teacher anonymously.
The VC formed a probe body, headed by supernumerary professor Sajeda Banu to investigate the alleged irregularities. It is yet to be seen whether this committee can produce legitimate results. The team of observers has not yet received official word from the VC about any action against them. Should the VC choose to punish a group of teachers who were loyal to their original cause of students' welfare, it will be a collective failure for the entire nation's academia.
The writer is a sub-editor at The Daily Star's city desk. Reach her at [email protected].