DU student on hunger strike demanding Ducsu polls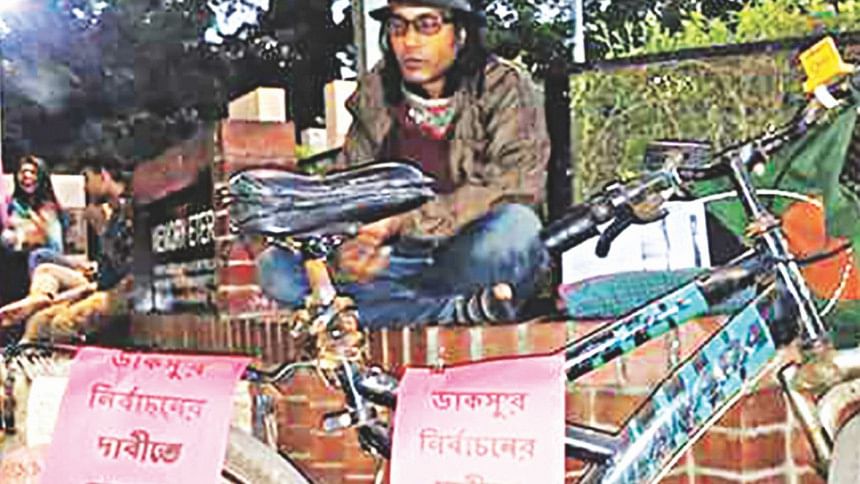 A Dhaka University student has been on hunger strike since Saturday afternoon demanding Ducsu elections within December 16.
Walid Ashraf, an evening master's student of the Institute of Social Welfare and Research, is holding the protest on the premises of Memory Eternal on campus. 
The last elections to the Ducsu or Dhaka University Central Students' Union took place 27 years ago. Student organisations, especially the left leaning ones, demanded the polls on numerous occasions but hunger strike by any student is rare.
"I will continue the strike till my death if the authorities don't pay any heed to my demand," he told this correspondent yesterday. 
Referring to a court directive of October to the DU authorities to form a full-fledged senate (the highest policy-making body of the university having five elected representatives from Ducsu) within six months, Walid said it was the duty of the authorities to hold the polls within that time.
Due to the absence of the Ducsu, which played a vital role in all democratic movements of the country, the students are being deprived of their rights, he said.
DU Vice-Chancellor Prof AKhtaruzzaman meanwhile suggested that the protester asks authorities to meet the demand, rather than going for a strike.
On July 29, during the VC panel election, a group of DU students demonstrated in front of senate building, demanding inclusion of student representatives in the senate through holding of the Ducsu polls.
They engaged in a brief scuffle with some teachers when the teachers barred them from entering into the senate building. The incident sparked an outcry in the social media.
The last election to Ducsu was held on June 6, 1990.