Demand for Ducsu Re-election: Protesters end hunger strike
It comes as authorities assure them of listening to their complaints; VP-elect Nur, all other Ducsu leaders likely to meet PM today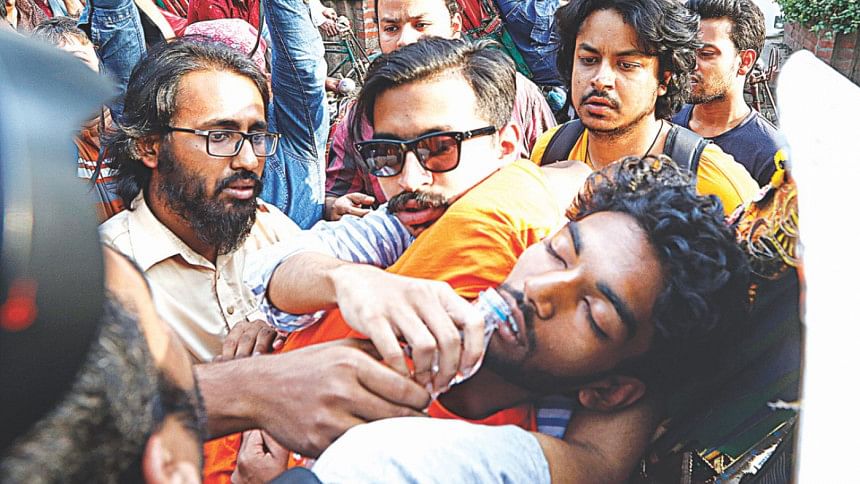 Protesting Dhaka University students ended their "hunger strike until death" last night after the authorities assured them of listening to their complaints and making the Ducsu electoral process more transparent.
The development came after a group of DU teaches, including Pro VC Prof Muhammad Samad and Proctor AKM Golam Rabbani, met the students near the Raju Sculpture around 11:30pm. The teachers fed them water and lassi.
"If you want, we will sit with you and listen to your complaints. In future, we will take measures to make the electoral process more transparent," Prof Maksud Kamal, president of Dhaka University Teachers' Association, told the hunger strikers.
Newly-elected Ducsu VP Nurul Haq Nur, GS Golam Rabbani, and AGS Md Saddam Hussain were present there.
Four students, who ran in the March 11 Ducsu and hall union polls as independent candidates, had begun the hunger strike around 2:00pm on Tuesday. They started the protest after allegations of polls irregularities surfaced. Later, two others joined them.
Meanwhile, the newly-elected officer bearers of Ducsu and hall unions are set to meet Prime Minister Sheikh Hasina at the Gono Bhaban this afternoon.
Earlier yesterday, three hunger strikers fell sick on the fourth day of their protest.
The protesters' 72-hour ultimatum, asking the authorities to meet their four-point demand, will expire today.
Shoyeb Mahmud, who ran for the post of literary secretary of Shahidullah hall students' union, was rushed to Dhaka Medical College Hospital after he became unconscious during a "Bhukha Michil" (Hunger Procession) in the afternoon.
Besides, Meem Arafat Manob, who contested the March 11 polls for the post of Ducsu international affairs secretary, and Al Mahmud Taha, a second-year student of Zoology, were also admitted to the hospital as they became ill.
Around 4:00pm, the hunger strikers along with around 50 other students brought out the procession. As it reached near the VC's residence, Shoeb, second-year student of physics, became unconscious, said protesters.
A few minutes later, Meem, a master's student of computer science and engineering, complained of feeling unwell and had to be hospitalised.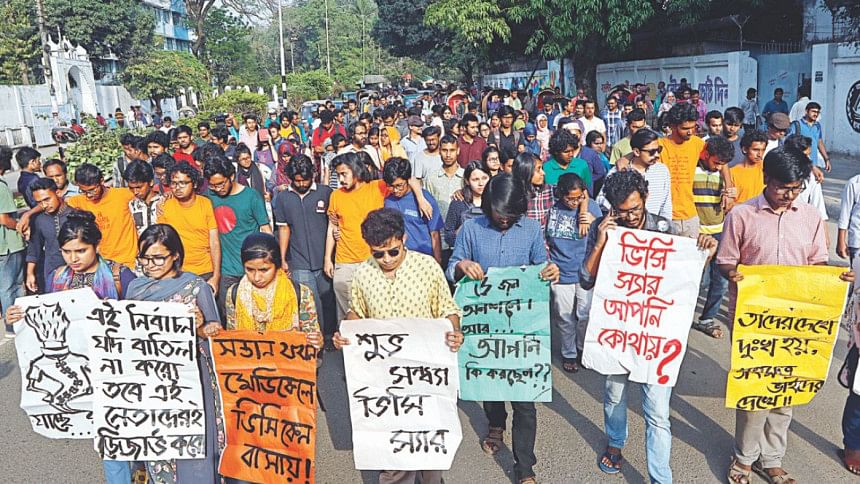 The protesters said they would come up with a fresh agitation programme on Monday. They took the decision considering the weekend today and a public holiday tomorrow.
"We will announce our next course of action on Monday," said Liton Nandi, Ducsu VP candidate from Pragatishil Chhatra Oikya panel.
The four-point demand include announcement of a re-election schedule, resignation of all teachers and staff members involved in the "farcical" election, formation of a neutral election committee and withdrawal of all cases filed against the protesting students.
Visiting the hunger strikers earlier yesterday, Ducsu VP-elect Nur said he would reconsider taking the VP's office.
The protesters also asked whether Nur and Akhter Hossen, Ducsu social services secretary-elect, would go to the Gono Bhaban.
Nur in reply said he was positive about going to the PM's residence as she herself invited them. 
"From the very beginning of the protest, I have been demanding a re-election. But we have to take a decision after consultation with everyone. We have to inform the prime minister about the situation," Nur told protesters.