When it rains, it pours (and clogs) in Mirpur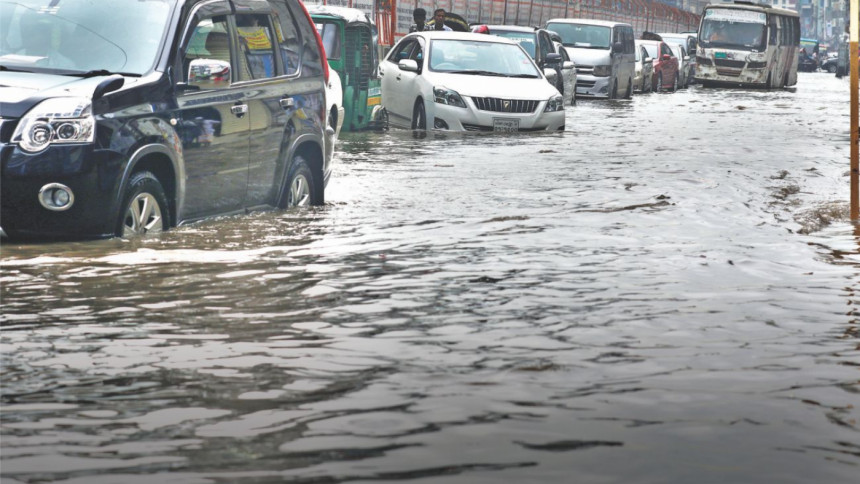 For Mirpur residents, hardship while commuting has become an everyday affair; by now, even the media is probably tired of repeatedly covering the same news about the area. It seems that there are no solutions to the waterlogged roads and pavements, drainage problems, or the traffic congestion in this overpopulated part of the city. The situation has gotten so bad that the area of Mirpur has been subject to mass criticism and ridicule online as many believe that it is rapidly becoming an uninhabitable place. And why not?
Take the example of the recent waterlogging. The rainy season has only just began but the Begum Rokeya Avenue floods after just 30 minutes of rain. It only increases the suffering of thousands of people like Farhana Alam, a service holder, who travels from Kazipara to Uttara on a regular basis.
"During Ramadan, my office starts from 9:00am, so I usually start off at 7:00am. But the other day, I was dumbfounded to see the whole road, including footpaths, flooded. Although in such situations I usually choose to return home, on that day I couldn't do so as I had a very important meeting," she adds.
"The buses were wading through the inundated roads and it was hard to get on. So I started to follow the hundreds of other office-goers walking in knee-to-waist-deep water towards Mirpur 10 bus stop. But suddenly I tripped on a damaged part of the pavement near Senpara and fell. Two women pulled me up, but my bag, containing money and important documents, had gotten wet. So, ultimately, I had to miss the meeting anyway and my legs itched the whole day," rants Farhana.
With a significant portion of Begum Rokeya Avenue demarcated for the construction of the Dhaka Mass Rapid Transit (DMRT), traffic in the area is unbearable, especially during Ramadan, with commuters sitting in gridlocks for hours; a little rain becomes an added reason for further travel delays.
"Although previously, I could start for my home at Shewrapara half an hour before iftar, I've had to break my fast on multiple occasions on the bus. It takes at least two hours to reach home if there's a little rain; that's intolerable," says Shimul Moudud, who works for a private company at Farmgate.
In addition, whenever a vehicle breaks down on a section of Mirpur road narrowed by the DMRT construction, it usually causes a blockage stretching three to four kilometres as all the other vehicles need to cross the area in a single-ply formation. Meanwhile, at the opposite end there's a shortage of buses at almost the same time.
Due to water-logging and metro rail construction, the lives and livelihoods of small and medium businessmen in Mirpur have also been affected, as they report that they are constantly suffering losses. For example, one of the employees of National Furniture, a footpath level shop by the side of the road at Kazipara, informs us that they have to shut down their showrooms for the whole day even if there's just half on hour's worth of rain.
"When the large vehicles ply the roads, it creates a wave and the rainwater floods the shops and damages the furniture. It causes us great loss as we need to spend more money to re-varnish the furniture," he says.
"We are running our business on bank loans, and already face difficulties repaying it, as we are losing 70 percent of our profits due to the metro rail construction. People who would buy our fancy furniture are leaving this area gradually; those who have enough money are not interested in living in such discomfort with rainwater and dust," he adds.
Bulbul Ahmed, manager of Swan Foam, situated right beside Kazipara bus stop, also notes that the recent rain damaged at least seven mattresses in his shop—a significant loss.
Apart from the roads, the alleys also flood with each small downpour and people have to go through untold sufferings while making their way to the main roads. Some landlords near Begum Rokeya Sarani report that since the construction of the metro rail will take four to five years, many tenants are unwilling to continue living in this area.
"I have reduced the rent of my flats by Tk 2,000, but cannot find any tenant for two of my flats for the last two months," says one landlord in Senpara of Mirpur 10.
Is there no end in sight to people's plight?
The executive engineer of zone 4 of the Dhaka North City Corporation (DNCC), Mollah Mohammad Nuruzzaman, argues that the massive urbanisation in the Kazipara and Shewrapara areas is responsible for water-logging. "Earlier, the soil would absorb a large portion of rainwater of areas near Begum Rokeya Avenue. But now, due to massive construction, the soil cannot absorb the water and all rain water comes to the main road," he states.
Nuruzzaman also mentions that there are small drains on both sides of Begum Rokeya Avenue to drain this rainwater but the capacity of these drains cannot keep up with the flow. "Most of the pipelines are jammed with garbage and dirt and this is why it takes time to drain the water," he adds.
When asked what steps are being taken to rectify this situation, he says that DNCC is no longer responsible for maintenance of this road. "There is no fund allocation for drainage improvements in Begum Rokeya Sarani as last year the DNCC handed over responsibility of this road to Dhaka Mass Rapid Transit Company Ltd. (DMRTC). The DNCC only does some small development work as a show of courtesy," he claims.
The project director of DMRTC Aftabuddin Khandaker says they are working on preventing water-logging in Rokeya Sarani, but admits that he doesn't know how effective it would be. "The problem is very old. And there is no internal drainage system to drain out the rainwater from Kazipara to Mirpur 10. So, we are now working on cleaning the side drains. But, the outlets through which the rainwater drains out, have narrowed down and nobody is cleaning the canals entirely," he claims. "We cannot fully concentrate on cleaning the drains and canals because then we will fail to concentrate on our actual work. I think the DNCC and WASA can jointly work for this," he adds.
It appears from these comments that no matter how many photographs of clogged roads are printed in the papers, there is no urgency among the relevant stakeholders to address the critical situation haranguing Mirpur dwellers. With the monsoon season only just beginning, one can only imagine what untold sufferings are waiting for those who have the misfortune to call Mirpur their home.