Flashbacks of the Black Night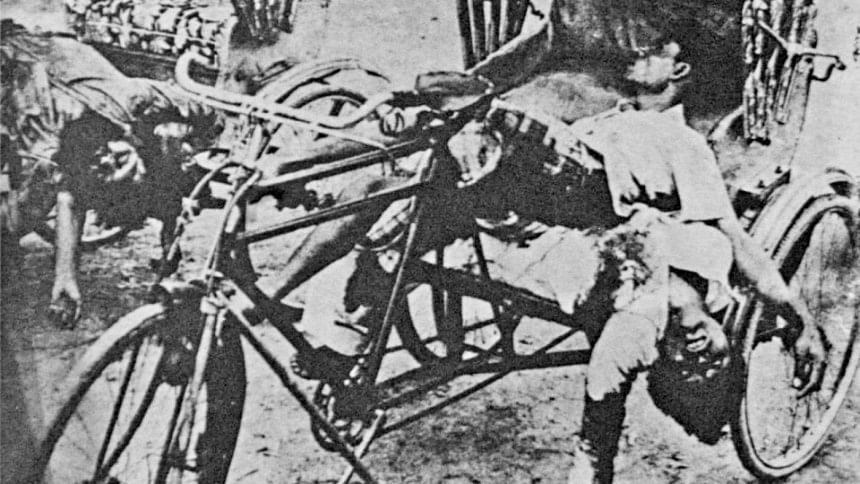 The excerpts given here might seem like dialogues taken from an action movie, but they are actually snippets of real conversations between several groups of the Pakistani occupation forces on the black night of March 25. This exchange of words between the barbarous military force, which began at around 1.30 am and continued till 9 in the morning, brings different aspects of the terrifying 'Operation Searchlight' to the fore. 
While this conversation took place over wireless sets, it was overheard through radio by the Bangladeshis.  Dr M M Hussain, who used to work for the Atomic Energy Center, was able to record a part of the conversation, and this recording was later given to Liberation War Museum through a will. Kawsar Chowdhury, an independent filmmaker, collected the cassette while making his documentary, Tale of the Darkest Night, and thus, the conversation was transcribed and the Bangla transcription was published in the magazine, Shaptahik 2000.
For obvious reasons, the recording does not provide us with crystal clear audio. It was interrupted with series of static noise along with the external sounds, making some part of the recording almost inaudible. Therefore, the transcription loses its flow and sequence quite often. However, that does not hamper the significance of this transcription as an important document bearing evidence from one of the most heinous planned attacks on civilian lives. 
As the night advanced and the conversation kept unfolding, the recording exposed how the military pacification was carried out in a systematic and organised manner by the Pakistan Army. Moreover, the military officials' encouraging, congratulatory words to each other were like pats on each other's shoulders for a job 'well done', as evident from their verbal exchange of how they mercilessly killed mass groups of people in targeted areas, once again revealing the barbarity of their cowardly mass slaughter. Throughout the recording, they kept asking each other to kill and arrest. To scare and destroy. 
Even after all these years, every word of this document will surely evoke emotions of rage and helplessness in all of you. It will make you angry. Give you the shivers. Considering how the Pakistani government still refuses to acknowledge their oppression on and subsequent genocide of the Bangali people of East Pakistan, it will make you wonder how such a crime still goes unnoticed and unrecognised by a majority of the world's population. 
Source: Operation Search Light, 25 Marcher Gonohottar Dolil, published in Shaptahik 2000.
---
The codes that they used
Kawsar Chowdhury also deciphered the meaning of the signs that they used in the conversation. Each group had a code name of a two digit number and was assigned to a particular area.
Eight Eight- South to campus, till the river
Nine Nine- Commissioner Office. (present Ministry of Foreign Affairs. Probably they were the main coordinators of this operation)
Codes used for particular areas
Liakat- BUET Dormitory
Iqbal- Dhaka University Dormitory, Jahurul Haque Hall (present)
Jagannath- Dhaka University Non-Muslim hostels.
Elaka 2000- Police Line (Rajarbag)
Papa House- President House, Baily Road
Codes used for the officials of the Pakistani Army
Highest control- General Tikka Khan
Imam- Captain
Big Brothers- tank
Codes used for Awami Leage
The main bird- Sheikh Mujibur Rahman
Alpha lima- Awami League
–    Eight Eight. Roadblock anywhere will be considered a punishable offense. People involved in this should be shot right away. All the buildings on both sides will be destroyed. Keep announcing this in the public address system through the roaming patrol.
–    Nine Nine. We have caught a few people who were setting up roadblocks. Hindus are being used to remove the roadblocks. After finishing the work, should we send them to you, or should we make some other arrangement? Over.
–    Eight Eight addressing Nine Nine. Highest Control wants to know what kind of obstacle did you face in Jagannath, Iqbal and Liaqat? Over.
–    Nine Nine addressing Eight Eight- Bullets were fired at us especially at Jagannath and Iqbal. Roger so far. Over.
–    Eight Eight.  Imam has asked you to occupy the Shiddhirgonj Power Station. You have already appointed some armies there. After reaching your area, try occupying the power station. And make sure that the soldiers don't get tired. If they do feel tired, they can be given a temporary break. After taking rest for a few hours, they can get back to work. I want to congratulate you once again. Let Aziz know as well. You people have done a pretty good job in this area. I am very happy. Over.
–    Seven Seven. The latest condition of 88… we are being informed that it is improving. But there are so many buildings on our way that we have to demolish them one by one. 
–    Seven Seven.  Very good. Ask the Jawans to carry on with the curfew declaration - number one. Number two- keep announcing that all Bangladeshi flags have to be taken down from the buildings, otherwise the owners will suffer serious consequences. There should be no black flag or Bangladeshi flag visible anywhere. If any of these is found, the consequence will be severe. Roger so far. Over.
–    Seven Seven. Roger… Seven Seven and secondly, we need to make announcements about roadblocks. If any person is found near any roadblock, he/she should be shot right there. And the people in charge of the roadblocks will be punished. They will be held responsible. All the buildings around the roadblocks will be destroyed. It needs to be announced so that the general people understand this fact clearly. This announcement should go on for tonight, tomorrow morning and the day after. Over.  Out to you. Hello 41, you got it? Over.
–    Eight Eight …. Good job! Approximately how many people died in the University?
–    Around 300. 
–    Bravo! How many got injured and arrested? Over.
–    Eight Eight I think only this is important. 300 died. Over.
–    Yes I agree. That is very easy. We don't need to be accountable to anyone, and to inform anyone about our action. Congratulations, once again…
–    Seven Seven addressing Eight Eight… Piling up the dead bodies will take some time     
–    Eight Eight Roger. Pile up the dead bodies at some point and call 26. Imam said that we can move the dead bodies later. For now, count them and keep them in two separate groups- Police and civilians…
(translated from Operation Search Light, 25 Marcher Gonohottar Dolil, published in Shaptahik 2000)