Recognising Invisibellas
On March 5th and 6th, the Bhatara neighbourhood of Notunbazar, Dhaka, was brightened up when young artists splashed colors...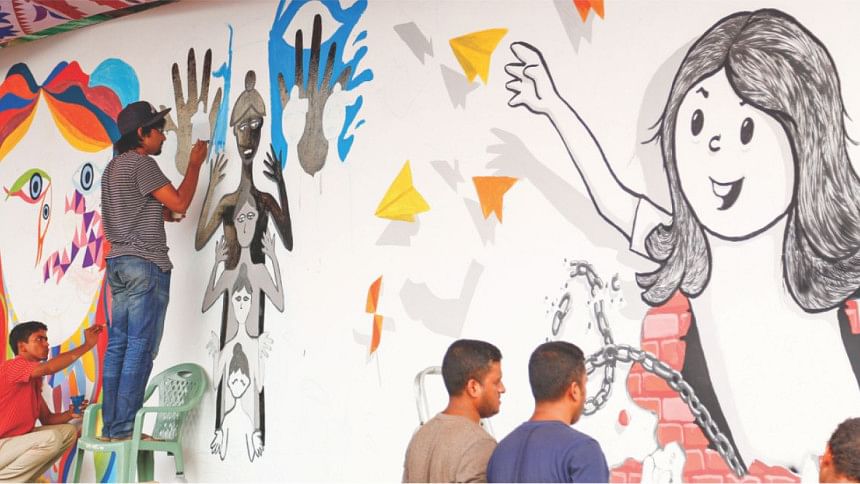 On March 5th and 6th, the Bhatara neighbourhood of Notunbazar, Dhaka, was brightened up when young artists splashed colors and creativity on street sidewalls. Amidst music, laughter and a captive crowd of passersby, they invoked thoughts on a critical issue that is close to the hearts of many – gender discrimination and women's empowerment in Bangladesh.
On the advent of International Women's Day 2016, Global Shapers, Dhaka Hub launched "InvisiBellas" - a street-art project to shed light on the social position of women. The theme was a tribute to everyday heroines who are overlooked, unheard, uncounted, spoken for, told what to think, say and do. With this project, the Dhaka Hub of Global Shapers aimed to applaud and praise these women, encourage people to raise voices against violators and perpetrators and to break the wall of restrictive social norms with the very essence of the feminine - creative force.
"We sought to touch on issues that are ignored and swept under the rug, hoping to demonstrate how women are, unwittingly and intentionally, dismissed and taken for granted on a daily basis," said Kazi Istela and Mahmudul Kabir, shapers for Dhaka Hub and two of the event organisers.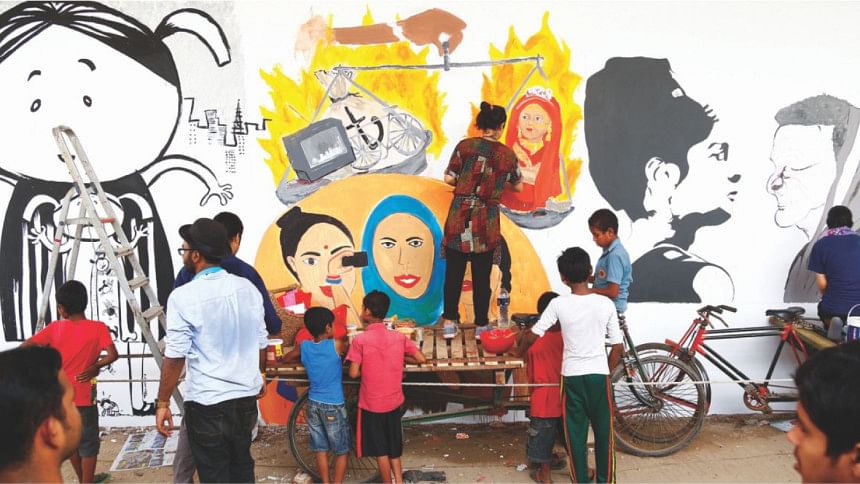 An underprivileged part of the city – Notunbazar – was aptly selected as the venue for this street art project, as women of such areas are more often repressed than their counterparts in more wealthy echelons of the city. For real change to happen people from all walks of life must be involved, and as such, the work took place out on an open street to bring these concerns to public attention– to as wide an audience as possible.
The 15 participating artists selected a number of gender issues, including the neglect of household help, the unappreciated role of female Garo beauticians, objectification and vulgar portrayal of women in the film industry, enforced silence that women are expected to accept, child marriage and the docile and unappreciated image of the mother.
Community engagement was an integral element of the project, with the artists engaging local residents and commuters, explaining to them the various underlying themes and issues the paintings depict, encouraging the community people to share their opinions and experiences. 
Through the project InvisiBellas, the Dhaka Hub of Global Shapers aims to create a positive movement towards building a society that celebrates instead of disregards, empowers instead of belittles, praises instead of insults women. Ultimately, a society where women are able to think and speak freely is a society that will progress.
Participating artists were Liza Hasan, Kazi Istela, Manik N Ratan, Maleena Dhrity Gomez, Salzar Rahman, Amit Ashraf, Saiq'a S. Chowdhury, Sayeef Mahmud, Wasi Ahmed, Dibarah Mahboob, Syed Rashad Imam Tanmoy, Mahenaz Chowdhury, Nuzhat Tabassum, Tanzia Haq and Nuhash Humayun.
The official launch of the event was 19th March at the Bengal Art Lounge.
The event has been made possible by the generous support of Bengal Foundation, Edward M. Kennedy Center and Tredexcel Graphics Ltd.
The writer is a Global Shaper, Dhaka Hub