Terrible tea, terrible life choices
But I guess Ivan did not choose wisely. It was a series of unfortunate events with him and now, he was stuck with Rebecca–and there was still six hours 46 minutes left in this office cubicle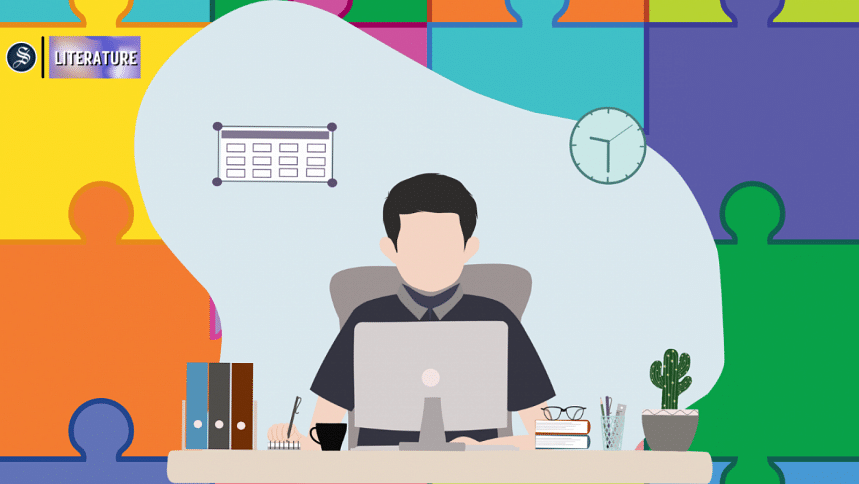 Ivan was terrible at this. He really didn't want to go through all of this right then. "It's not even midlife, considering I can get to 60", he would say, always holding onto a mug of hot liquid (tea leaves smothered in condensed milk without sugar) and a particularly disgusting brand of cigarette. But, at the end of the day, be it in a frenzy of annoyed obedience in office cubicles or just being burned out in musky gym rooms, he had to come to terms with it.
He was growing old. Aunty never stopped bugging him about getting married. He wanted a life without barriers. He wanted to be a true parasite, spreading far and beyond. But, to get what he wanted and to have what he needed, he needed to make better life choices–like not working where he is working. And stopping what was going to happen right then in a matter of minutes. That annoying, godforsaken, putrid, squeaky, slimy, bane of an existence–Rebecca, the accounting-parasite-from-hell–would've started talking and Ivan would completely lose it.
But he didn't. Deep breaths and zoning out were excellent suggestions from Dr-shrink-man, 'The Amazing Riaz'. "Rebecca can drown in my sea of silence and everything will be alrigghhhht", Ivan would sing in his mind. But his mind also sang of other things. Ivan was terrible at this because everything around him was terrible and he could have made better life choices. But he didn't. He knew he shouldn't regret it, and maybe he could look at it from a perspective where he revisits these choices to make better ones in the future.
And in that moment of habitually silencing out everything around him, he thought about some things. "So, imagine this: you stumble upon a cosmic remote control labeled 'Life Reboot.' It's like hitting 'Ctrl+Z' on reality. Two choices pop up:
Option A: You hop back in time, with your current brain intact but crammed into your younger self. Picture knowing everything and telling your friends the Twin Towers would explode. You could save millions by predicting earthquakes, and be rich by betting on stock prices. You would be the oracle of this era, a cosmic savant navigating life with the ultimate cheat code.
Option B: You hit the cosmic 'New Game' button. Fresh start, no memories, just you and the universe, starting from scratch. It's like getting dumped into a video game without a walkthrough. Yikes! Option A sounds tempting, right? Skillfully fix those cringey moments, avoid making bad decisions, invest in Bitcoin early. But wait, doesn't life's plot twists partly come from winging it? Do you really want to be the author and the character in your own story? Plus, knowing every curveball life throws at you takes out the surprise, like watching a movie with spoilers.
Now, Option B is like starting a new save file. New friends, new heartbreaks, new pizza topping preferences. You'll be the baby of life, learning the ropes, making choices without a crystal ball. Who knows, you might just make the right choice this time.
But, hold on, Option B doesn't erase your quirks. You're still you, even if you don't remember that time you stuck chewing gum under the desk in kindergarten and that wonderful girl (not Rebecca) got sticky fingers from it. And Option A doesn't guarantee perfect decisions. Sure, you'll avoid some mess-ups, but new ones will pop up.
So, it's a battle between the rewind button and the fresh start. Do you want to be the mastermind behind your story, or a newbie exploring uncharted territory? In this cosmic game show of life, choose wisely.
But I guess Ivan did not choose wisely. It was a series of unfortunate events with him and now, he was stuck with Rebecca–and there was still six hours 46 minutes left in this office cubicle.
Life could have been better, sure, but at least Ivan learned something out of it. He learned that whatever or whenever you do anything, you shouldn't do the first thing that comes to your mind. Have you ever gotten the USB port to go in right the first time? No. It's flip, flip, and then it fits. It certainly feels like the universe is trying to tell you something. Listen. And don't ever do the first thing that comes to your mind. It's a terrible thing to do.
Kazi Mahdi Amin likes scribbling stories when there is other important work to do. He can be reached at [email protected].