Tagore's 'Shesher Kobita': A timeless exploration of love and freedom
There are times I envy Labanya, sometimes I wish I could be as rebellious and as free-spirited as her; other times I feel empathy for her, it makes me believe and accept myself more as an individual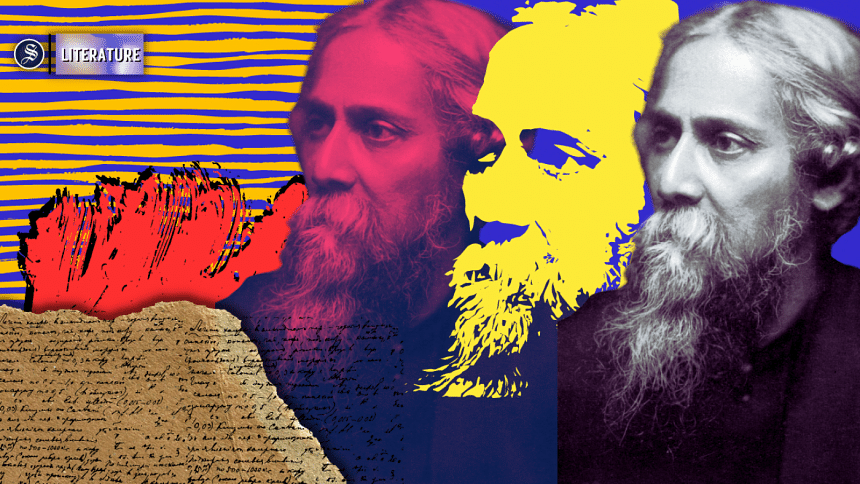 I first read Raktakarabi (Red Oleanders), a play by Rabindranath Tagore, at the end of my 'Playwriting' course. It turned out to be just the push button I needed. I stumbled upon Tagore's Shesher Kobita (Farewell Song, also referred to as The Last Poem) while preparing a 'Tagore Special TBR' for myself.
Shesher Kobita tells the story of a young man named Amit Raye, who falls in love with Labanya on a trip to a hill station. However, Labanya is engaged to another man, and their love remains unfulfilled. The novel explores themes such as love, desire, marriage, and the conflicts between tradition and modernity. Tagore's writing style is lyrical, ornamented by his use of metaphors and symbolism. The novel is full of poetic descriptions and vivid imagery, painting a dreamlike atmosphere. You can feel love floating around and caressing your soul while reading the text. 
The novel, to this day, resonates with readers because it deals with complex philosophical ideas. The characters in the novel are torn between their desires and the expectations of society. Amit, in particular, struggles to reconcile his desire for love and freedom with his sense of duty and responsibility. The plot explores the tension between individual desire and social norms and the consequences of choosing one over the other. Even though it is a love story, the narrative paints a rather rational picture instead of the typical "happily-ever-after" conclusion many love stories tend to show. 
Another notable aspect of the novella being a thought-provoking one is the manner in which Labanya, its female protagonist, is depicted. Unlike many other works of literature from the time, Tagore presents his woman characters as complex and multifaceted. Labanya is intelligent, independent, and passionate, she possesses a personality beyond the confines of traditional gender roles. She refuses to be defined solely by her role as a wife or daughter and seeks to live life on her own terms. As a woman reader, I experienced an array of emotions simultaneously playing at each other the multiple times I read this text. There are times I envy Labanya, sometimes I wish I could be as rebellious and as free-spirited as her; other times I feel empathy for her, it makes me believe and accept myself more as an individual, leading my own story with grace.
Shesher Kobita is a sorrowful and moving story that speaks to the human experience of loss, separation, and longing. 
When I asked my brother-in-law what had tempted him to read it 13 times, he had a very simple response: the way in which the characters were developed, their romance, and the narrative itself had encouraged him to read more of Robi Thakur. It brought him to the Ekushey Boi Mela and collected his other, well known titles as well as the lesser known ones.
Tagore's ability to grasp fundamental human feelings and articulate them in a way that connects with readers across countries and centuries is what makes his work so ageless. His writing is distinguished by its simplicity, grace, and depth, and he possessed a rare ability to use language to generate powerful, evocative images that stay with readers long after they have finished reading. His notable contributions to literature have one thing in common: universality. The themes of love, nature, loss, longing, and care in the works are as pertinent today as they were when they were first written, and their emotional intensity is just as real and refreshing and will remain as such till the end of time. Tagore's writing demonstrates the potential of great literature to transcend time and place, touching the hearts and minds of readers of all ages. His works are true masterpieces of world literature, inspiring and moving readers all over the world.
In celebrating the Nobel laureate's 162nd birthday, I keep asking myself if Tagore was ahead of his time or if his vision of a future where women were well read and educated enough to challenge stereotypical societal norms has materialised over the decades. He wrote extensively about women's experiences, struggles, and desires, challenging the traditional patriarchal norms of his society. His depiction of women was not limited to a particular archetype, but rather portrayed as multi-dimensional characters with diverse personalities and life experiences. When you read Tagore's works–be it a poem, play, short story, song or a novel–you not only fall in love with the characters and narrative, you start respecting them too, to the point that you feel a profound respect for Rabindranath each time you read his work of art. 
Salwah Chowdhury works at an NGO by the day and works for her toddler at night. In between, she is trying to be the writer she always wanted to be. Reach her at salwahchowdhu[email protected] or @salwah_chowdhury (IG) for book recommendations.