'Sticker': Sehri Tales selections, Day 25
The top selections in poetry, flash fiction and artwork for Day 25 of the Sehri Tales challenge; prompt: Sticker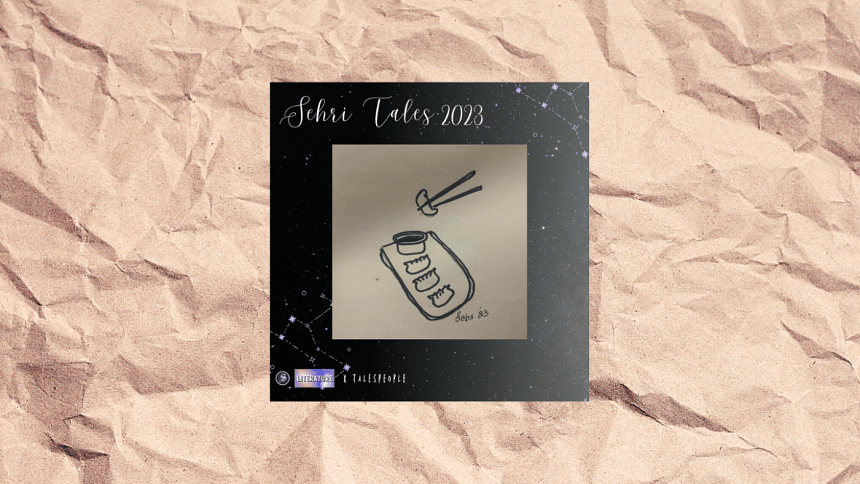 I.
My report card stated I didn't "mix well" with other children, but the girls' school I attended was full of snobs, obsessed with the stuff their businessman fathers brought home from Dubai and Singapore. The only real friend I had was my neighbour, Asif. Running wild, we raided nearby jackfruit and jujube trees; savoured "unhygienic" jhalmuri; and played in sandpiles at construction sites, while competing to collect tadpoles from their water-tanks. None of it was girly enough for my classmates.
When I shared my social woes, Asif said I was like a Lajjabati plant, which shrank into itself when touched. But not always, as he demonstrated with a feather-light touch that left the fronds unaffected.
The next-door schoolyard was our favourite place to play after hours. There were no walls, so access was easy despite the efforts of the bald caretaker we nicknamed--to his understandable outrage--"Bel-matha". The only problem was, the grass was infested with chor-kata, which left cumin-like stickers in our clothing, requiring painstaking care to remove.
"I'm like a chor-kata," Asif said, with a mischievous smile. "You won't get rid of me so easily!"
I didn't want to.
But life had other plans. My family moved to Chittagong when I was 11, and in the pre-internet era, it was all too easy to lose touch.
So, pulling another all-nighter for the third-year finals, I was taken aback to find a Facebook message saying, "You can't say I didn't warn you!"
It was signed, simply, Chor-kata.
by Farah Ghuznavi 
II.
"Ouch", I yelled. The box almost crushed my toe; it looked familiar—the blue lid with the Pokemon sticker on it. I set it down on the table. "It better has some Dettol in it," I muttered.
I opened it, and a familiar scent struck my nose. I had gotten it hundreds of times before. The box had items from my childhood—my Bay Blades, Pokemon cards, and of course, my sticker collection. There was a photograph too, of me and Rumman.
We were inseparable, brothers from different mothers. And we both loved stickers! Marvel, DC, Pokemon, Dragon Ball Z, Naruto—you name it, we had it. We were the best of friends until one day, I gave my prized possession, my Batman sticker, to him, and he lost it. "I hate you; do not ever try to talk to me if you can't bring it back," I yelled at him that day. He never did, never again.
"A sticker was more important to me than my friend!"
Slowly, I picked up the phone.
"Hello, who's this?"
"I am Batman."
There was a long pause on the other end. "Arif?"
"Yeah, dude. Guess what I found. My sticker collection, the one we built together,"
"I couldn't find your sticker yet."
"I found something else."
"What?"
"I found some sense in me. And the courage to get my friend back."
Long pause again.
"So, should I light the bat signal again?"
I smiled, but a teardrop fell on the stickers.
by Abrar Zarif Abir 
III.
The expiration of a beloved tradition always leaves a bittersweet taste on memories. With another Eid approaching, memories of those forgotten traditions are incessantly sticking out. The Eids we spent as children feel like a distant fairytale these days. Even though we still spend them in the same houses, the places have gone through a myriad of metamorphoses. For instance, the Ferris wheel rides with Goribsha mama every single Eid without exception has vanished into thin air. The train rides with all my cousins and the anticipation that resulted in extreme adrenaline filled imaginings and plans have faded as well.
We used to make cards for every person in the family for Eid. We would buy special stickers, matching the person, and put them on the already heavily decorated cards. Exchanging cards was the first thing we did on the train, after battling through the pushing and pulling of our little limbs through the windows to get us and the luggage inside as quickly as possible. Screaming for "Chompa!!" and ringing the doorbell as soon as we got to the gates, meeting nanu before anyone else while she offered us cheese crackers and Lexus with the most adorable smile on her face, the look of relief and belonging I saw on my mother's face. All of these little moments mean a lot to me. The moments we'll never quite be able to recreate…
Without mama, without nanu, the Ferris wheel rides, and cheese crackers will never be the same again.
by Daian Zareef