Love, when you're an adrenaline junky
And in spite of knowing this/ In spite of the absurdity of it all/ You let yourself fall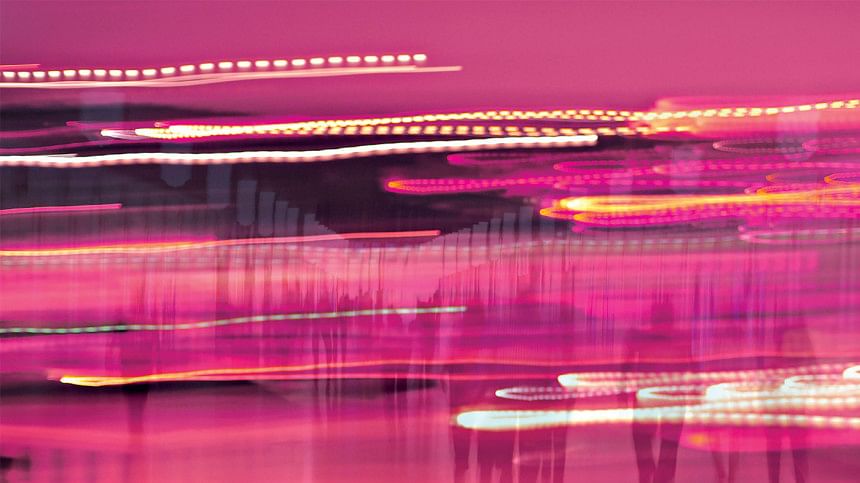 To know that when this is all over
When they're no longer by your side
You will be walking down Kemal Ataturk avenue, Dhanmondi lakeside, Mirpur 5–alone,
Your hands tucked inside your pockets, clenched into fists
to emulate that comforting warmth of being held
That you will treat yourself to strawberry jam donuts, daal puri with jilapi, KFD dumplings–not out of preference, but nostalgia
That you will pick a Pathao for your commutes,
just to cling onto memories of rushing back home, risking life and limbs after Saturdates
That you will work from that cafe by the lake, look out the window and gaze at the building on the other side
where someone used to stay back after work just to indulge in some roadside fuchka with you
Or to solve Crossword Tuesdays–racking their brain to outwit you at any cost
Sometimes, they would take a detour with you to walk through the park where you spent endless hours making up stories about the stray cats and dogs
And somehow 2000s R&B and "Jalebi Baby" will sneak into your playlist
labeled as–songs to listen to while pooping
That everytime you bite on a chicken cartilage–the sacred ritual of your people you will search for a scowl through the corner of your eye
Feel a tug in your chest
When you see an airplane in the sky
The smell of winter
will sometimes make you cry
And in spite of knowing this
In spite of the absurdity of it all
You let yourself fall
 
Touchdown confirmed
You are not safe here
The 'p' value of this test
is much lower than your worst fear
And no amount of manipulation will skew the results in your favor
You look around and recognise
the blaring signs
Oh no no no!
This is the all-too-familiar ground
of heartbreaks and tears
You don't know if you'll be okay
You are most definitely not going to be okay
But when was playing safe ever your forté?
This poem was originally performed by the poet in SHOUTxDS Books Slam Poetry Nights.
Farah Masud can be reached at [email protected].