Antarctica: The magical, white continent
Was it real?
Those mysterious blinding-white landscapes, the ethereal silence, the pristine nature relatively untouched by us – humans!
At the end of the world, there exists this entire continent in isolation – inhospitable for humans – covered with thick ice. Here the penguins, whales and the albatrosses rule, far from the maddening crowd.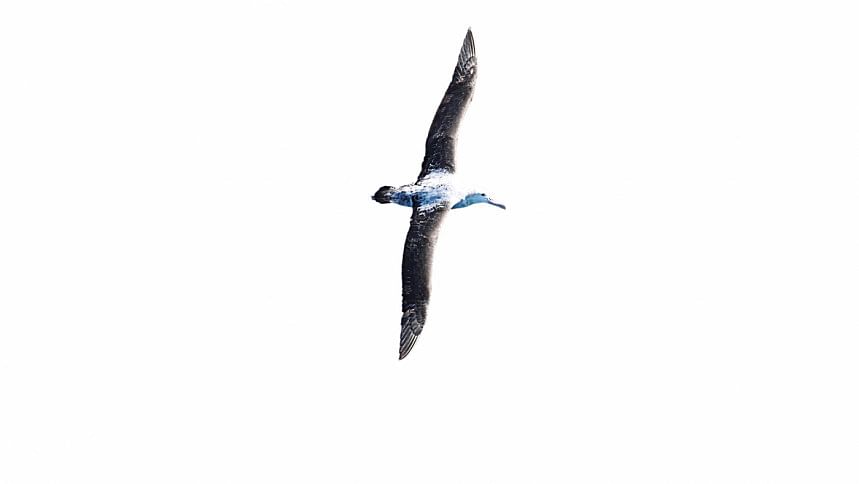 This is Antarctica, the last continent. My wife Sharmin and I have just returned from this magical place.
In 2008, when we made our first international trip to the Bahamas little did we know about the drug that we were injecting into our blood – a drug that will awaken in us the desire to see the world. Since then, we have travelled to every corner of the world, all seven continents, 83 countries as of January 2022.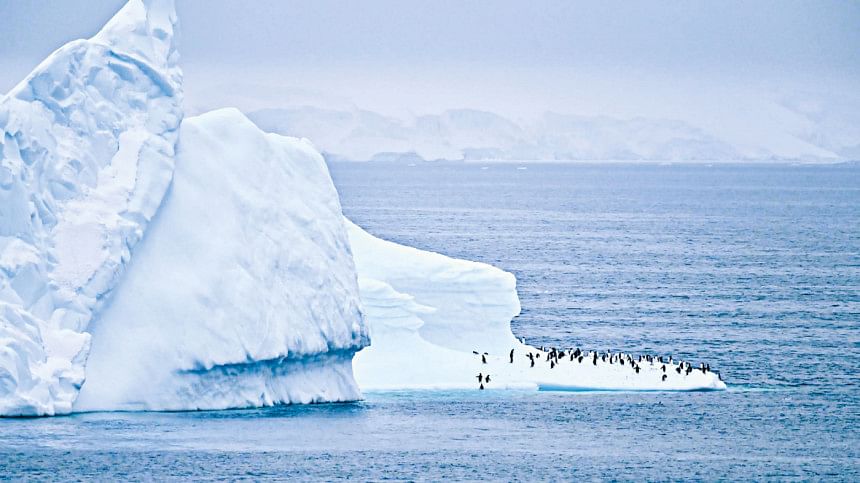 But visiting Antarctica wasn't in our typical travel bucket list. Biggest hurdle was, of course, financing the trip. Though both of us were working and earning, we had to wait for years to save the money for the trip.
In August 2019, after lots of planning, we pulled the trigger and wrote the biggest bank cheque of our travel history -- $32,000 paid in full for the trip scheduled in November 2020, 15 months ahead of the time.
But then came the Covid pandemic. The tour operator, Silversea, offered an upgraded voyage scheduled in 2021. For the 15-night all-inclusive cruise package starting from December 21 to January 5, 2022. Silversea's price tag was now about $48,000. Luckily, we didn't have to pay the extra amount as we paid two and a half years ago.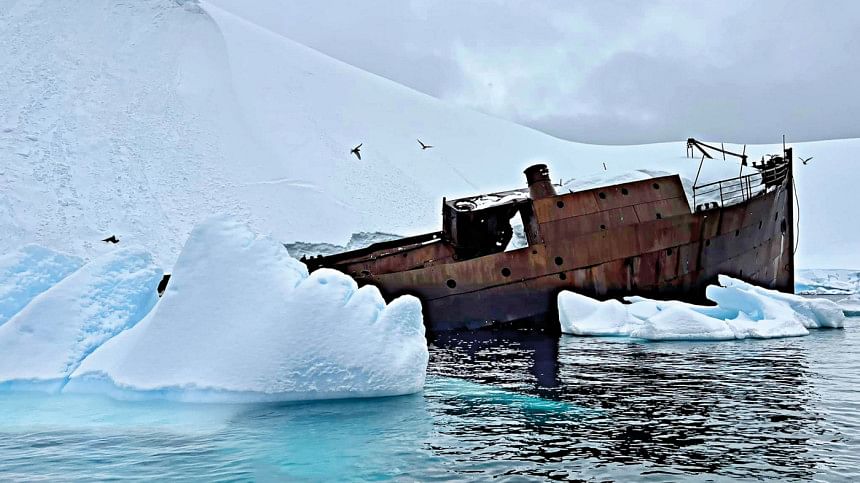 Finally, our journey started on December 19, 2021, when we boarded the plane from our home state Connecticut, USA, to Santiago, Chile. From there Silversea chartered flight took us to Punta Arenas, from where we boarded our Silversea Cloud Expedition ship on December 21, 2021.
We couldn't believe we were actually going to Antarctica until the ship left the port. So many years in planning, so many hurdles we crossed!
To get to the mysterious continent, first we had to face Drake Passage, one of the roughest sea routes not to be crossed for fun, for two days. Though the ice-class Silversea sails here year after year with experienced professionals onboard, looking at the violent sea, far away from the civilisation, one can't simply resist the thought of how intimidating Mother Nature can be. Three nights onboard, including one sleepless night while crossing the Passage, we have seen nothing but blue ocean. Then one early morning I woke up, opened the curtain between our sleeping suite and balcony and couldn't believe my eyes.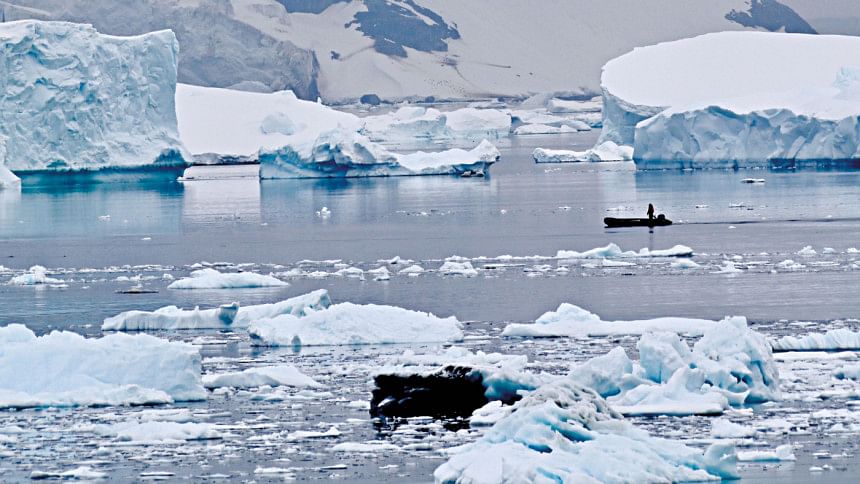 We have arrived!
Right in front of my eyes, white mysterious landscapes covered with fog were moving slowly as the ship cruised through the calm water.
We sailed around the Antarctic Peninsula for eight days. We visited the South Shetland Islands, Elephant Island, and wildlife-rich Falkland Islands and crossed Antarctic Sound twice. We made several onshore excursions, multiple zodiac cruising, kayaking through ice and unique wildlife. We took countless photos but none could capture a fraction of what's out there.
The dazzling white landscapes, city-sized icebergs passing by were something hard to grasp looking at it. Did you know some of the largest icebergs have their own names? Largest iceberg currently floating in the Antarctic Peninsula is more than five times bigger than Singapore.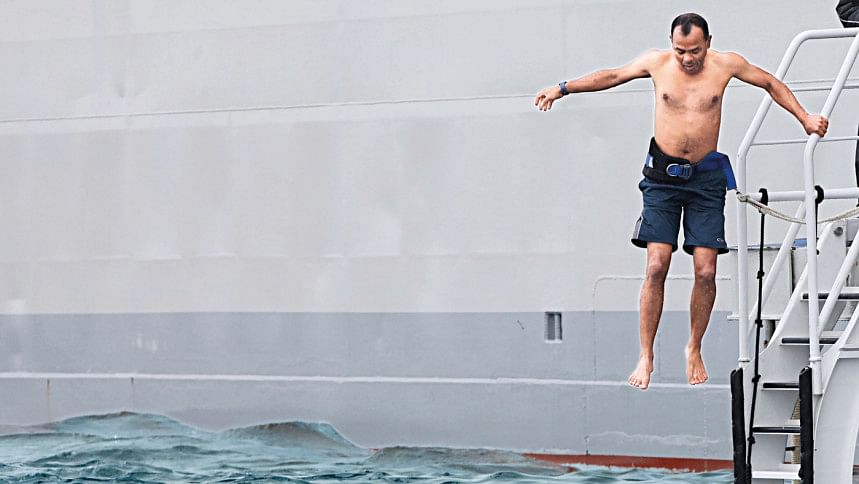 And I took a polar plunge! It wasn't easy to decide. Then I thought about my Ma (mother). The woman I lost a few months ago, my last hiding place, and my last shelter; the woman who struggled so hard through her entire life to give her children a better life.
I decided that I would do it for her. Then I just jumped. I knew she smiled at my madness.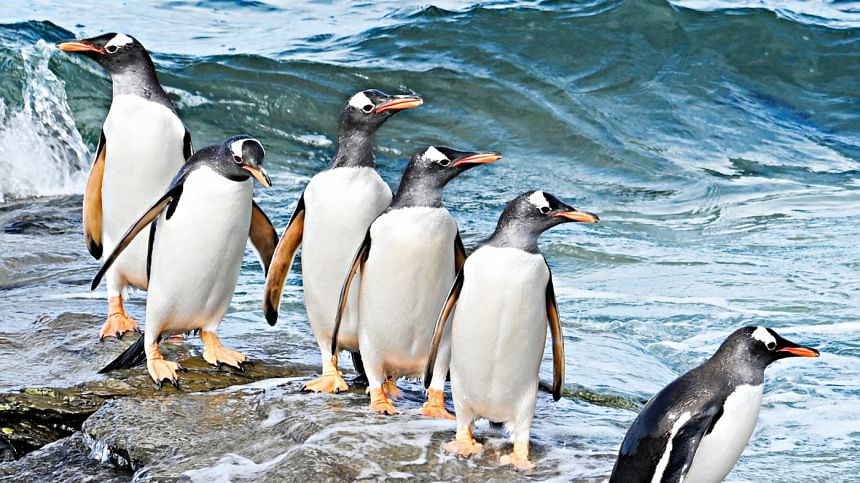 Yes! We went to Antarctica. Yes! We landed on the solitary, white continent. We have seen mountains of ice, glaciers, icebergs and unique wildlife. But the fact is we only touched the very tip of Antarctica.
The mighty continent is beyond our reach and exploration. Only few with resources and dedication can see the inland part of it.
Antarctica was a life-changing experience. Our expedition would remain as if it were a dream. I know I was there, but can't explain where I was.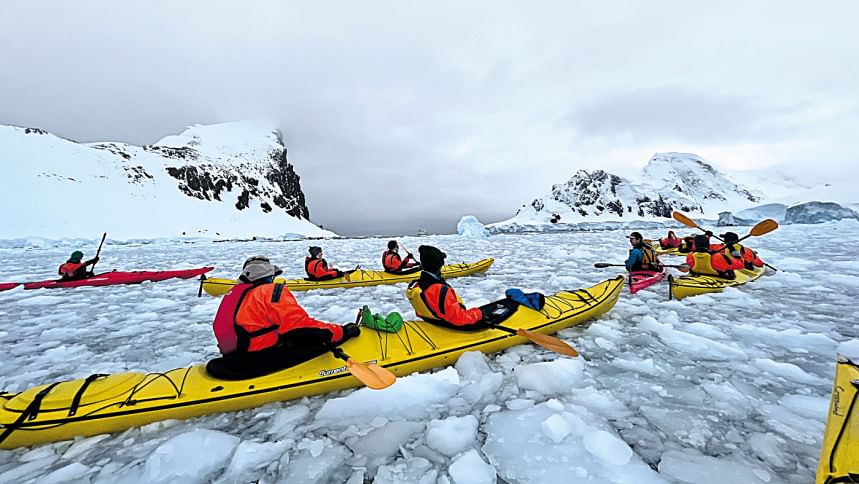 But this isn't the end. We want to keep making our own stories. We want to explore the world before our eyes close forever.
Scooping out 20-22 days from our busy life requires some planning. The tour usually starts from Argentina and Chile. The average Antarctica cruise cost is about $8000 per person. The least expensive expeditions starts at $5000, but these deals are usually booked months/years ahead of the voyage. Luxury voyages may cost a person anything between $15000-$50000. The cost varies depending on the services, added optional adventure activities and gears.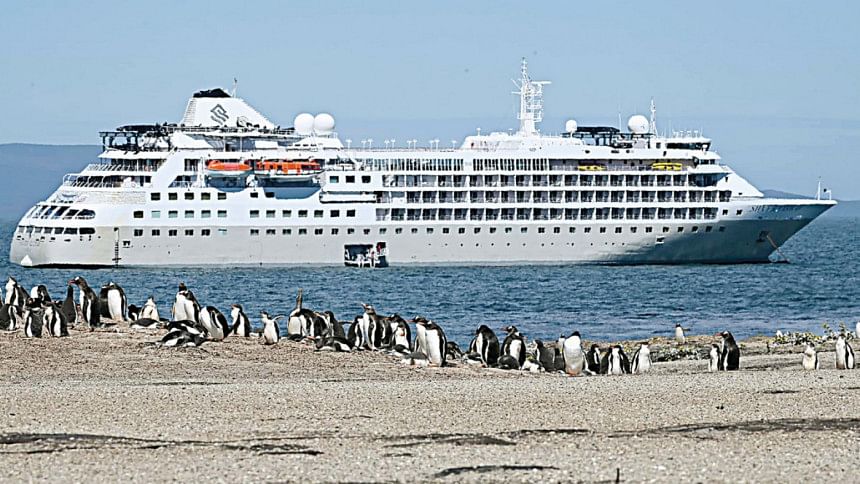 About Sarmin & Bahar
Sarmin Shahariath and Rejaul Bahar, married since 2005, are avid travellers. Born and raised in Bangladesh, Bahar moved to the USA in 1999 and now lives in Connecticut. Sarmin joined him in 2005. Both of them are full-time working professionals: Sarmin is working as a Senior Project Manager at Stanley Black & Decker, Inc and Bahar is a Facilities Engineer at US Coast Guard Academy. They have found a way to travel efficiently, saving money and precious annual leaves. So far they have travelled 83 countries across seven continents.