Breakthrough in diabetes care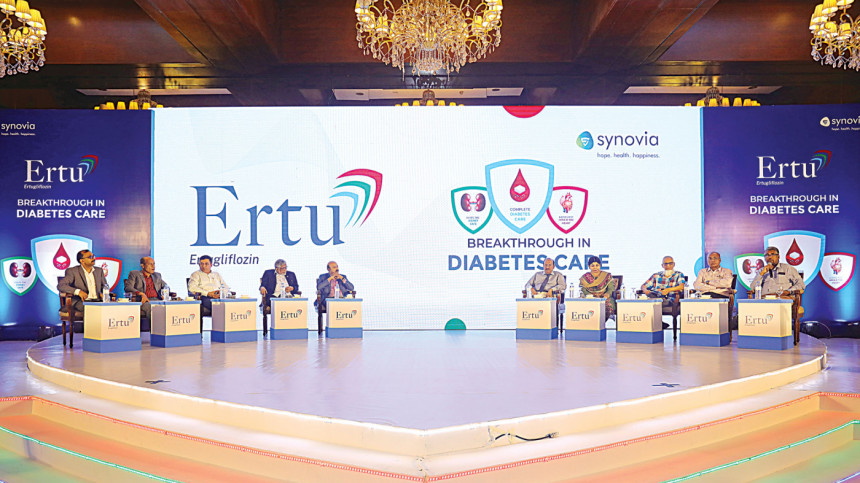 Diabetes is one of the four major types of noncommunicable diseases (NCDs) that make the largest contribution to morbidity and mortality worldwide. The prevalence of diabetes is increasing in Bangladesh. In 2021, the International Diabetes Federation estimated 13.1 million people were living with diabetes in Bangladesh and projected to be almost doubled by 2025.
While managing diabetes, one of the prime concerns of healthcare professionals remains as how to reduce HbA1c efficiently without triggering any other comorbidities. SGLT2 (Sodium-glucose Cotransporter-2) Inhibitors, in that context, plays a pivotal role in the diabetes treatment regime. Synovia Pharma brought a breakthrough new and innovative solutions to cater to the unmet needs of Bangladeshi patients, says a press release.
Eminent physician Professor A K Azad Khan, National Professor and President of the Diabetes Association of Bangladesh graced the launching event as the Chief Guest. Professor Md Faruque Pathan, Professor of Endocrinology, BIRDEM General Hospital chaired the programme where Professor S M Ashrafuzzaman - Professor and President of Bangladesh Endocrine Society was present as the Special Guest.
Prof Indrajit Prasad, Head of Endocrinology, Dhaka Medical College Hospital presented 'Diabetes Management Focusing on CVD Outcome' and Prof Shamim Ahmed, National Institute of Kidney Diseases & Urology (NIKDU) presented 'Diabetes Management Focusing on Renal Protection.'